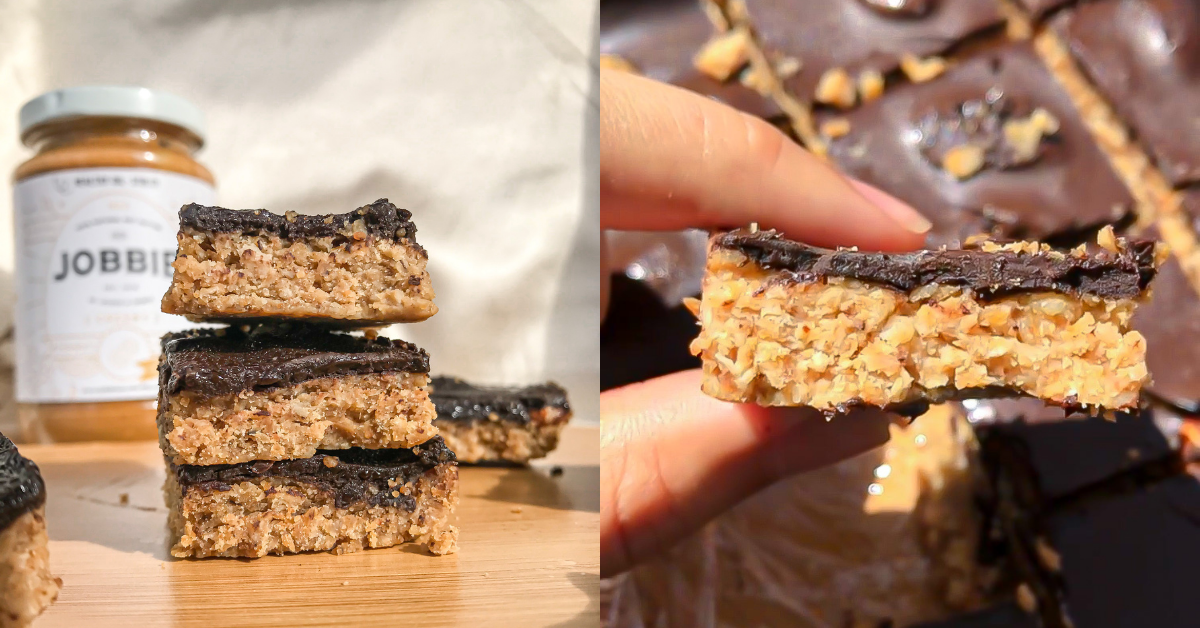 No Bake Chocolate Protein JOBBIE Peanut Butter Bar
by Qiun (IG @lifeqiun)
This peanut butter bar is suitable as pre-workout snacks, or anytime when you are craving for something sweet! Best of all, no baking is required, and it can be kept in the fridge for up to a week.
INGREDIENTS
Base
Quick Oats 2/3 cup
Vegan Protein Powder 1/4 cup (any flavor)
JOBBIE Creamy Pure Peanut Butter 2 tbsp
Milk of choice 1/4 cup (add until it can easily form a dough)
Roasted almonds handful (optional, but for extra crunch)
Chocolate Layer
Dark chocolate coins 1/4 cup (dark/semisweet)
Olive oil 1 tsp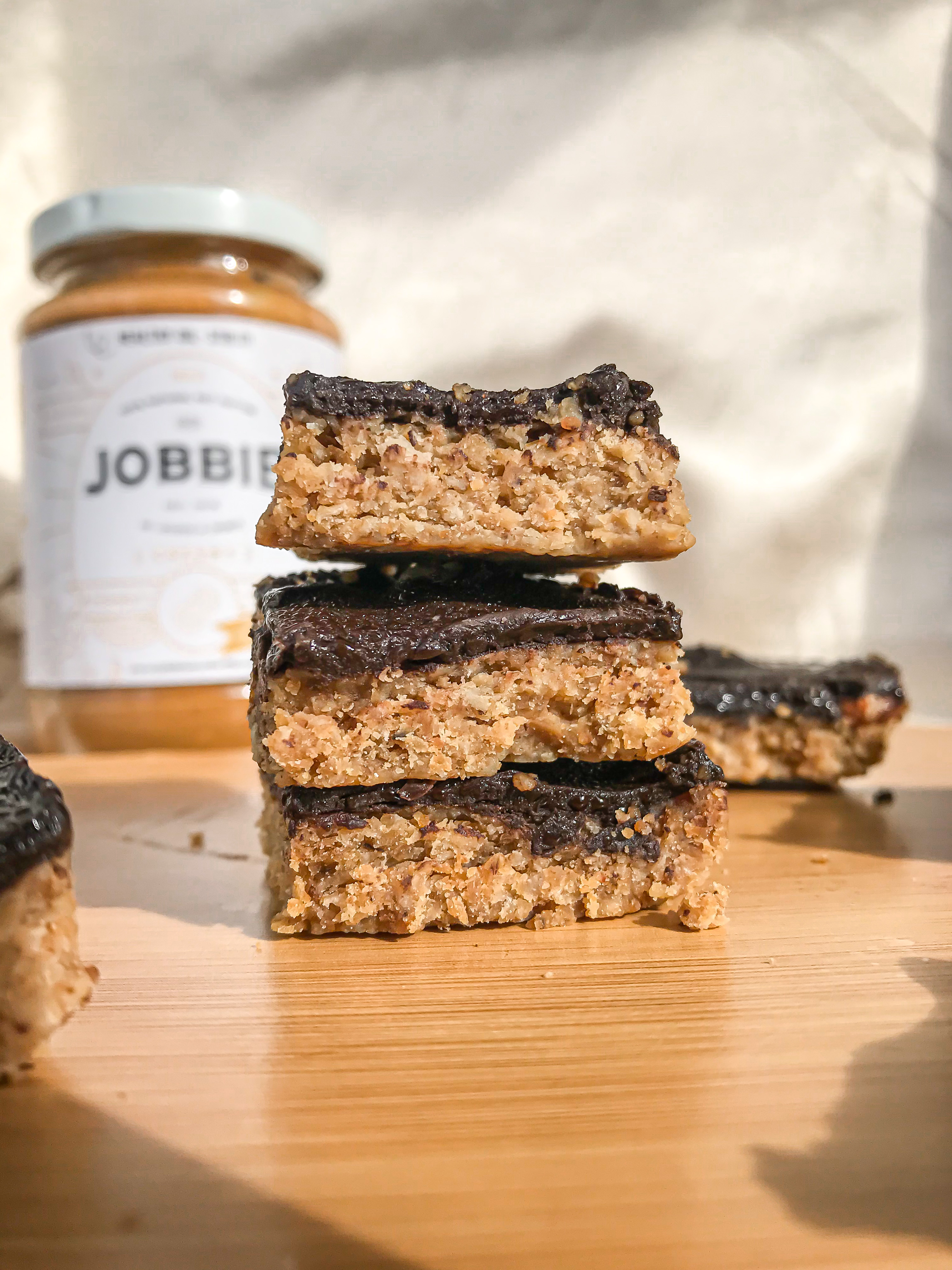 PREPARATION
Melt the dark chocolate chips together with olive oil over a warm bath/microwave for about 30s. Set aside.
Mix together the quick oats, vegan protein powder, peanut butter, milk until well combined. (Watch my video pls)
Pour into a container and press it firm.
Put some roasted almonds on top if it. (can skip/put others nuts/seeds)
Pour the melted chocolate on it evenly.
Keep it fridge for 30 minutes or until the chocolate is harden.
Cut it into strips/cubes, enjoy!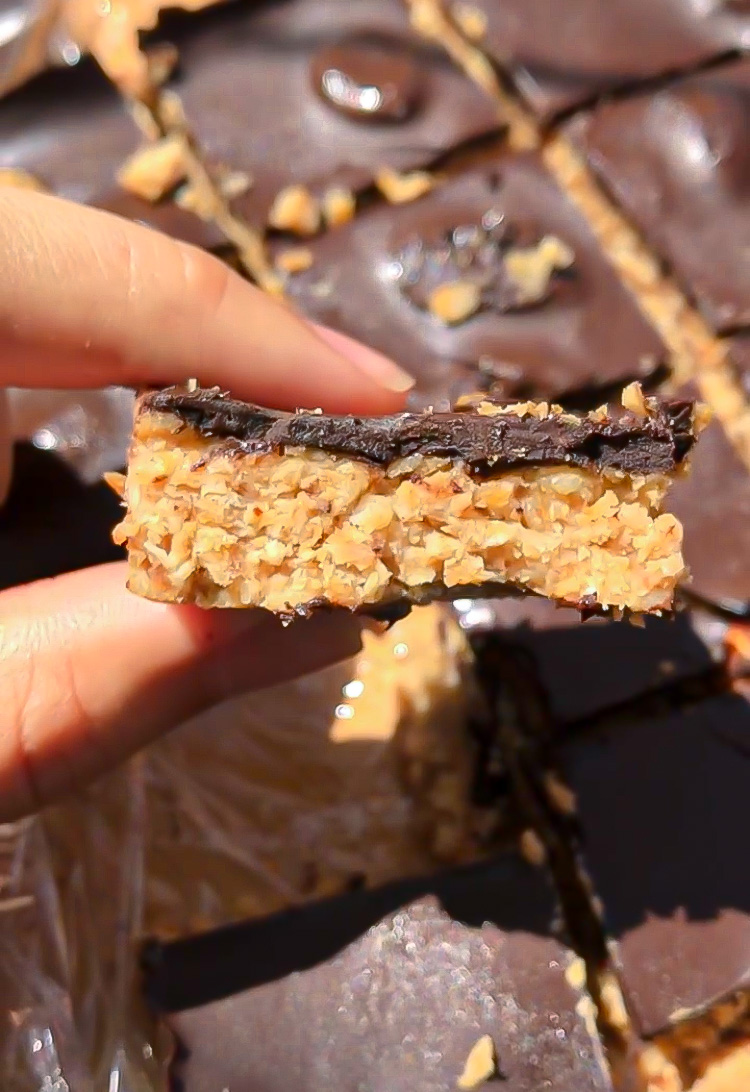 ---
JOBBIE is a Malaysian brand specialised in making 100% natural Halal peanut butter.

Our peanut butter is perfect to enjoy on bread/toast, but there can be many more possibilities! Check out more interesting JOBBIE peanut butter recipes here.

Want to get your recipe featured? Tag #jobbierecipes on Instagram to join us!
---
Get your peanut butter >>> SHOP NOW