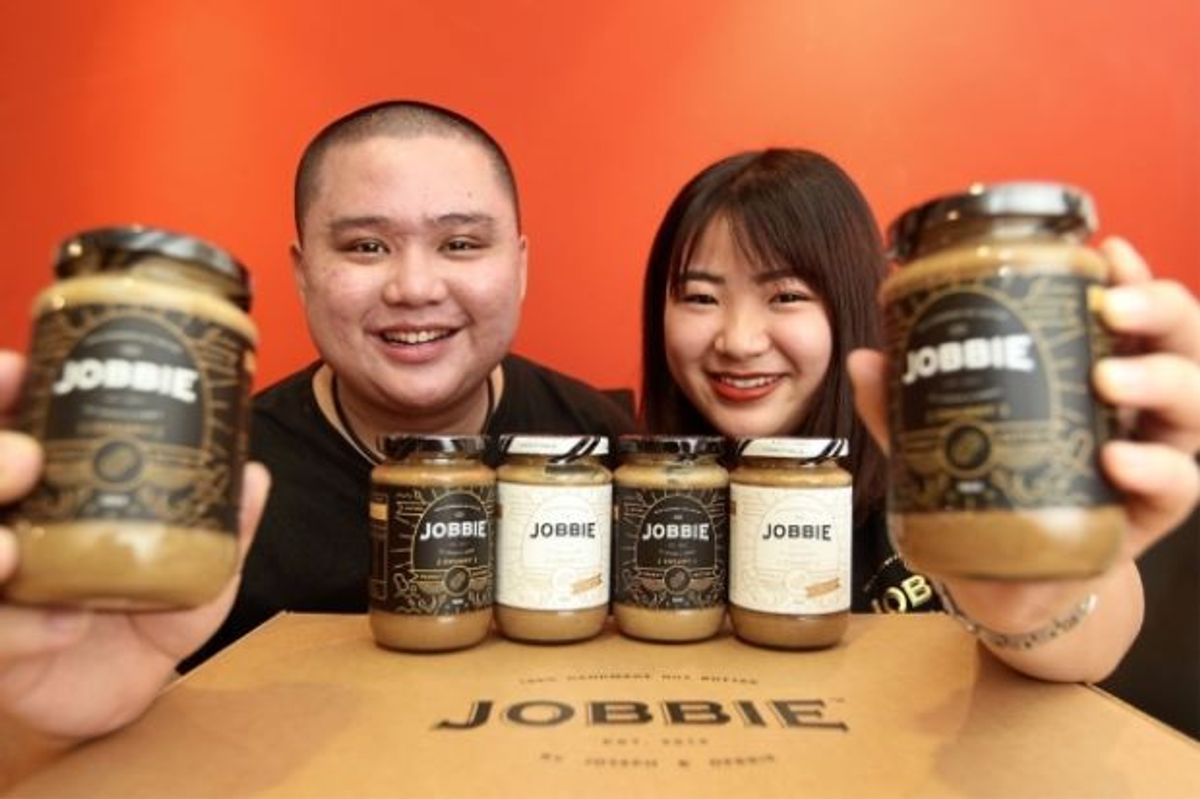 "It tasted bad. We also didn't like our product," shares Goh.
It comes as no surprise, though – both of them had no culinary experience.
The couple went ahead anyway and tried to sell off their bottles of nutty mess at a flea market under the brand "Walao eh". They couldn't possibly finish the whole stock on their own and throwing it out was unthinkable.
But Goh says this foolhardiness helped them get feedback from passersby to improve on a recipe they had gotten from YouTube.
Sales for the first year came up to a grand total of RM28,000.
"If there was enough money for three meals a day, we were happy. But there were a lot of setbacks," he says.
"We used to have towers of failed products at home," he adds.
But if there was one thing they did well, it was to take every feedback they received into consideration. That enabled them to tweak their peanut butter recipe into something that was more acceptable to the palate.
A little wiser, they rebranded their peanut butter to Jobbie – a portmanteau of Joseph and Debbie – and started approaching cafes to retail their products.
"We were lucky that people were willing to give us a chance," says Goh, but business wasn't particularly brisk.
They almost went bankrupt, he reveals.
Shortly after, in 2017, Goh got into an accident. His vehicle was wrecked and Goh was in no position to make deliveries to the cafes. To sustain the business, they decided to explore online sales.
That turned out to be a good move for Jobbie. They were able to reach out directly to more consumers around the country and sales grew.
"The business grew faster and it was easier to scale. We just needed to outsource the delivery service. And we could use data analytics to serve consumers better," he says.
Today, direct sales make up about 70% of their turnover, with wholesale making up the remaining 30%. Jobbie supplies to niche grocers and organic food outlets on top of cafes. Goh notes that 39% of its orders are repeat customers.
Certainly, Goh and Ching are happy with how much the business has grown. Last year, Jobbie raked in RM400,000 in sales and they are aiming for RM1mil in revenue for 2019.
But there is room to grow beyond that. And Goh hopes to better understand his customers' preferences to tap into that potential growth.
"We will need to understand our customers more. That will be a key area for improvement this year. We are gathering feedback and looking at how to improve their experience. We don't just want to sell a product," he says.
This will, hopefully, help Jobbie gain new customers, he adds.
The company is also putting in more effort into digital marketing to reach out to more consumers. The duo is hoping to hire one or two more employees who would be able to help them in this area.
Currently, Goh and Ching are handling the whole operation, including manufacturing and business development, with the help of one new partner, Victor Chin.
They are in the midst of expanding their capacity and putting in place proper systems to ensure that the enterprise can cater to increasing demand.
Goh says Jobbie currently delivers nationwide and is looking at opportunities to also export its peanut butter.
"There has been quite a lot of interest from retailers in Singapore. But we need proper certifications to export there, so we are working on it," he says.
He notes that Jobbie has also been getting some attention in the UK, Scotland in particular, but for a different reason.
"Jobby is a slang word for poo in Scotland," he laughs. "So it's a funny name to them. It could be one of those novelty buys for them."
Going overseas will pose a new set of challenges for the duo. Customer behaviour and taste profiles will be different from what they are familiar with in the local market, which will require different marketing strategies – all of which are still new knowledge to Goh and Ching.
"We have to keep improving. The market changes very fast," he adds.
Even locally, Goh acknowledges that there is already a saturation of products in the market. In recent years, a slew of artisanal offerings have joined the shelves at retailers and producers are always introducing new flavours to keep consumers interested.
Nonetheless, Goh believes Jobbie has some fighting chance. Arriving at where Jobbie is today hasn't been easy and yet, here they are, he says.
"We are not university graduates. We started off doing a lot of odd jobs before starting this business. We almost failed a lot of times, but we didn't have a plan B," he shares.
"It is not easy to start a business. You need passion, otherwise, it won't last. We have put in a lot of work, put up with criticism and didn't get a salary. But passion reminds you of why you started this and to keep going," adds Ching.

If you have never tried us out, please, please, please, please, please, pretty please x3000 😢 try us out with a 5% discount code 'JOBBIE5' by ordering at https://www.jobbienutbutter.com

Pinky swear you'll definitely love it! ❤️
This article was amended from the original article.
Source: The Star