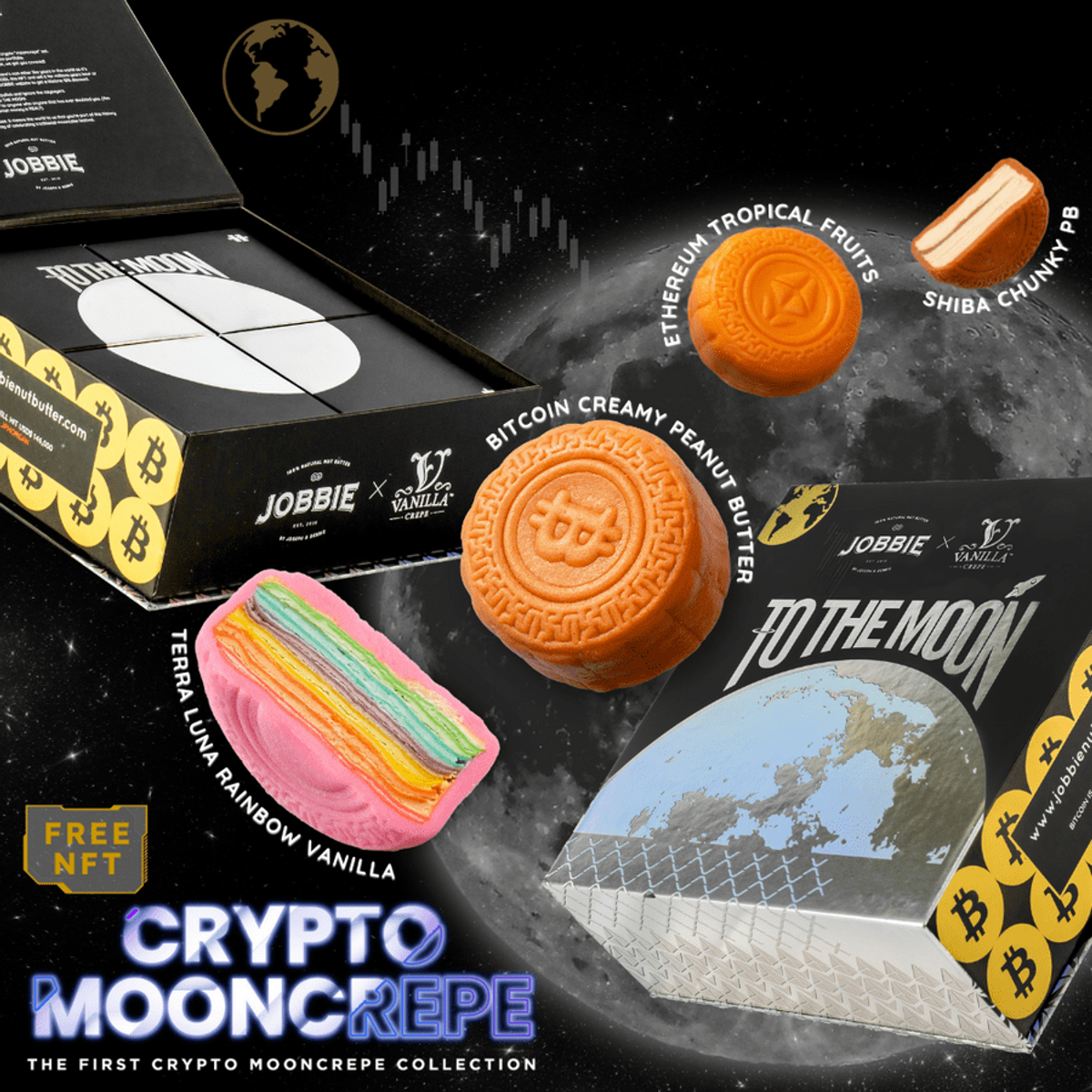 World's first Cryptocurrency themed Mooncake🥮 with FREE NFT
Introducing JOBBIE x Vanilla Crepe — To The Moon🌙. A one of a kind snow skin crepe cake in the evolution form of "Mooncrepe". Now comes in 4 flavour
🥮 Classic Chunky Peanut Butter Mooncrepe (Shiba Inu)
🥮 Classic Creamy Peanut Butter Mooncrepe (Bitcoin)
🥮 Rainbow Mooncrepe (Terra Luna Classic)
🥮 Tropical Fruit Mooncrepe (Ethereum)
BONUS: Every box purchase comes with a 【FREE NFT🎁】 (non fungible token), meaning you'll get your own special unique digital art from the Mooncrepe Rabbit collection!
In addition to that hodlers of the NFT will get a lifetime 10% discount at Vanilla Crepe and at JOBBIE official Website🔥. TnCs apply.
Who to gift this Crypto mooncake set to❓
✅ Hardcore Crypto fans
✅ Business partners
✅ Clients
✅ People who believe gold investing is still the way go
✅ Relatives (if you made it in crypto and want to shove it to their faces🤣)
This mooncrepe is not just a crypto gimmick, it uses only the highest quality ingredients🎖 —
🇲🇬Vanilla imported from Madagascar,
🇦🇺Cream Cheese from Australia,
🇳🇿Butter from New Zealand
🇫🇷Creme from France
🇲🇾Peanut Butter from Malaysia (JOBBIE Nut Butter).
【RRP168, early bird now only RM148!!!🔥】
Order now Buy 2 FREE 1🔥 (limited time)
🛒 https://www.jobbienutbutter.com/products/jobbie-vanillacrepe-mooncake-tothemoon
---
Related products