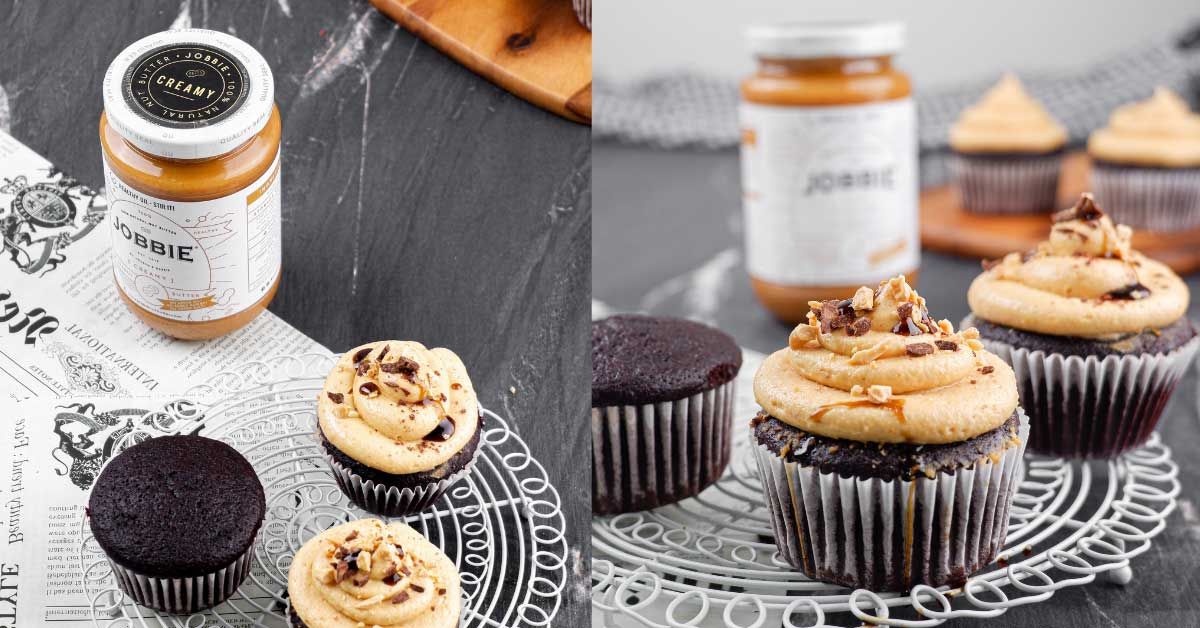 Dark Chocolate Cupcakes with JOBBIE Peanut Butter Cream Cheese Frosting
by Fifi Leong (@fifileongmy IG)
These Dark Chocolate Cupcakes with Peanut Buttercream are pure decadence! Rich chocolatey cake layers and a silky peanut butter frosting is a perfect match.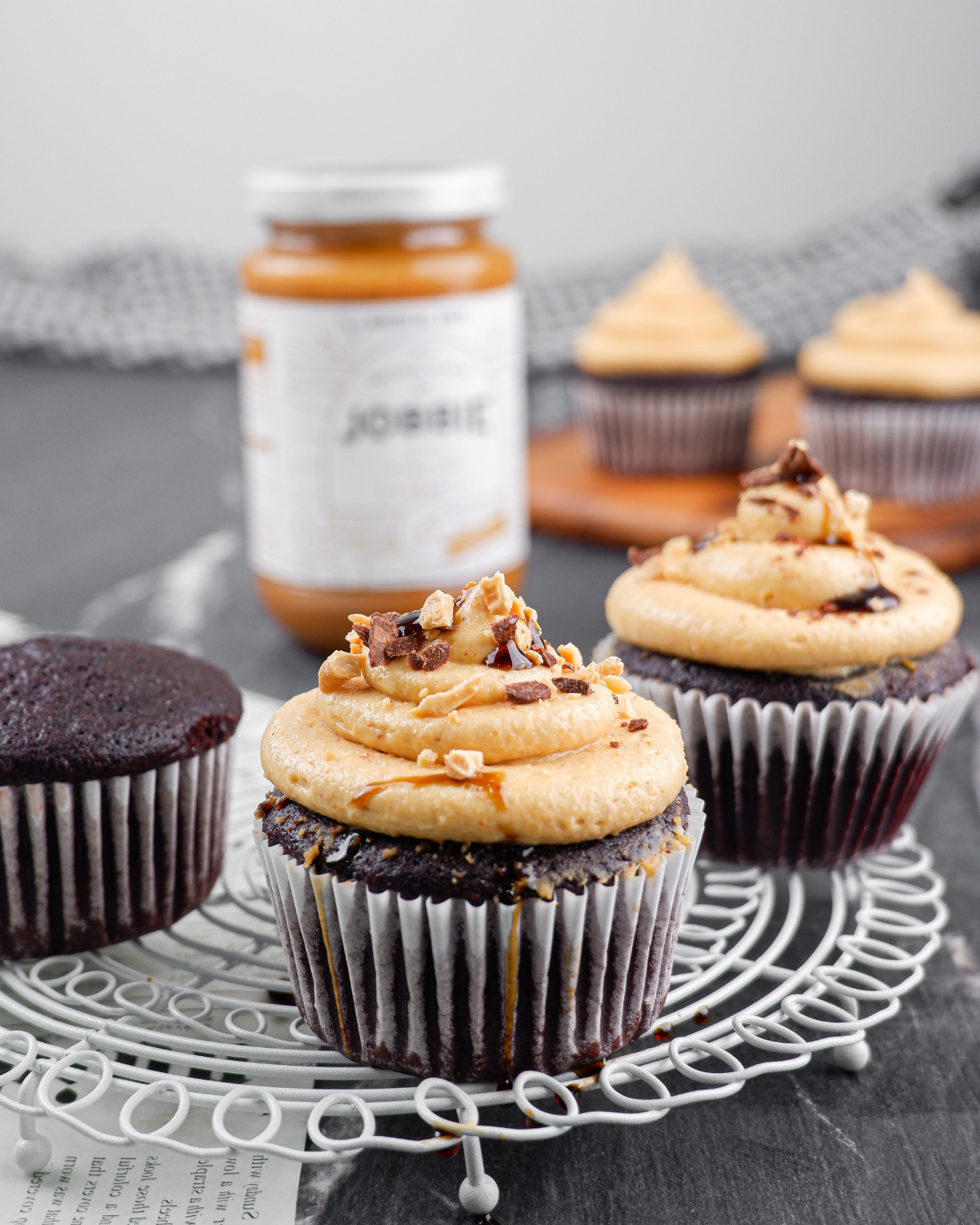 Most buttercream recipes are very sweet, I have adjusted this American style buttercream to a less sweet version, with cream cheese added it tastes pure heaven. The cupcakes are moist and delicious and the frosting is just nice to enjoy together.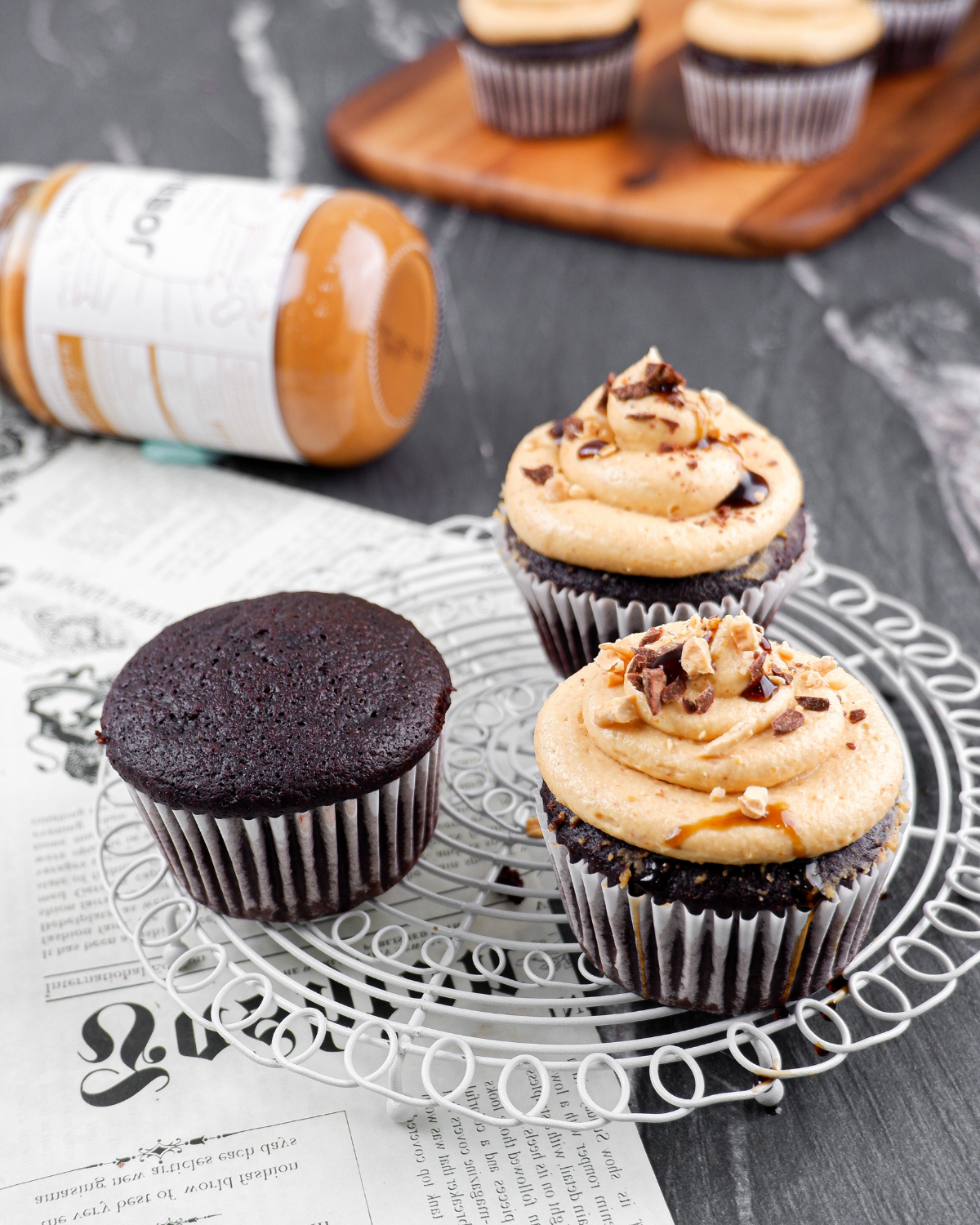 INGREDIENTS
Chocolate cupcakes
125 g (½ cup) fresh milk
½ tbsp white vinegar
90 g water
¼ tsp instant coffee powder
1 egg
150 g caster sugar
60 g corn oil, plus extra for greasing
125 g plain flour
45 g cocoa powder
½ tsp baking soda
½ tsp baking powder
¼ tsp salt
Peanut Butter Frosting
120 g unsalted butter, softened
120 g cream cheese, softened
120 g JOBBIE PURE Creamy peanut butter, plus extra for filling
1 tbsp whole milk, room temperature
1½ tsp vanilla extract
90 g icing sugar
some chopped toasted peanuts
some shaved chocolate
some caramel sauce (optional)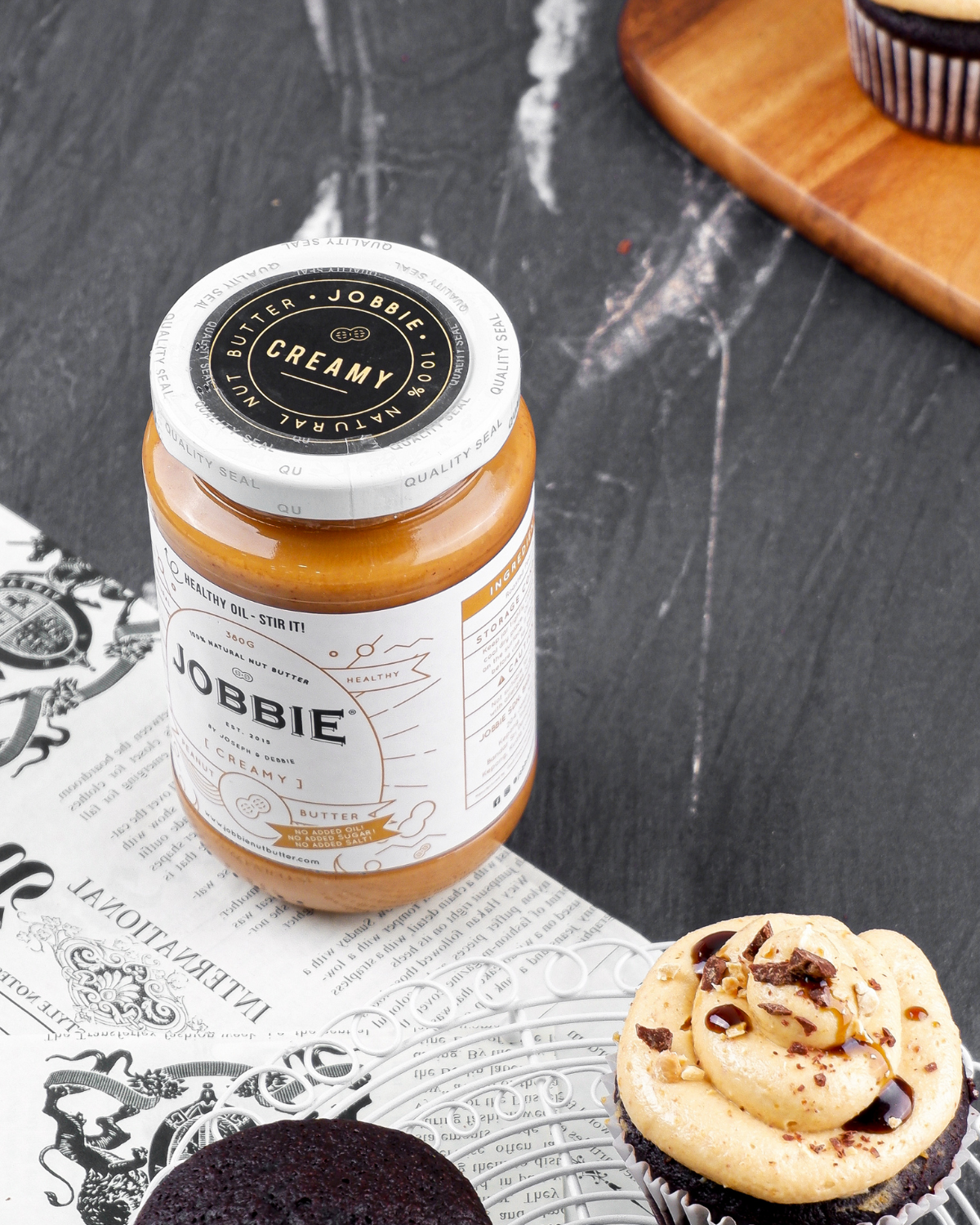 USEFUL ITEMS
2 muffin trays
24 cupcake cases
cooling rack
2 piping bags with nozzles (Ø 3 cm)
cupcake hole punch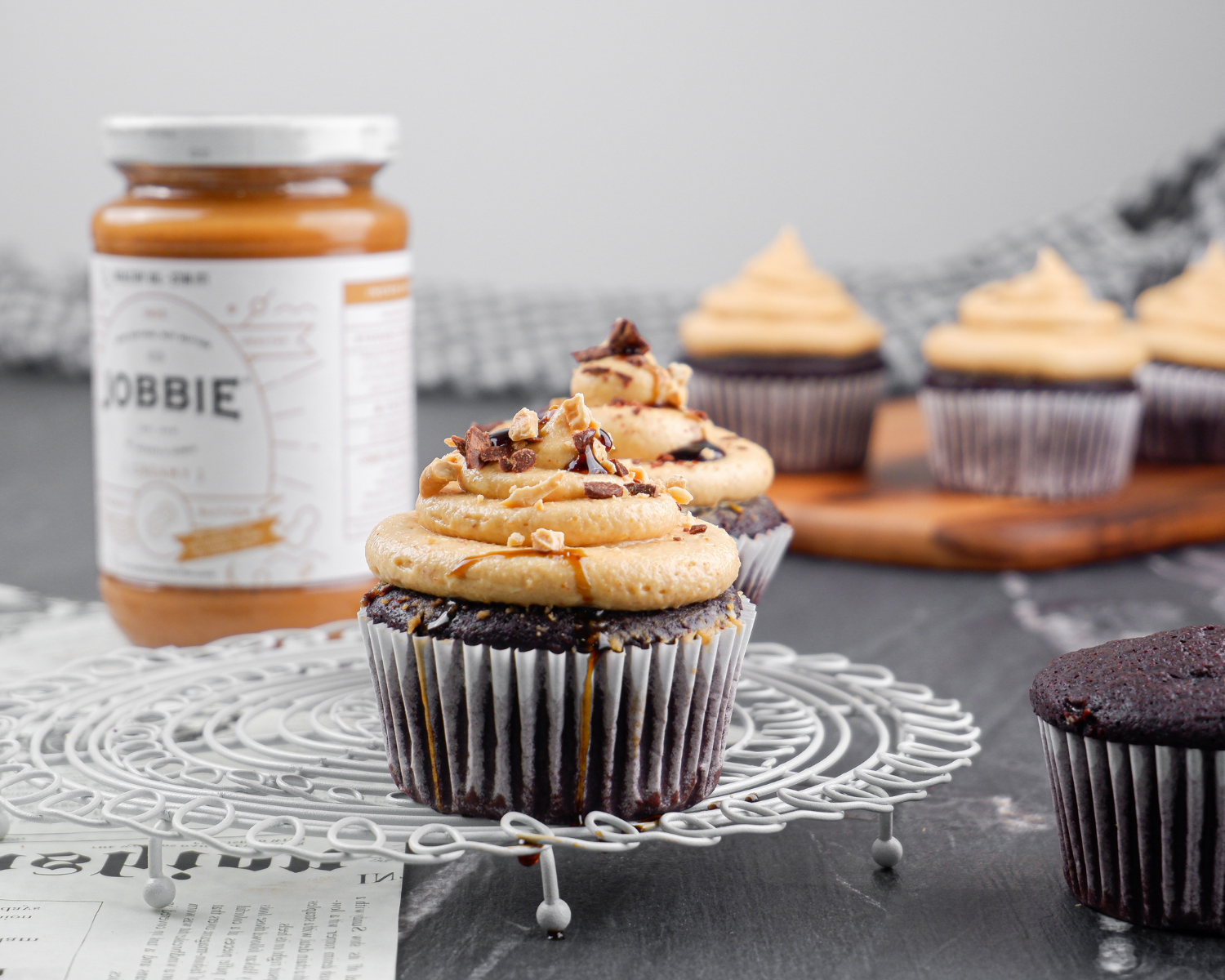 PREPARATION
Chocolate Cupcakes
Preheat oven to 160°C. Mix milk and vinegar in a bowl. Set aside for 10 minutes.
Line 2 muffin trays with cupcake cases. Mix water and coffee powder, set aside.
In a stand mixer fit with the balloon whisk attachment, whisk egg and caster sugar. Slowly pour in corn oil.
Add milk mixture and coffee mixture, continue to whisk.
Add plain flour, cocoa powder, baking soda, baking powder and salt, mix until just combined. Fill muffin trays until 70% full.
Bake for 20-22 minutes or until skewer come out clean when inserted in the centre of cupcakes. Let cupcakes cool on cooling rack.
Peanut Butter Frosting
In the bowl of a stand mixer fitted with the paddle attachment, beat butter and cream cheese at medium speed until smooth. Add peanut butter, milk, and vanilla, beating until combined. Gradually add icing sugar, beating until smooth. Transfer frosting to a piping bag with nozzle (Ø 3 cm) and set aside.
Transfer 4-5 tbsp peanut butter to a piping bag with nozzle (Ø 3 cm) and set aside. Using a cupcake hole punch, make a hole in the middle of each cupcake. Pipe in the peanut butter, then pipe frosting over cupcakes. Sprinkle cupcakes with chopped peanut and shaved chocolate before serving.
---
JOBBIE is a Malaysian brand specialised in making 100% natural Halal peanut butter.

Our peanut butter is perfect to enjoy on bread/toast, but there can be many more possibilities! Check out more interesting JOBBIE peanut butter recipes here.

Want to get your recipe featured? Tag #jobbierecipes on Instagram to join us!
---
Get your peanut butter >>> SHOP NOW