Kuih Kapit with JOBBIE Monkey King Crispy Coconut Peanut Butter Filling
by Fifi Leong (@fifileongmy IG)
How about a combination of thin flaky kuih kapit with rich fragrant peanut butter loaded with generous amount of golden crispy coconut meat?
Fifi has given this traditional snack an inventive twist by filling it with our Monkey King Crispy Coconut Peanut Butter to give you the ultimate satisfaction. Experience this together with your family for bonding, it is a real fun to eat while preparing this!
INGREDIENTS
150 g eggs (approx. 3 eggs)
150 g fresh coconut milk
200 g water
150 g caster sugar
¼ tsp salt
100 g white rice flour
50 g plain flour
some coconut oil, to grease
150-200 g JOBBIE Monkey King Crispy Coconut Peanut Butter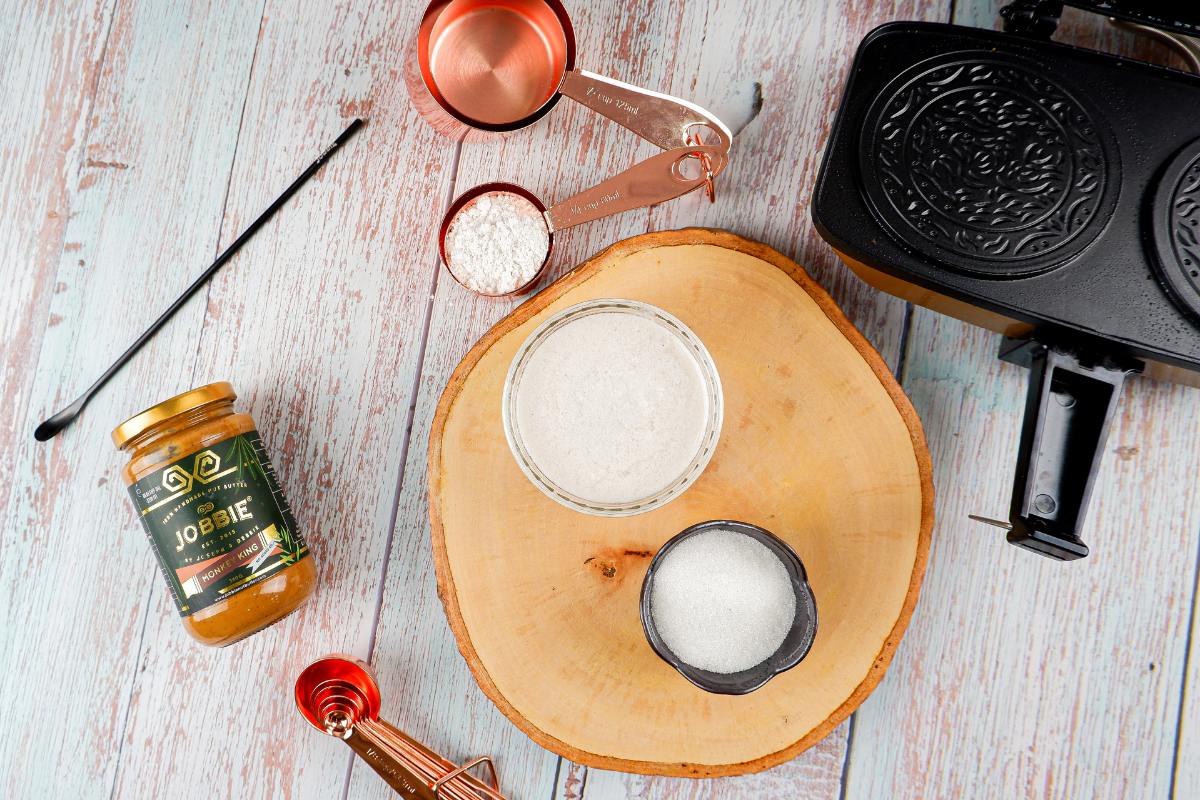 USEFUL ITEMS
pastry brush
kuih kapit maker (egg roll maker)
PREPARATION
Using handheld electric mixers (with metal whisk attachment) on mixing bowl, whisk egg until foamy.
Add coconut milk, water, caster sugar and salt, mix until sugar is thoroughly dissolved.
Sift in rice flour and plain flour, mix until the batter is smooth with no visible lumps, rest for 15 minutes.
Using a pastry brush, grease a kuih kapit maker with coconut oil. Preheat kuih kapit maker, pour in ½-1 tbsp batter. Amount of batter for each piece depends on the size of your mould.
Once cooked until light golden, fold in half to a semi-circle shape. Spread a layer of Monkey King Crispy Coconut Peanut Butter. Immediately fold into quarter. Unmould and trim off excess batter with scissors. Store in airtight container.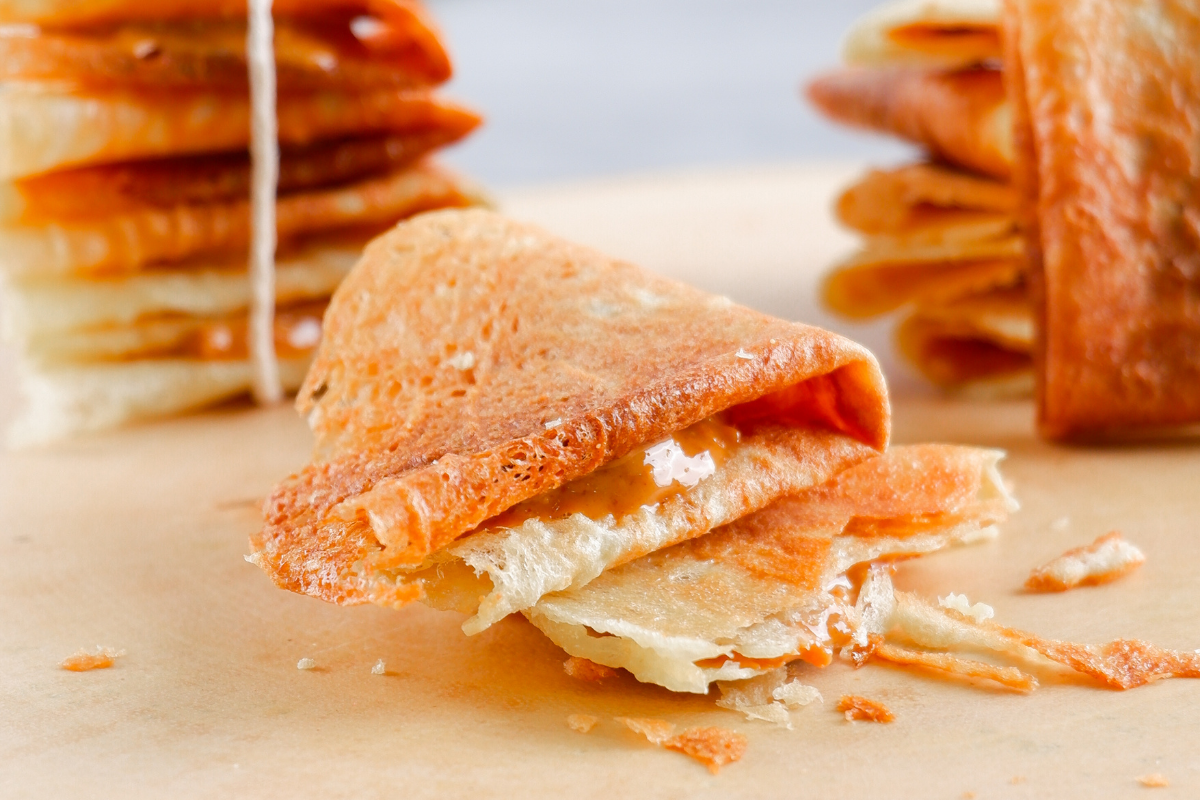 TIPS
Biscuit must be shaped immediately; it will harden and turn crisp very fast. Gloves are recommended for protection against heat.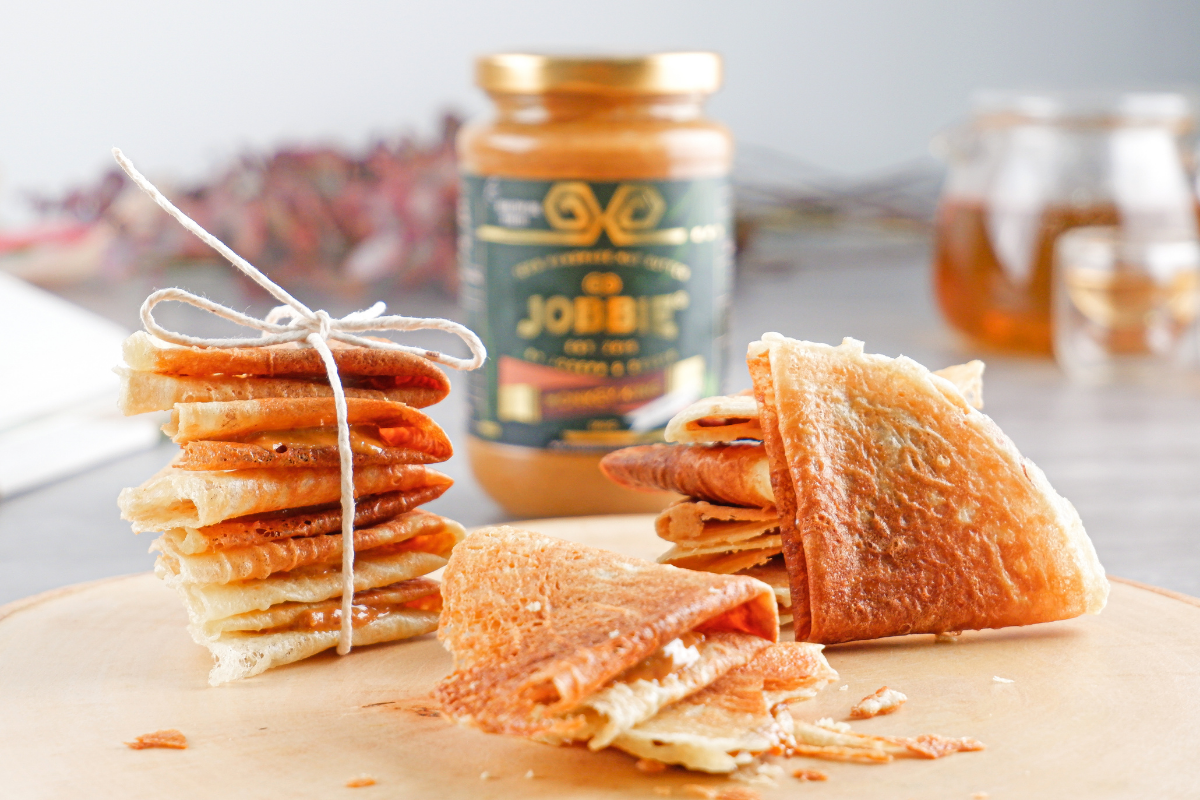 ---
JOBBIE is a Malaysian brand specialised in making 100% natural Halal peanut butter.

Our peanut butter is perfect to enjoy on bread/toast, but there can be many more possibilities! Check out more interesting JOBBIE peanut butter recipes here.

Want to get your recipe featured? Tag #jobbierecipes on Instagram to join us!
---
Get your peanut butter >>> SHOP NOW