JOBBIE Peanut Butter Blueberry Burnt Cheesecake
by Fifi Leong (@fifileongmy IG)
Burnt cheesecake is not something new and many people have tried baking it during lockdown (because it is so easy). Experiment new flavour by adding peanut butter and blueberry into burnt cheesecake! The temperature of frozen blueberries results in a molten centre which gives you an unexpected surprise.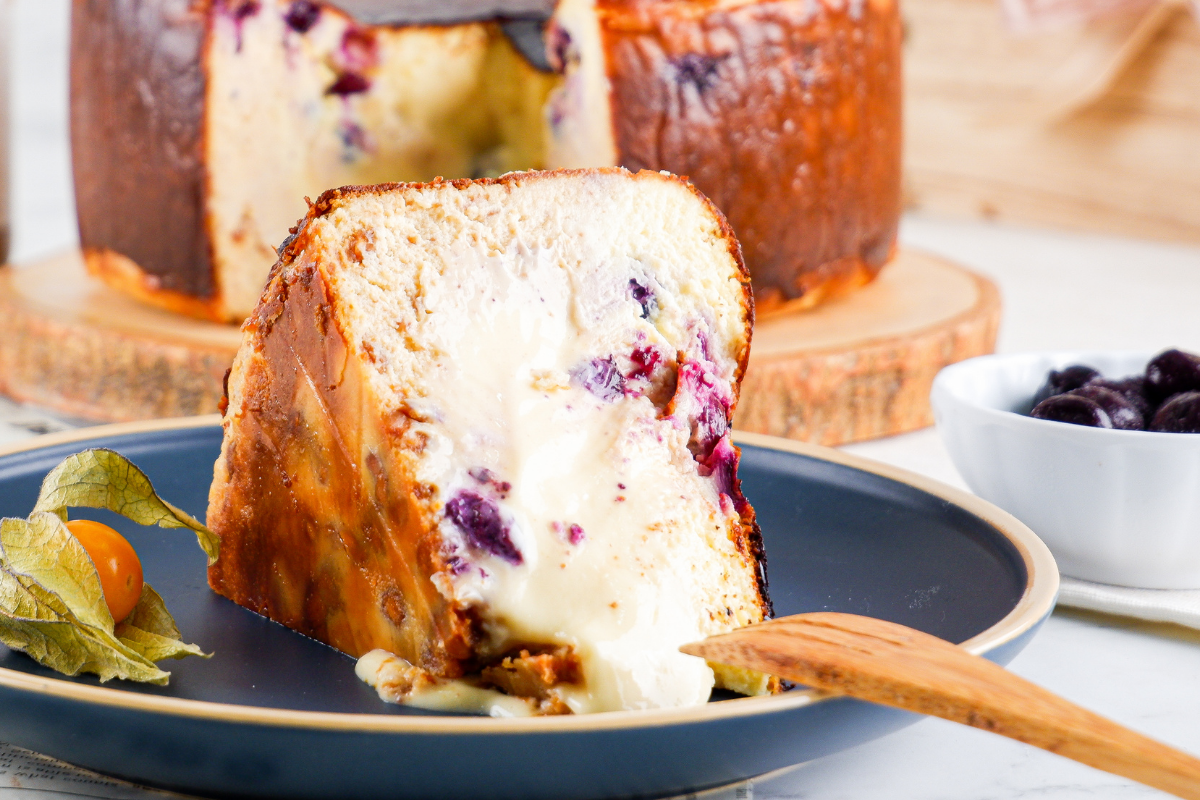 INGREDIENTS
7 eggs, B-sized
1000 g cream cheese, cut into cubes (2 cm), softened at room temperature
200 g JOBBIE Chunky Pure Peanut Butter
120 g frozen blueberries
350 g caster sugar
500 g whipping cream
2 tbsp cornflour (starch)
⅛ tsp salt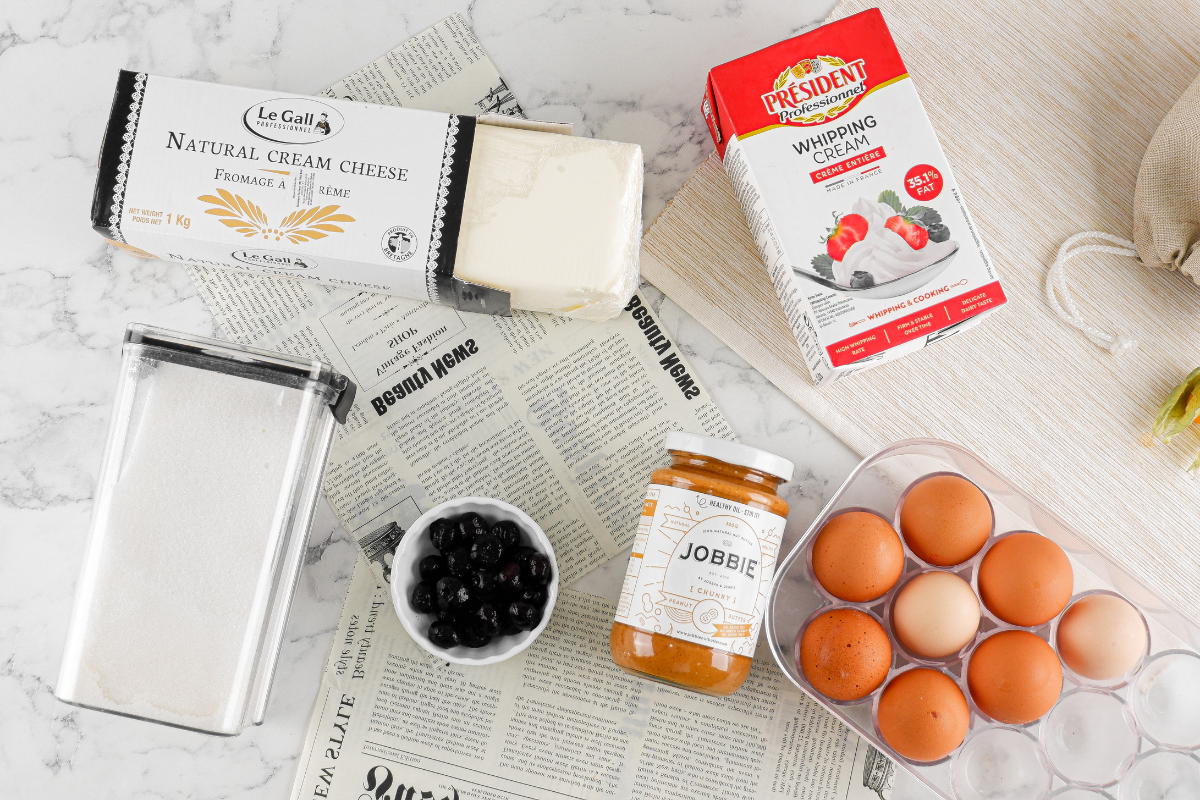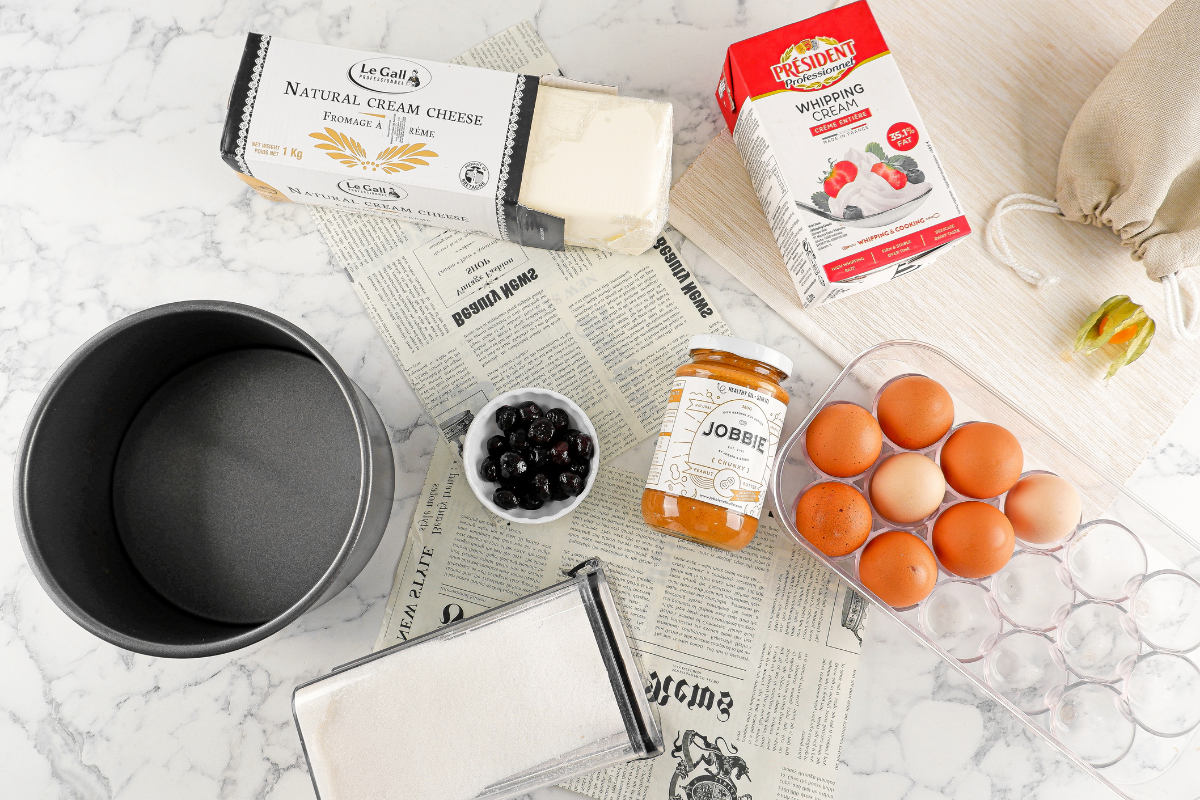 USEFUL ITEMS
loose bottom cake pan (Ø 20 cm)
parchment paper (30 cm x 30 cm)
PREPARATION
Preheat oven to 200°C. Rinse parchment paper with water to soften the paper. Squeeze and line parchment paper on a loose bottom cake pan (Ø 20 cm), making sure parchment comes at least 5 cm above top of pan on all sides. Pleat and crease in some areas to fit in pan, set aside.
In a stand mixer, mix cream cheese and sugar until smooth.
Add eggs one at a time, beating each egg 15 seconds before adding the next. Scrape down sides of bowl, then reduce mixer speed to medium-low.
Add whipping cream, cornflour and salt, beat until combined, about 2-3 minutes.
Divide cheese batter into 2 batches. Mix 1 batch with peanut butter. Pour peanut butter cheese mixture in lined pan, sprinkle blueberries on cheese mixture. Pour remaining cheese batter on top of blueberries.
Bake for 45 minutes (middle rack) until deeply golden brown on top and still very jiggly in the centre. Rest in oven for 10 minutes. Remove from oven and let cool completely. Refrigerate for at least 4 hours or overnight. Carefully peel away parchment from sides of cheesecake. Slice into wedges and serve at room temperature.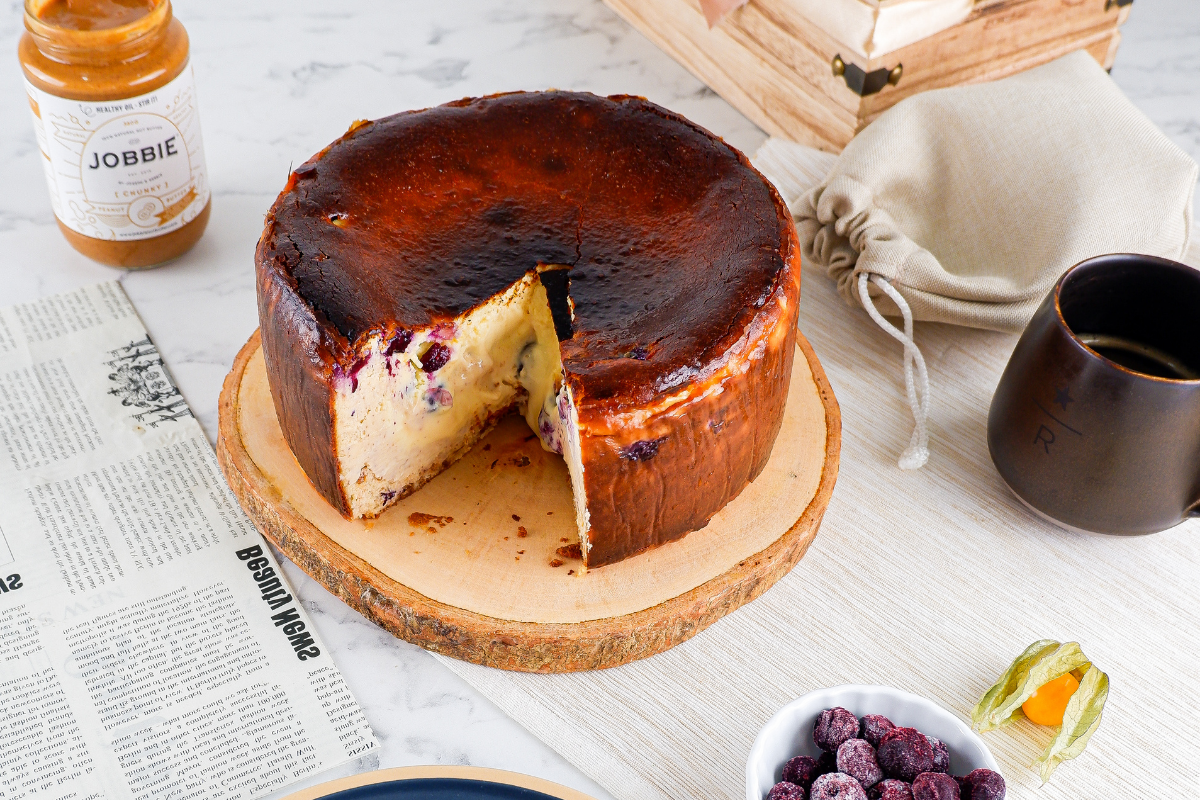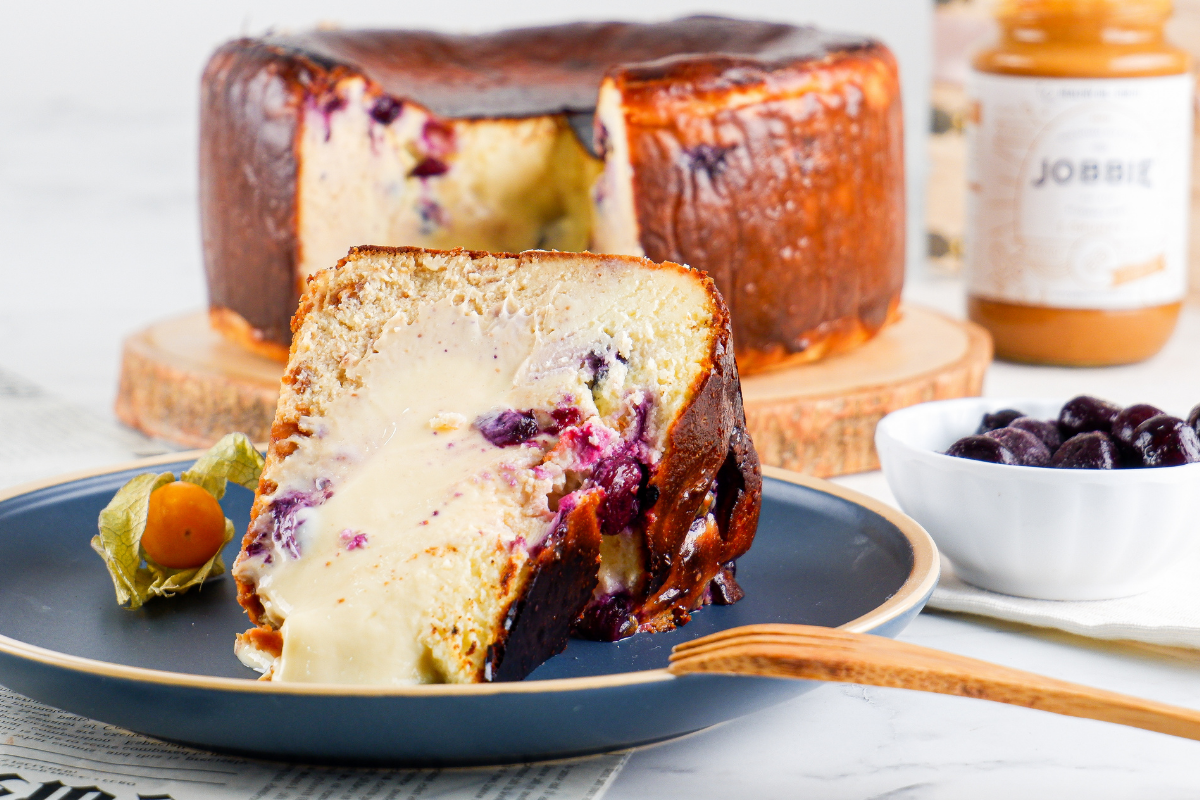 TIPS
Always preheat your oven before baking. The baking time and temperature illustrated here are general guidelines. Make necessary adjustments on the time and temperature to suit your oven.
You can halve the recipe amount if using smaller mould (Ø 12 cm) or muffin trays with cupcake cases.
If you prefer solid cheesecake centre, use fresh blueberries instead of frozen blueberries.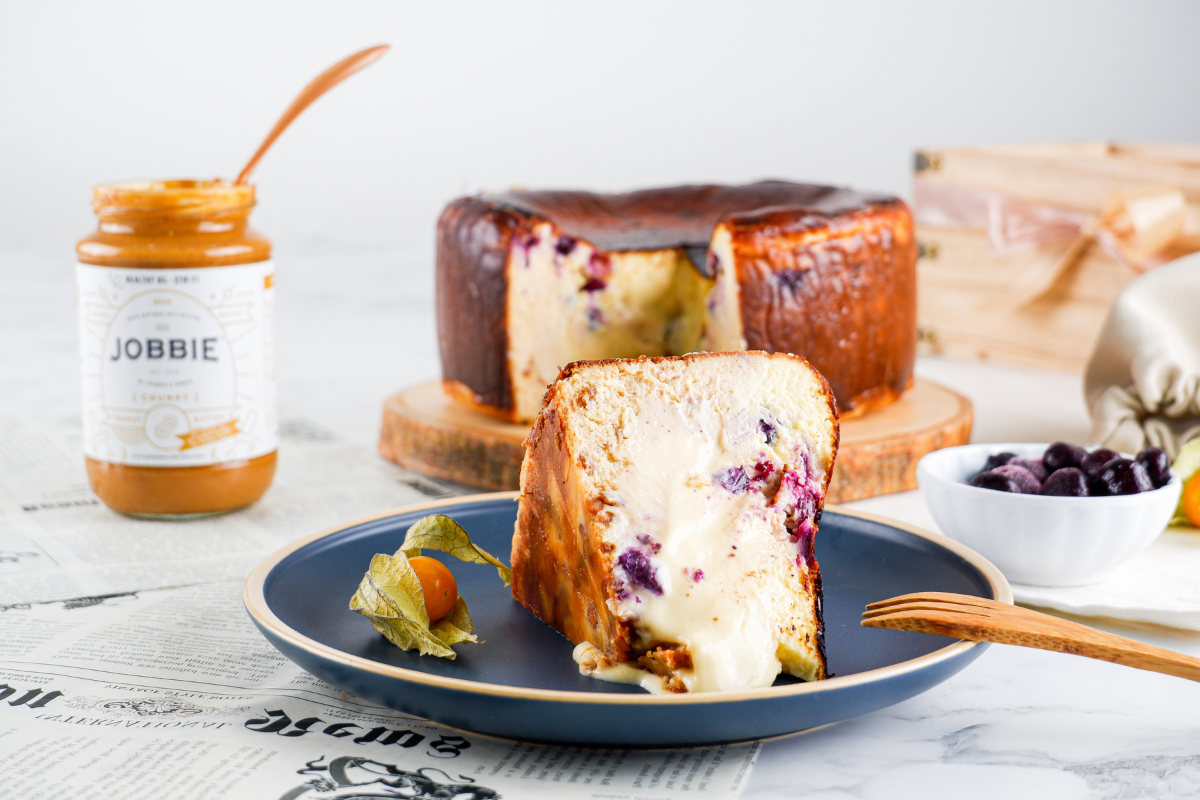 ---
JOBBIE is a Malaysian brand specialised in making 100% natural Halal peanut butter.

Our peanut butter is perfect to enjoy on bread/toast, but there can be many more possibilities! Check out more interesting JOBBIE peanut butter recipes here.

Want to get your recipe featured? Tag #jobbierecipes on Instagram to join us!
---
Get your peanut butter >>> SHOP NOW