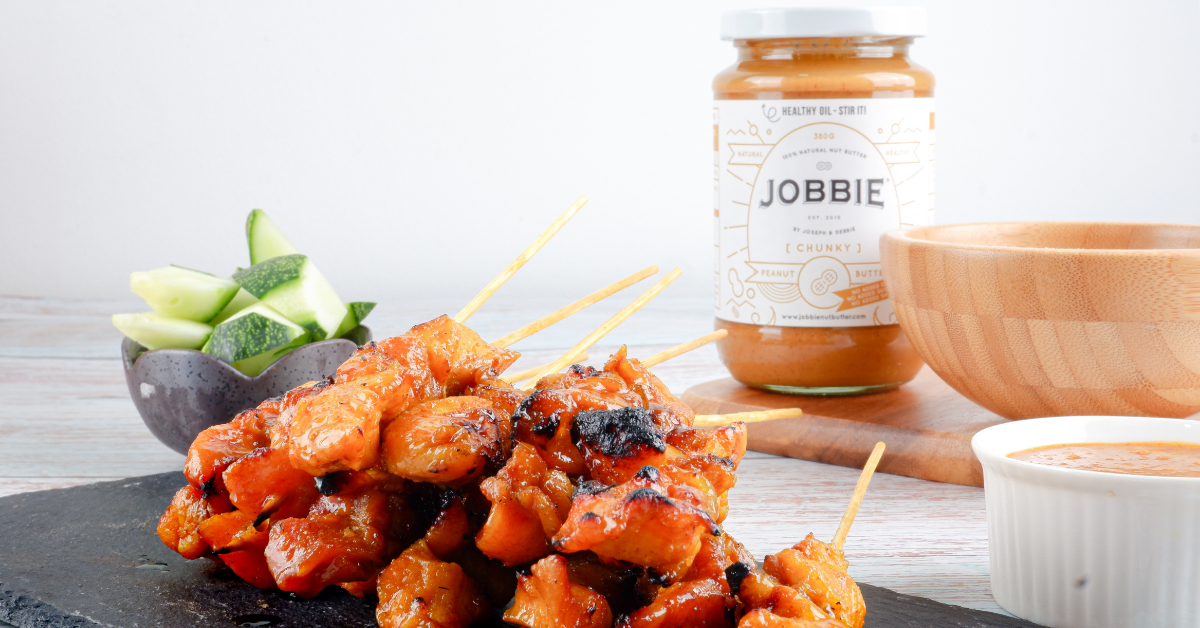 Chicken Satay with JOBBIE Peanut Sauce
by Fifi Leong (@fifileongmy IG)
There are many satay versions from Asia, this Malaysian chicken satay is something we can be proud of. It is popular among all ethnic groups in our home country. Raya is not completed without satay, everyone will be happy when satay is served during this festive season. Don't forget to eat with cucumber wedges and raw onion between each skewer to cleanse your palate.
INGREDIENTS
Chicken satay
2 stalks lemongrass
2 garlic cloves
6 small shallots or pearl onions, peeled
2 tbsp ground turmeric
1 tsp ground coriander seed
1 tsp chili powder
½ tbsp salt
3 tbsp sugar or honey
1 kg chicken thigh meat, boneless and skinless, cut in small cubes (see tips)
3 tbsp cooking oil, plus extra for basting
Peanut sauce
1 cup JOBBIE Chunky Pure Peanut Butter
1 tbsp tamarind pulps
8 dried red chilies, deseeded and soaked in warm water
3 garlic cloves
4 small shallots or pearl onions, peeled
1 stalk lemongrass, cut into 3 strips
1 cm galangal, peeled
¼ cup vegetable oil
1¼ cup water
½ tsp salt
2½ tbsp sugar, palm sugar preferred
1 tsp ground coriander seed
1 tbsp sweet soy sauce (Kecap Manis)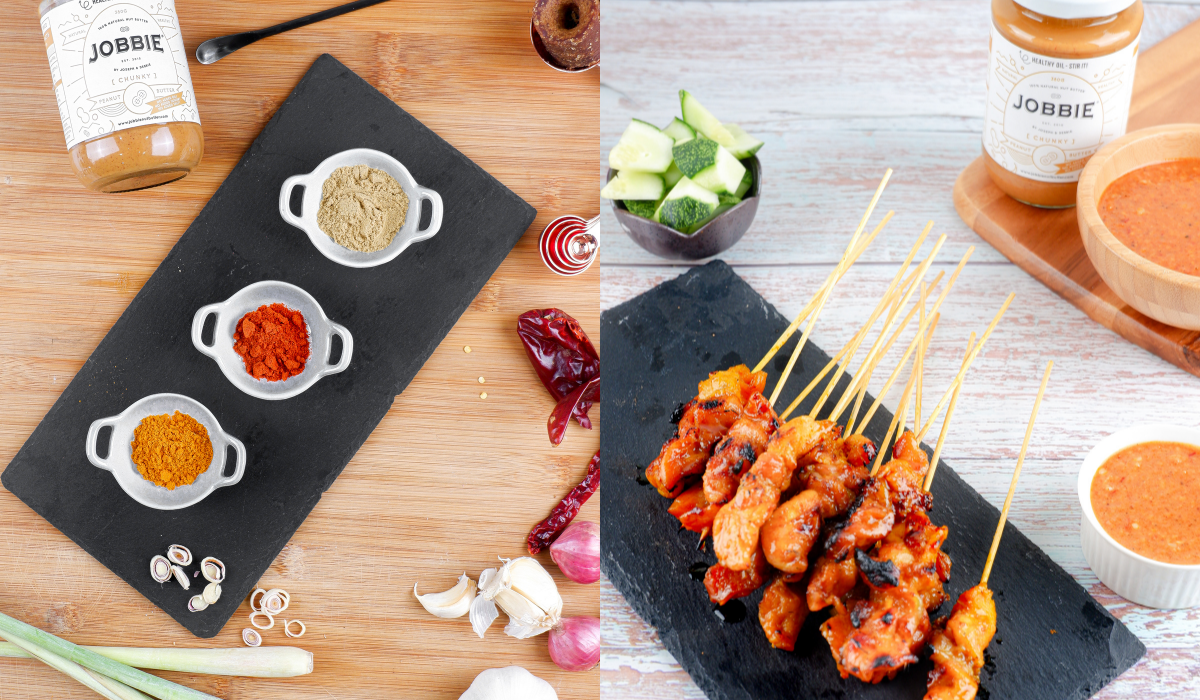 PREPARATION
Chicken satay
Cut lemongrass white part. Reserve green part for later use.
In a blender, blend lemongrass white part, garlic cloves, shallots, ground turmeric, ground coriander seed, chilli powder, salt and sugar into a fine paste.
Combine chicken cubes with and spice paste together, stir to mix well. Drizzle cooking oil and mix well again. Cover with cling film and set aside in refrigerator for at least 4 hours or overnight. Meanwhile, soak bamboo skewers in cold water for 2 hours and prepare peanut sauce.
Thread 3-4 pieces of the chicken cubes (meat and/or skin) onto the bamboo skewers.
Grill chicken satay skewers (charcoal BBQ, grill pan, oven or air fryer) for 2-3 minutes on each side until the meat is fully cooked and the surface is nicely charred, on both sides. Baste constantly with lemongrass skewer (green part) dipped in oil while grilling. Serve hot with peanut sauce the fresh cucumber pieces and onions.
Peanut sauce
In a small bowl, mix tamarind pulps and ¼ cup warm water. Set aside for 15 minutes. Squeeze and extract the juice from the tamarind pulp and discard. Keep the tamarind juice.
In a blender, place dried chillies, garlic cloves, shallot, 1 lemongrass strip and galangal. Blend into very fine paste. Add 2-3 tablespoons water to help blending.
In a sauce pan, heat the oil on medium heat and sauté chilli spice paste.
Add remaining 2 lemongrass strips, sauté until aromatic and smell spicy.
Add JOBBIE peanut butter, 1 cup water, reserved tamarind juice, salt, sugar, ground coriander and sweet soy sauce. Stir to combine well.
Reduce the peanut sauce on medium-low heat, stir continuously for about 5-10 minutes or until the oil and the peanut sauce separates. Let cool at room temperature and serve with satay.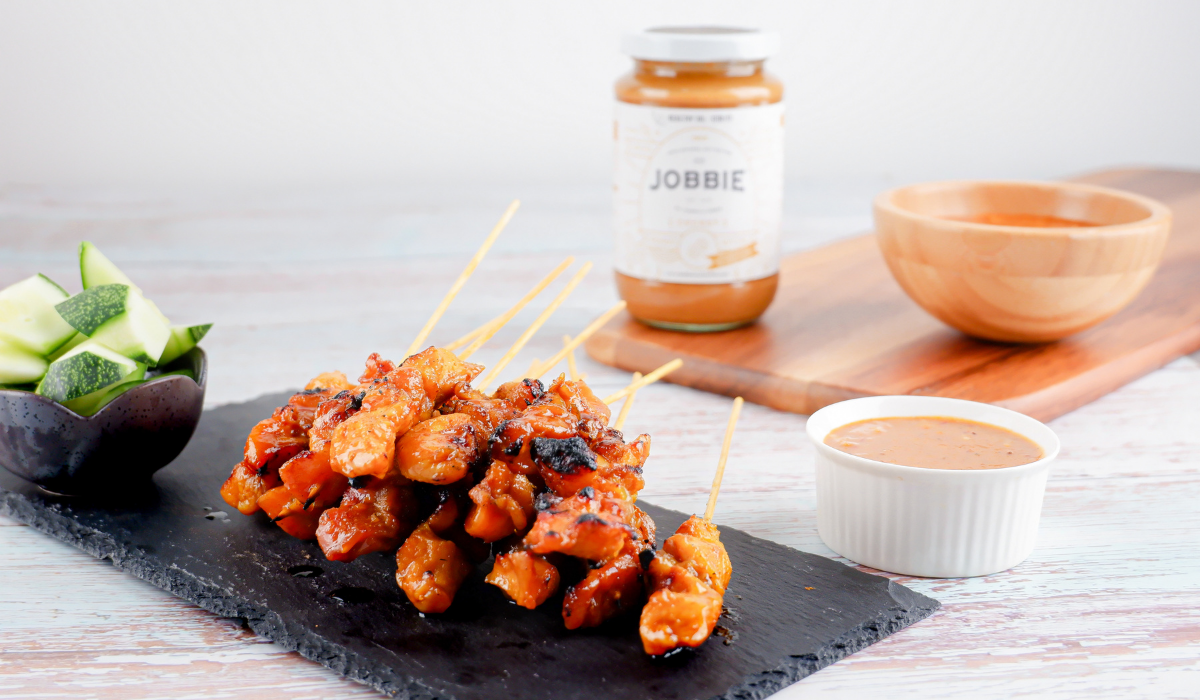 TIPS
You can reserve chicken skin, cut in small pieces and marinate together with chicken pieces.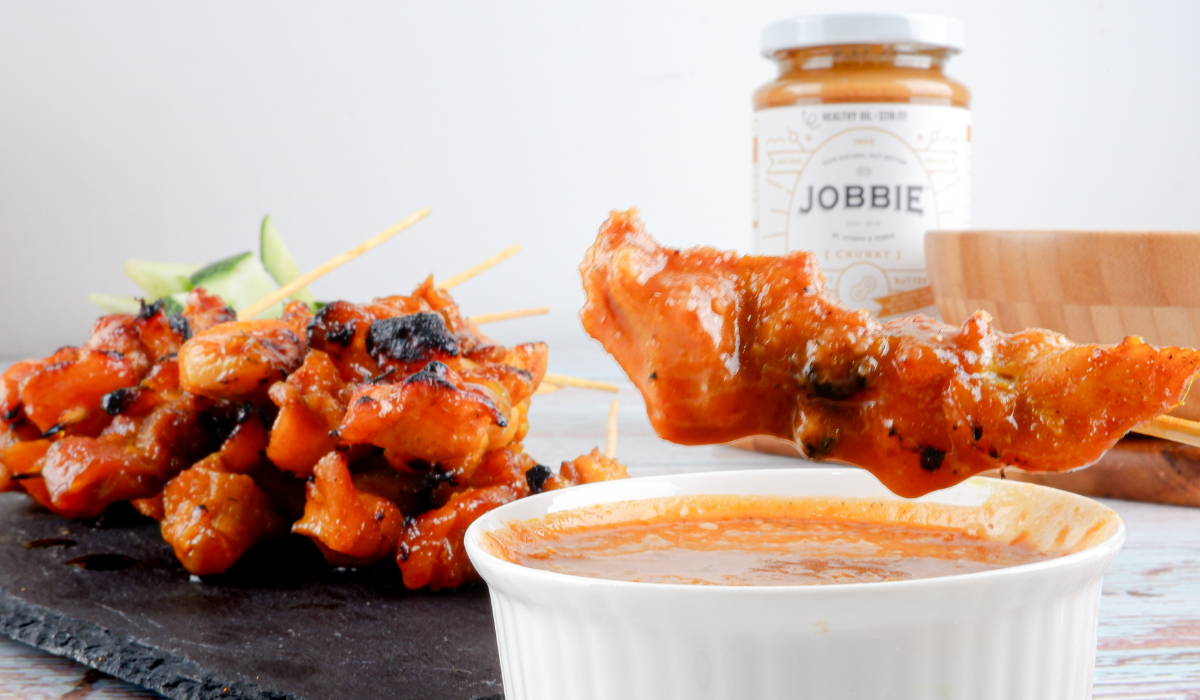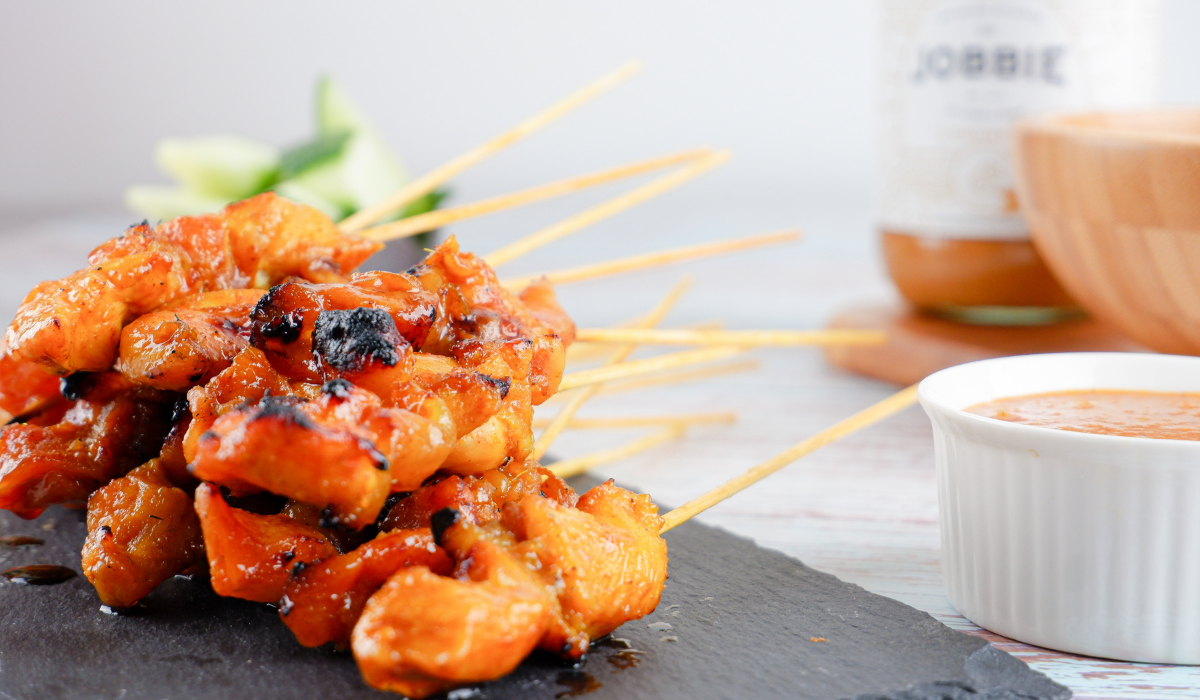 ---
JOBBIE is a Malaysian brand specialised in making 100% natural Halal peanut butter.

Our peanut butter is perfect to enjoy on bread/toast, but there can be many more possibilities! Check out more interesting JOBBIE peanut butter recipes here.

Want to get your recipe featured? Tag #jobbierecipes on Instagram to join us!
---
Get your peanut butter >>> SHOP NOW