Thai Panang Beef Curry with JOBBIE Peanut Butter
by Fifi Leong (@fifileongmy IG)
JOBBIE peanut butter make Panang curry apart from others, together with red chilli, kaffir lime zest, galangal, nutmeg and shrimp paste, this punchy and zesty blend gives much thicker and drier than any soupy red curry or green curry. Serve this wonderful one-pot dish with rice. It is often cooked with beef, but you will also find it made with chicken, shrimp, vegetables or tofu.
INGREDIENTS
1 cup coconut milk
2 tbsp panang curry paste, homemade or store-bought (see tips)
1 tbsp JOBBIE Chunky Pure Peanut Butter
500 g thinly sliced beef
½ cup water
4 kaffir lime leaves, deveined, shredded
1 tsp fish sauce
1 tsp sugar to taste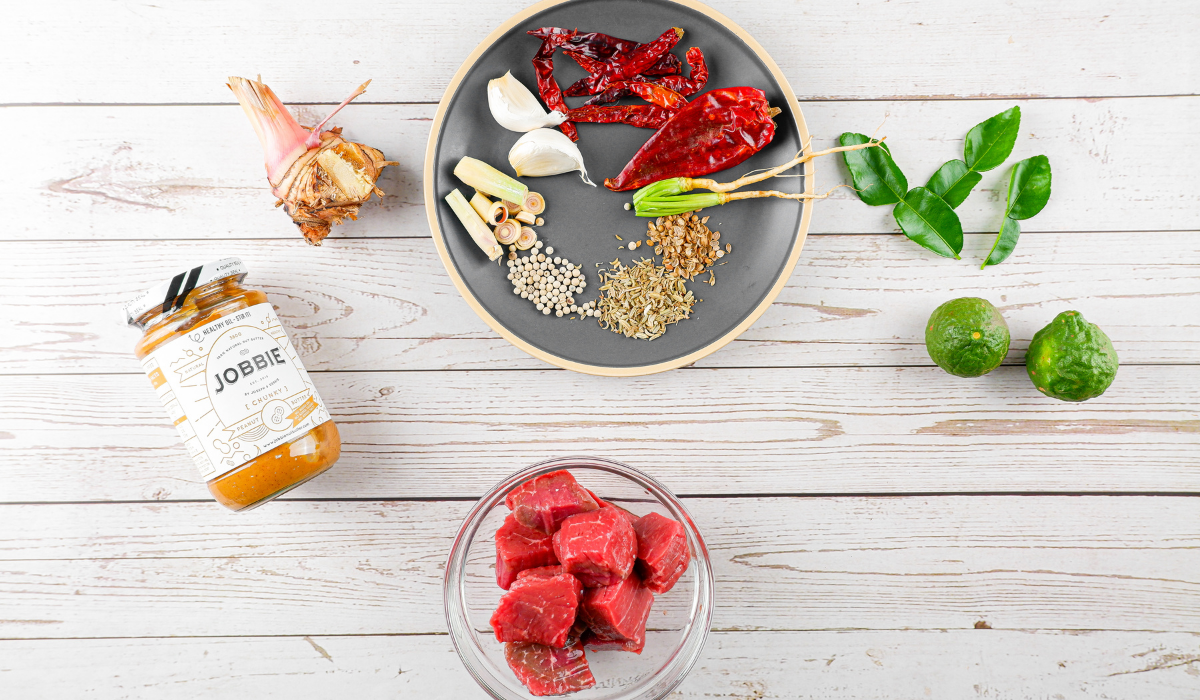 Homemade panang curry paste
7 dried chillies, deseeded and soaked to soften (see tips)
2 stalks lemongrass, white part only
5 cm fresh galangal, peeled and thinly sliced
1½ tsp finely grated kaffir lime zest (3 limes)
2 coriander roots, cleaned
2 garlic cloves
1 small shallot (20g)
1 tsp Thai shrimp paste
2 tbsp JOBBIE Chunky Pure Peanut Butter
½ piece whole nutmeg
2 tsp coriander seeds
½ tsp cumin seeds
½ tsp white peppercorns
PREPARATION
In a large pot, scoop the top 1/3 cup of thicker coconut milk. Heat the coconut milk over medium heat until it starts to boil and separate.
Add curry paste and peanut butter, stir well.
Add beef slices and coat with curry paste.
Add remaining coconut milk and water, simmer over low heat until beef slices are tender. Add more water if necessary.
Once the beef is tender, add kaffir lime leaves and season with fish sauce and sugar. Serve hot.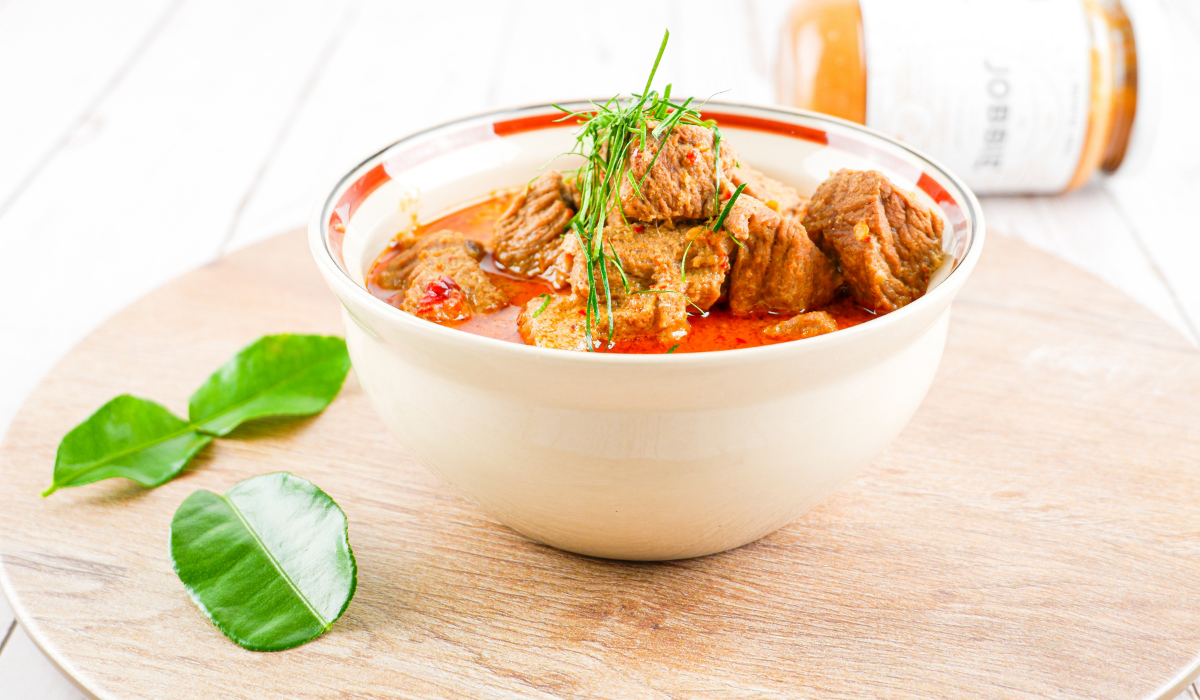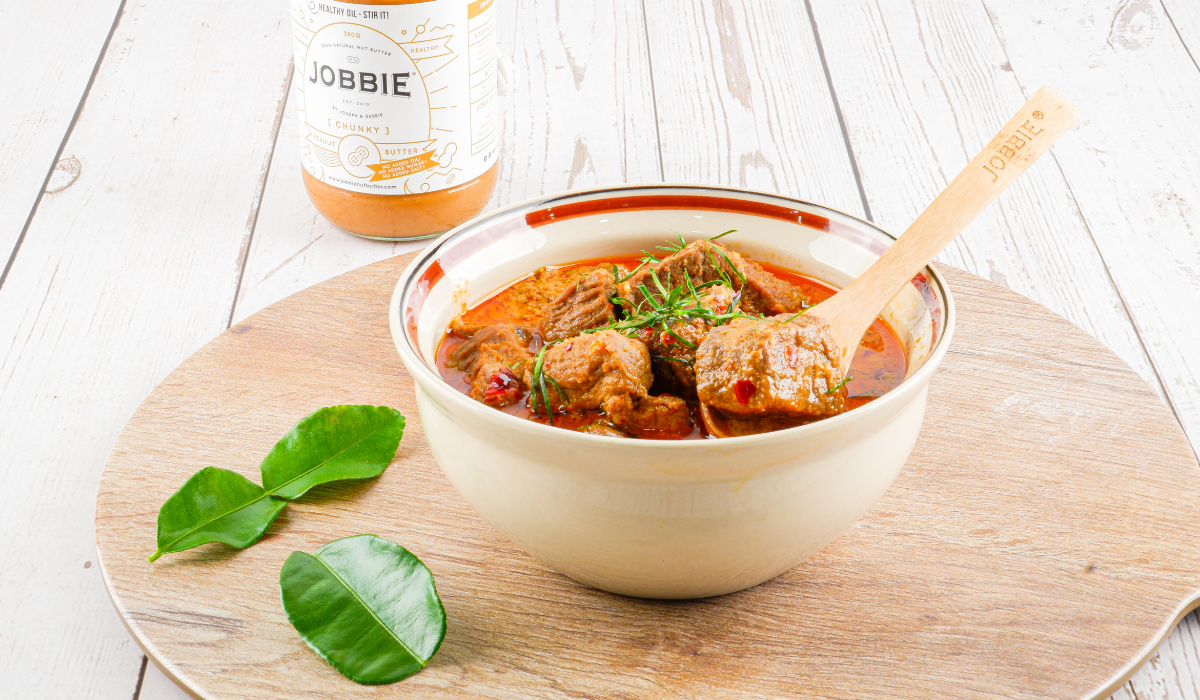 TIPS
Remaining homemade panang curry paste can be stored in refrigerator.
There are a few dried chilli varieties in the market. Big fat dried chillies (New Mexican) are mild hot and give attractive red colour to the recipe. Crinkly Kashmiri dried chillies from India make hot and spicy curry. You may mix with different dried chillies to prepare this curry if necessary.
---
JOBBIE is a Malaysian brand specialised in making 100% natural Halal peanut butter.

Our peanut butter is perfect to enjoy on bread/toast, but there can be many more possibilities! Check out more interesting JOBBIE peanut butter recipes here.

Want to get your recipe featured? Tag #jobbierecipes on Instagram to join us!
---
Get your peanut butter >>> SHOP NOW