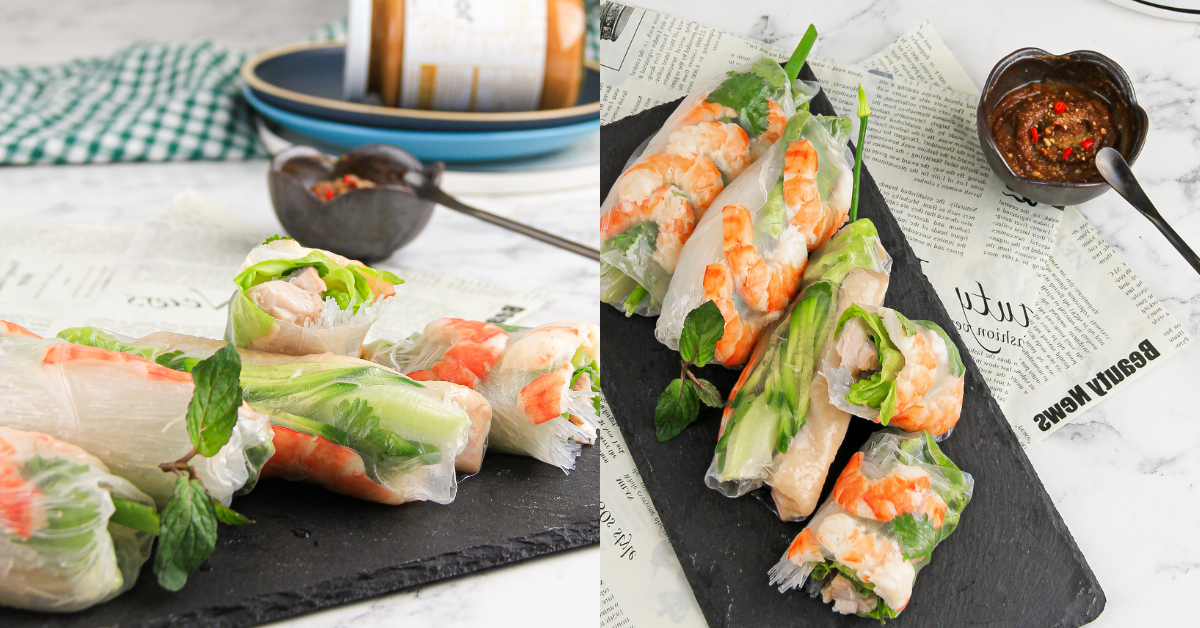 Vietnamese Spring Rolls with JOBBIE Peanut Butter Dipping Sauce
by Fifi Leong (@fifileongmy IG)
Vietnamese fresh spring rolls are Asian equivalent of wraps! You can wrap anything you like together all in soft chewy rice paper. These healthy rolls are full of leafy green veggies, basil, mint or other herbs, lean meat, prawns, and vermicelli noodles. They are beautiful to look at and work great as a refreshing appetizer or even a light meal.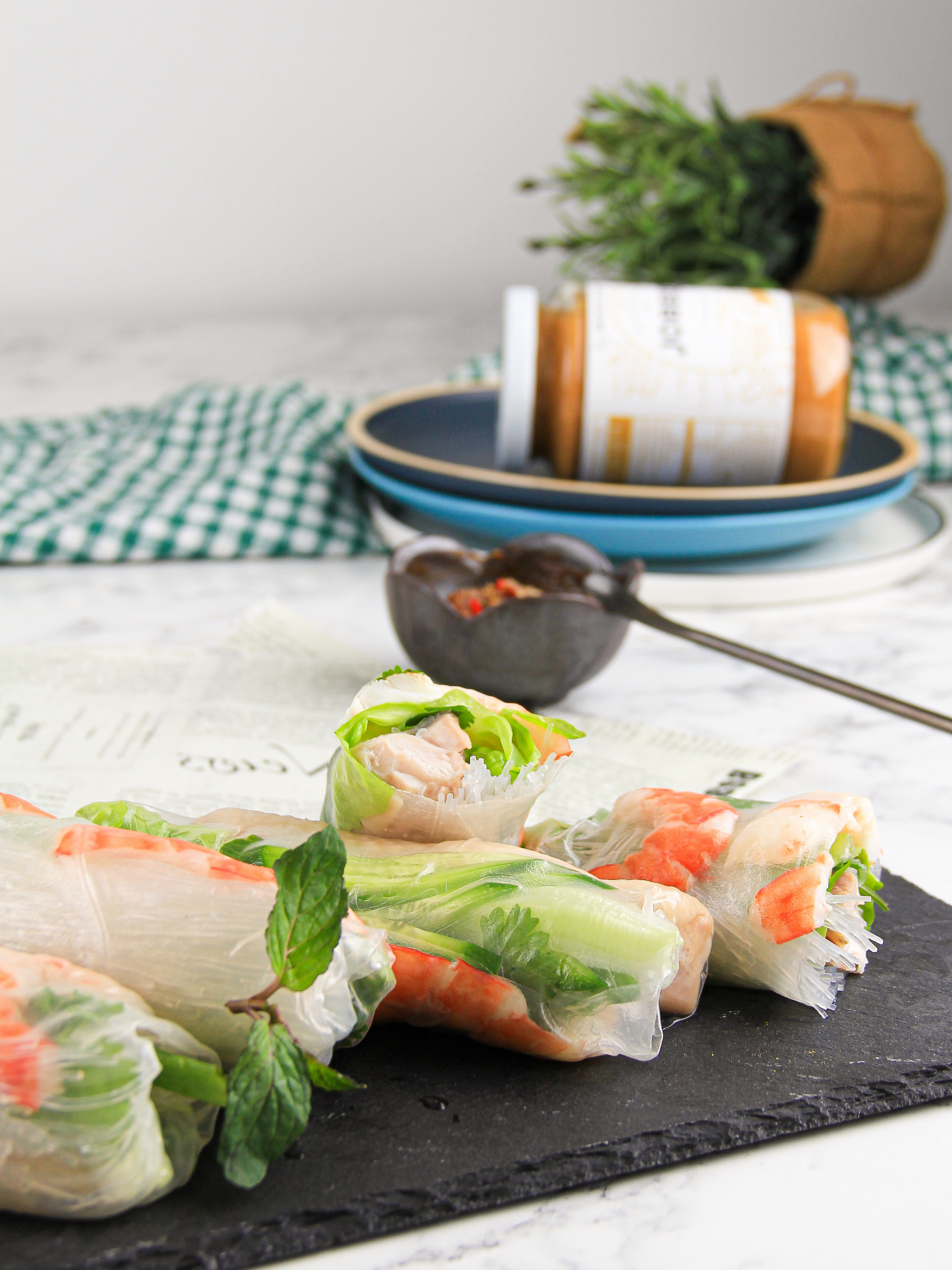 Impress yourself with some creative ideas on fillings, pick and choose which filling according to your preference. Dip it with delicious JOBBIE peanut sauce right before you have your first bite, I guarantee you, it is divine.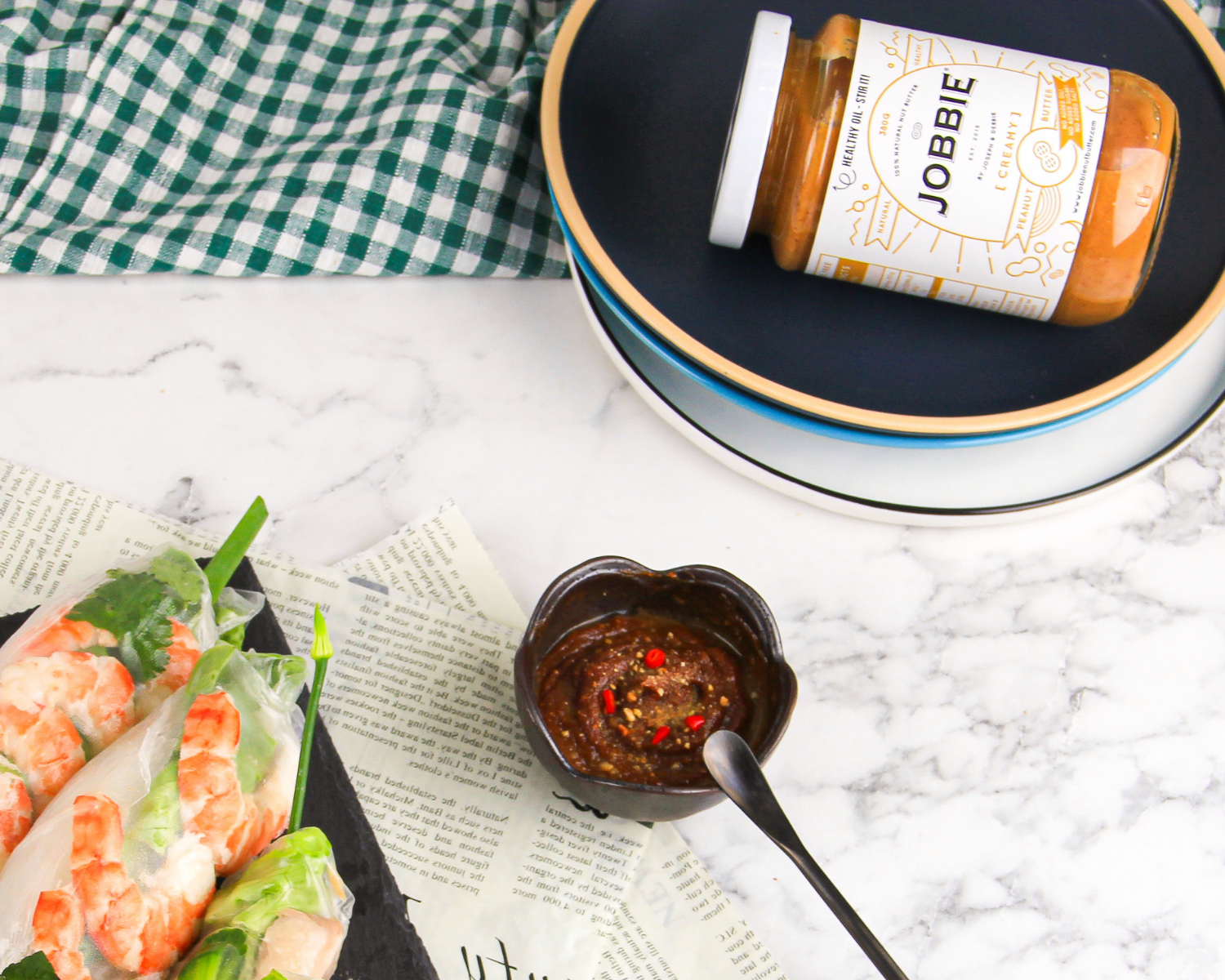 INGREDIENTS
Spring rolls
300 g chicken thigh fillets, with skin
½ tsp salt
3 ginger slices
1 sprig spring onion, cut in 3 cm pieces
150 g pho (Vietnamese rice vermicelli) or glass noodles
16 fresh prawns
½ cucumber, peeled
8 rice paper
8 cos lettuce
2-3 sprigs fresh peppermint leaves or basil leaves
2-3 sprigs fresh coriander, leaves only
4 fresh chives, cut in 5 cm strips
Dipping sauce
5 tbsp hoisin sauce
2 tbsp JOBBIE Creamy Pure Peanut Butter
1 garlic clove, minced
2 tsp sugar
30 g roasted peanuts, coarsely chopped (optional)
2 bird's eye chillies, chopped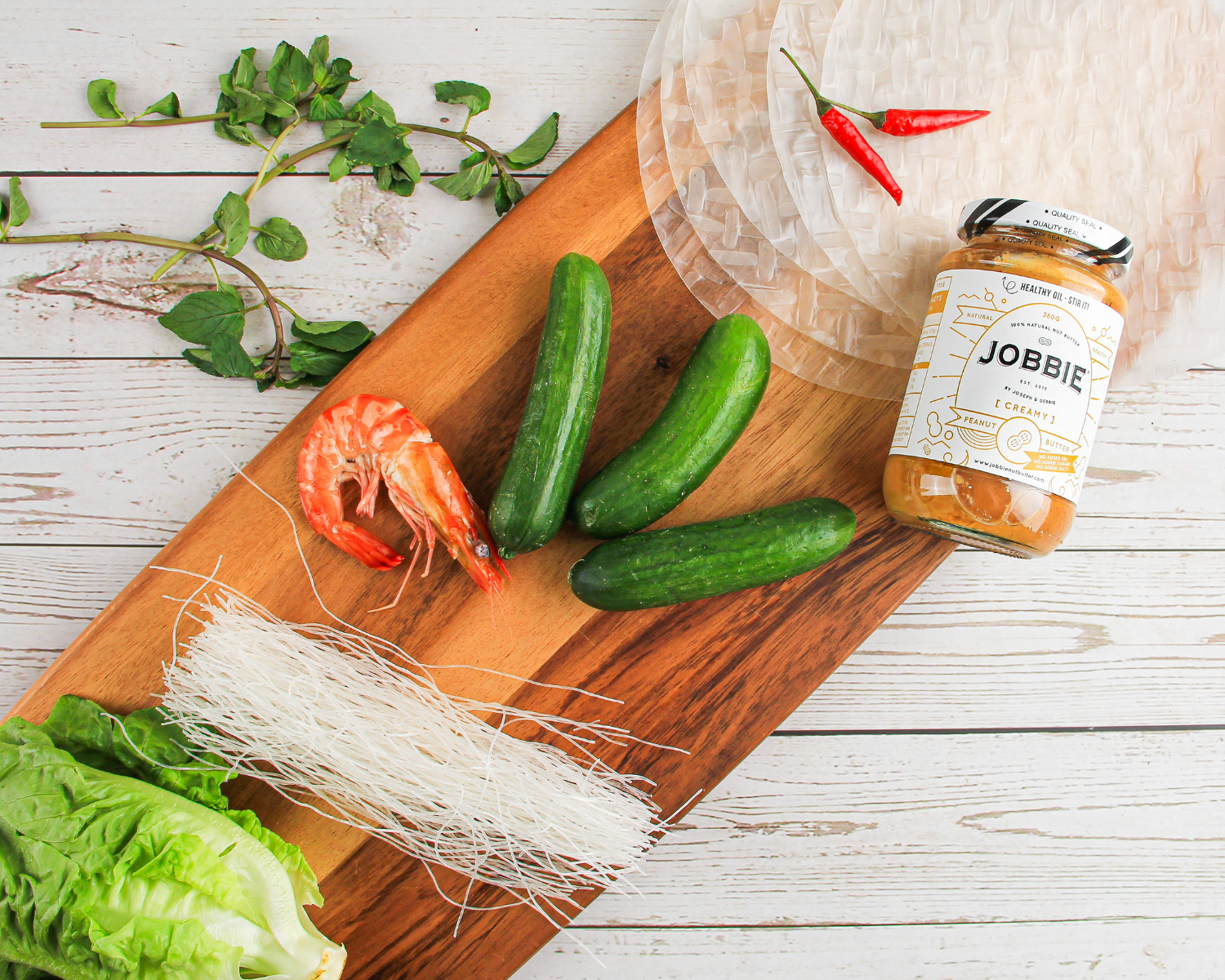 USEFUL ITEMS
PREPARATION
Rub chicken thigh fillets with salt.
In a steamer, place chicken thigh, ginger slices and spring onion. Steam for 15 minutes. Check if chicken is cooked by piercing chopstick, the meat can be easily pierced through. Prolong steaming time if necessary. Reserve steaming liquid.
In a big pot, blanch pho for 5 minutes. Drain with colander and rinse with running tap water. Using scissors to cut the noodles and set aside.
In a big pot, fill the pot with 3 cm water. Boil water and blanch prawns for 2 minutes or until prawns turn pink. Drain and let it cool completely before removing shells. Horizontally halve the prawns. Cut cooled chicken into thin slices.
Remove cucumber core and cut in thin strips.
Mix hoisin sauce, peanut butter, sugar and chicken stock in a small bowl.
Wipe your clean work surface with clean wet towel. Dip 1 rice paper wrapper with water. Place 1 wrapper onto the work surface. Arrange 1 lettuce, some noodles, 2 cucumber strips, mint leaves, coriander leave, 3 prawn halves and 3 chicken slices in the centre of the wrapper.
Fold in left and right sides of wrapper, then fold up bottom of wrapper over filling and roll away from you to completely enclose filling, place a chive in between prawns and chicken, then continue rolling until finish. Place seam side down onto a serving platter. Continue with the remaining wrappers and filling to create 8 rolls. Garnish peanut sauce with chopped peanuts and chopped chilli. Serve immediately.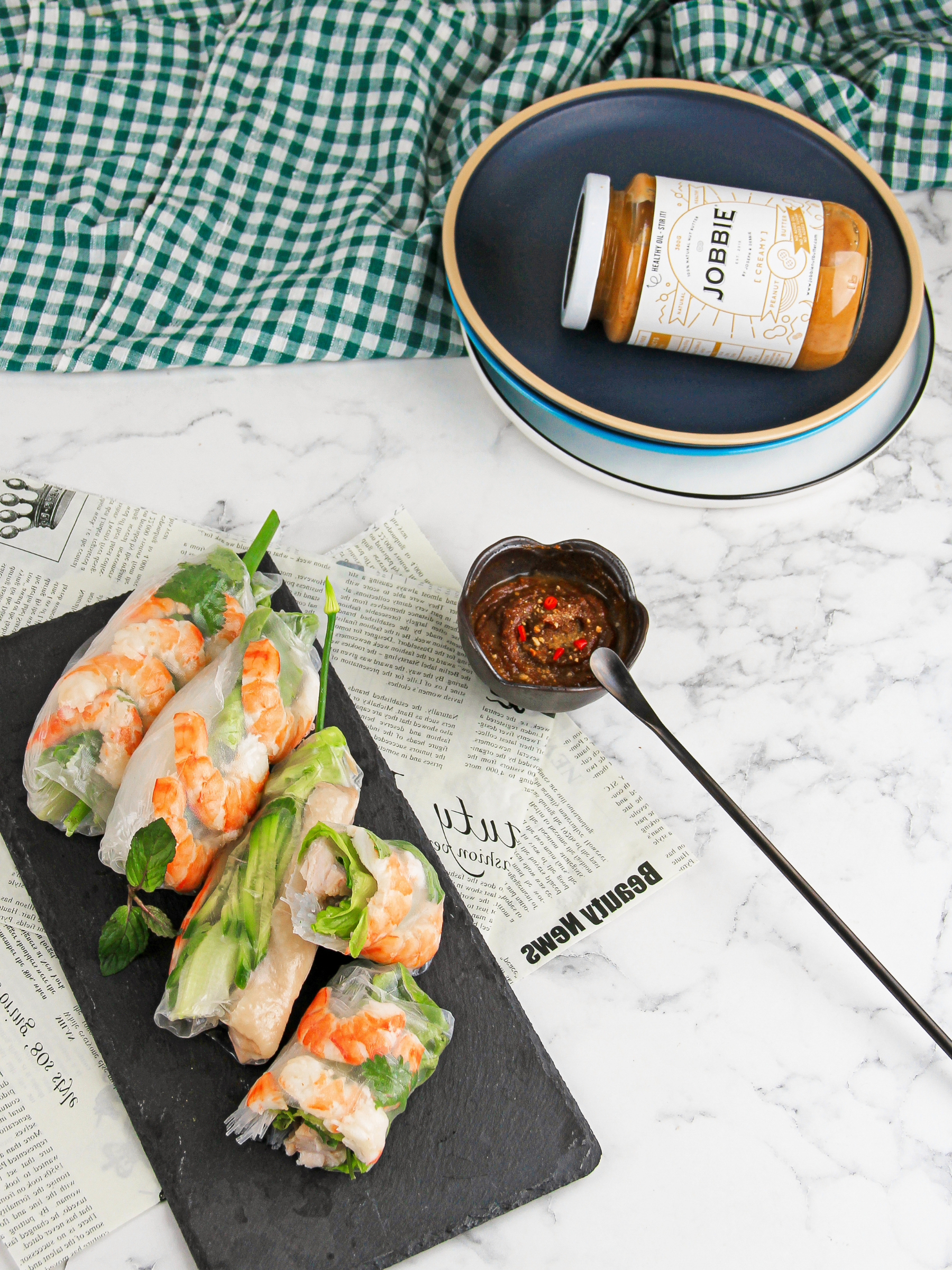 ---
JOBBIE is a Malaysian brand specialised in making 100% natural Halal peanut butter.

Our peanut butter is perfect to enjoy on bread/toast, but there can be many more possibilities! Check out more interesting JOBBIE peanut butter recipes here.

Want to get your recipe featured? Tag #jobbierecipes on Instagram to join us!
---
Get your peanut butter >>> SHOP NOW