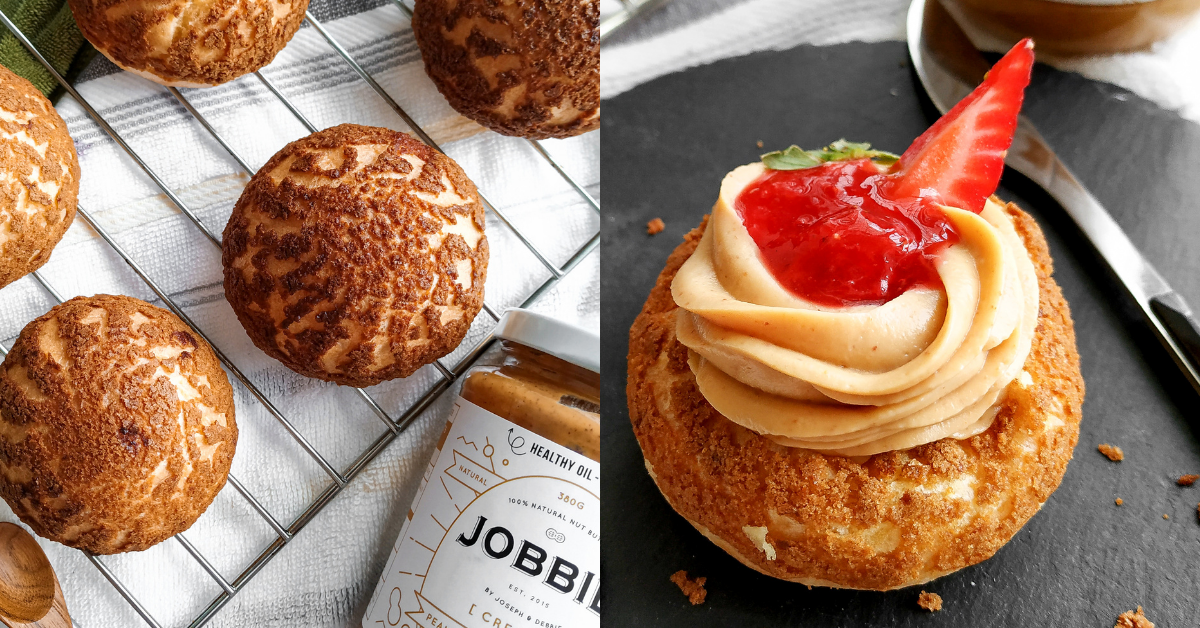 JOBBIE Peanut Butter and Jam Cream Puff
by Wayne (@dough_and_stove IG)
PB&J on bread....Easy
PB&J on cream puff....Fancy!
Whether you're trying to impress that special someone or ....well do you really need a reason to have this? This PB&J Cream Puff is sure to please!
Light, crispy, brown sugar crusted puff topped with a creamy peanut butter pastry cream made with JOBBIE Creamy Pure Peanut Butter and tarty strawberry jam, would you give this classic french with a twist a try?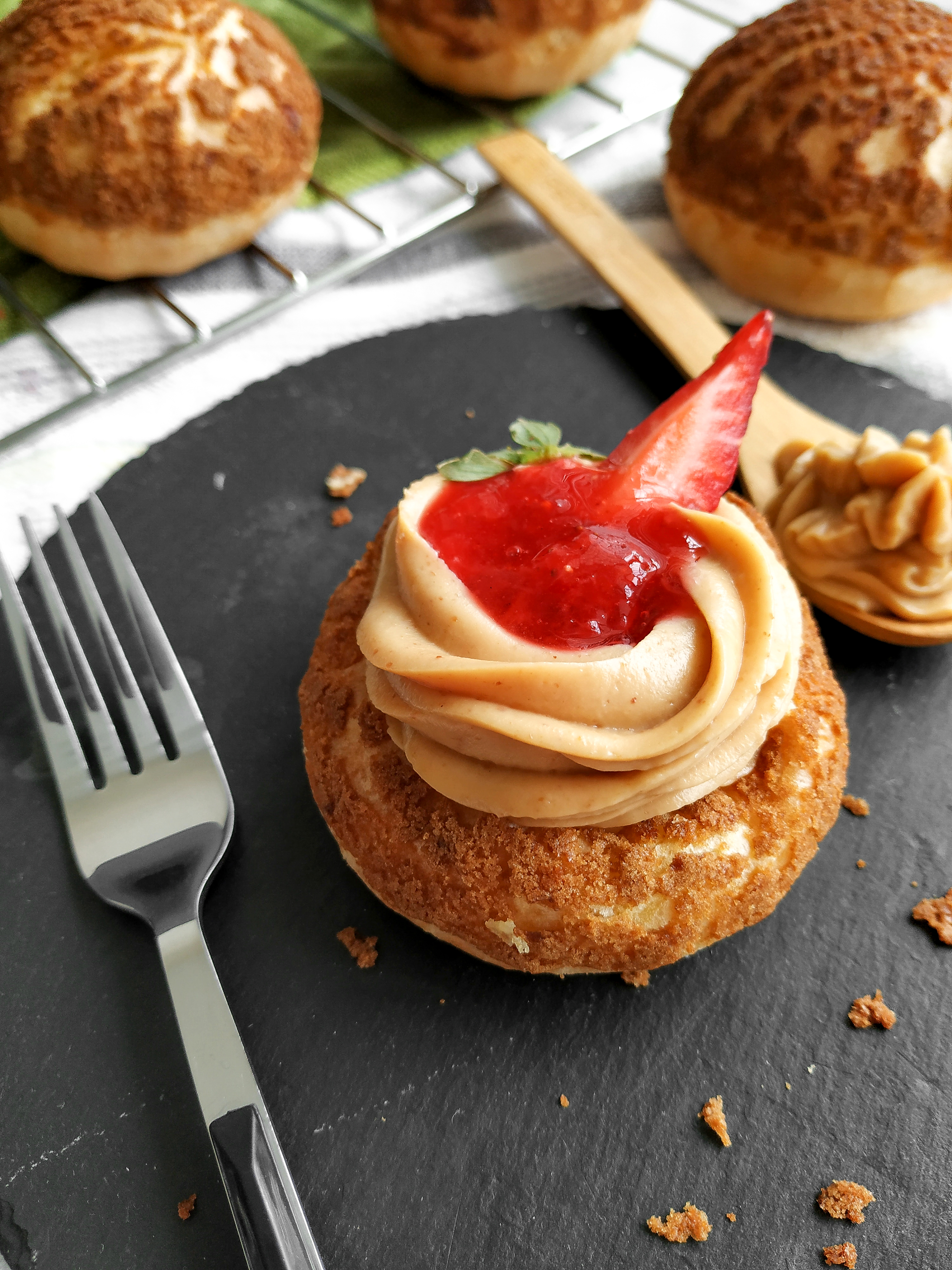 Recipe for ±12 pcs of PB&J Cream Puffs
Crust (±12 pc)
INGREDIENTS
Butter, 25g
Brown Sugar, 25g
All Purpose Flour, 25g
PREPARATION
Prepare ±24 sheet of 2.5" x 2.5" square baking paper. Set aside.
Cream Butter & Sugar.
Mix in Flour to get a smooth paste.
Wrap with a cling wrap and refrigerate for at least 1 hour before using or freeze until ready to use.
Roll out between 2 sheets of baking paper into ±2 mm thickness.
Cut into circle with a cookie ring without removing it from the baking paper (size can vary depends on intended final size of puff, I made ±2" diameter)
Freeze crust for at least 45 min before transferring into baking paper.
After transferring, set aside in freezer until ready to use.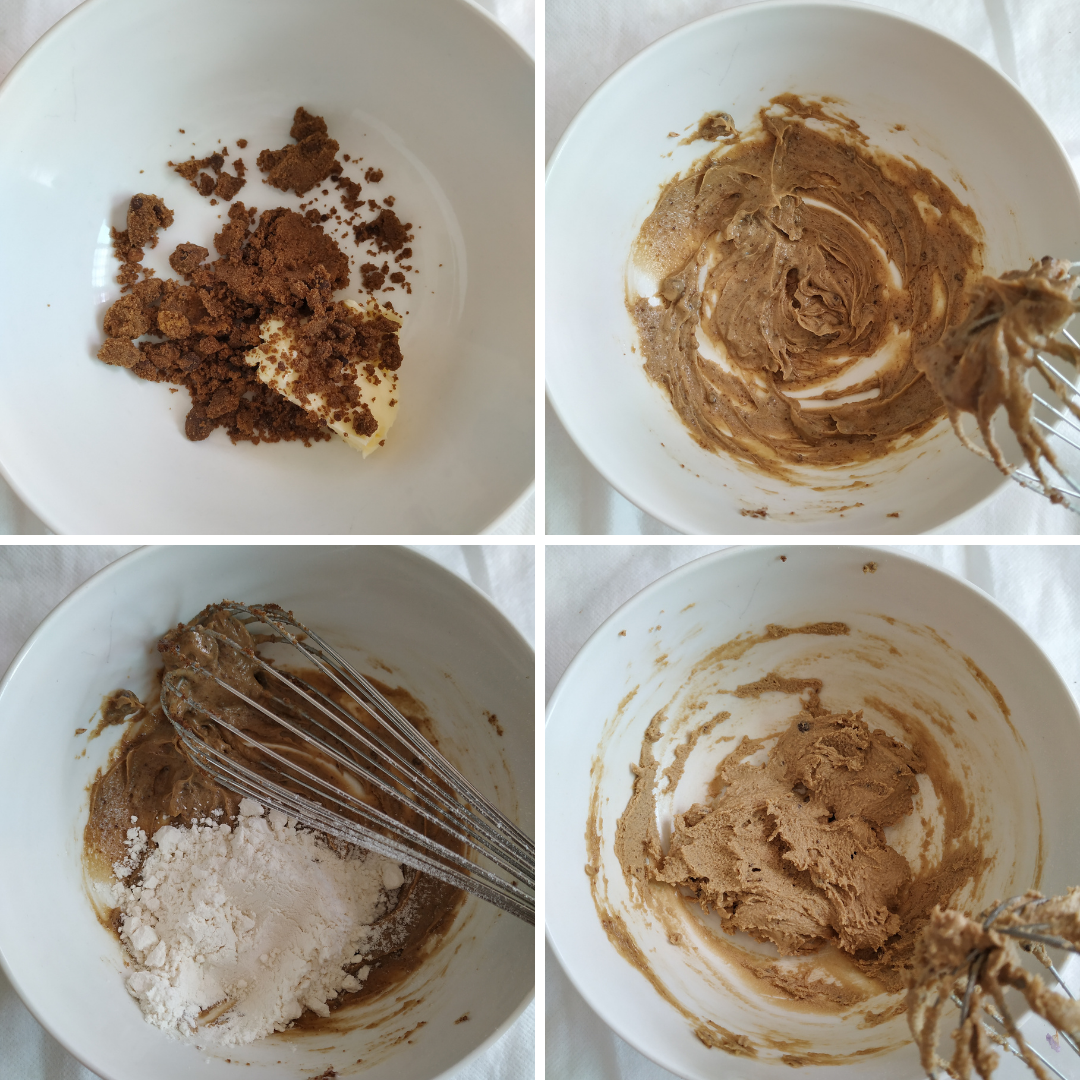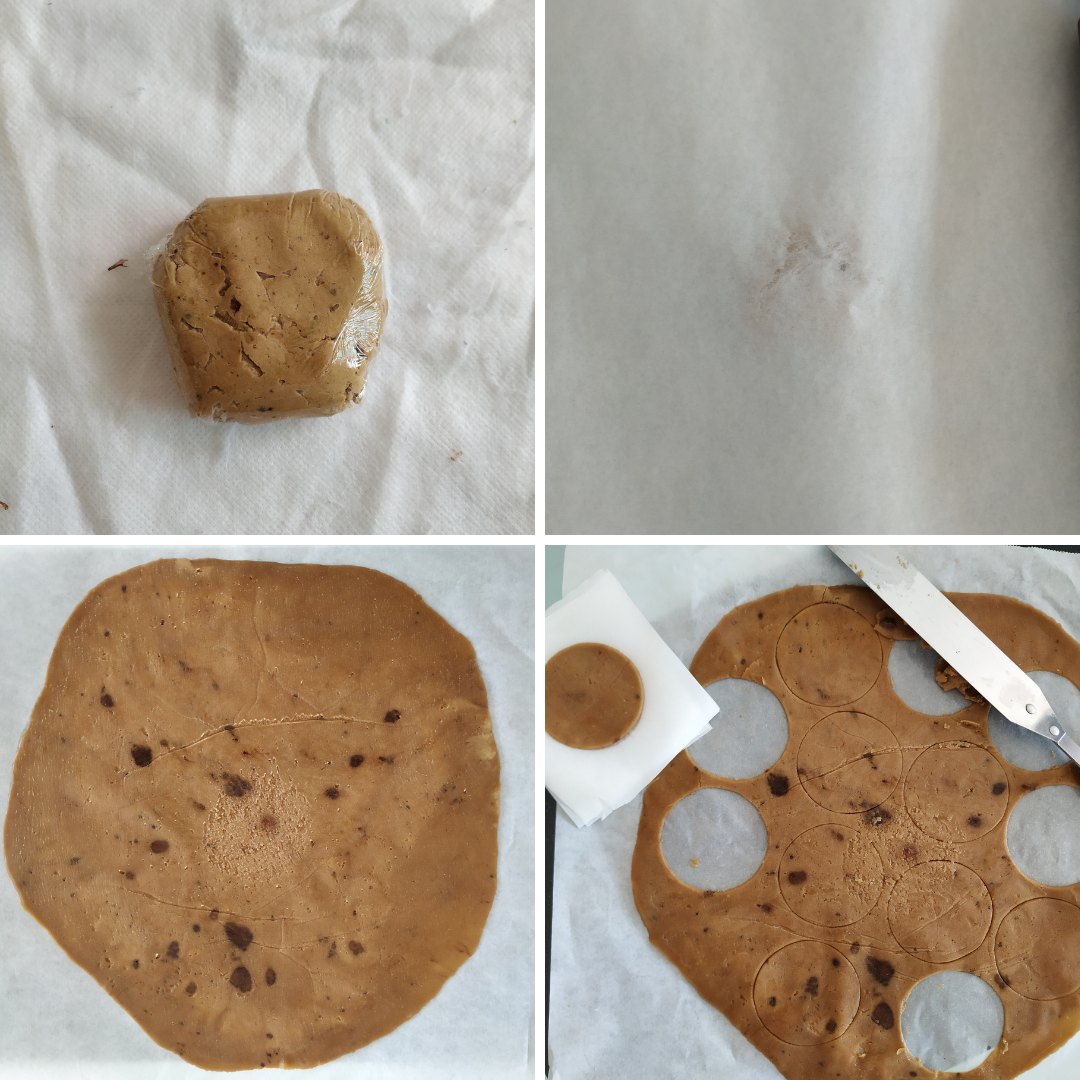 Peanut Butter Pastry Cream (±850g Cream)
INGREDIENTS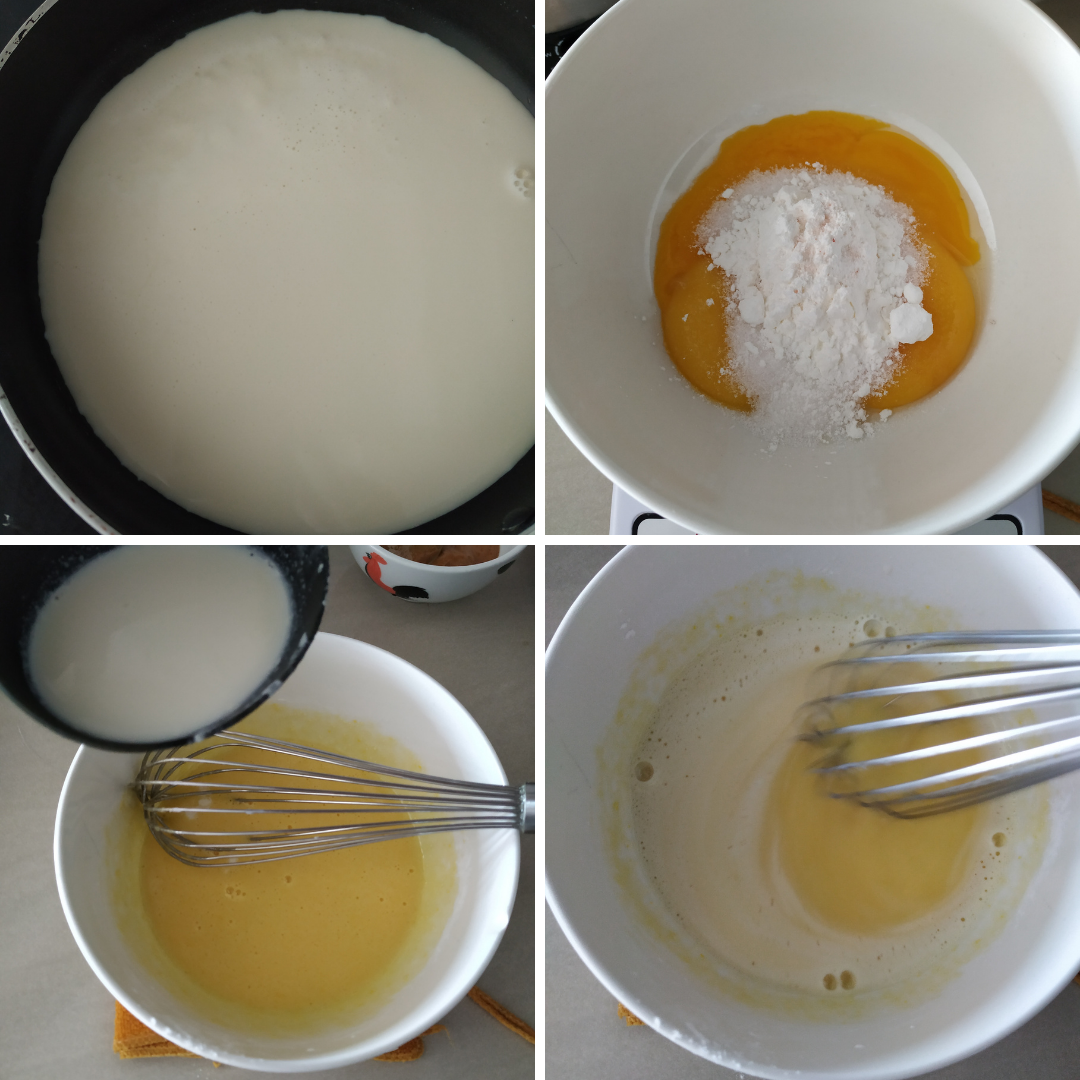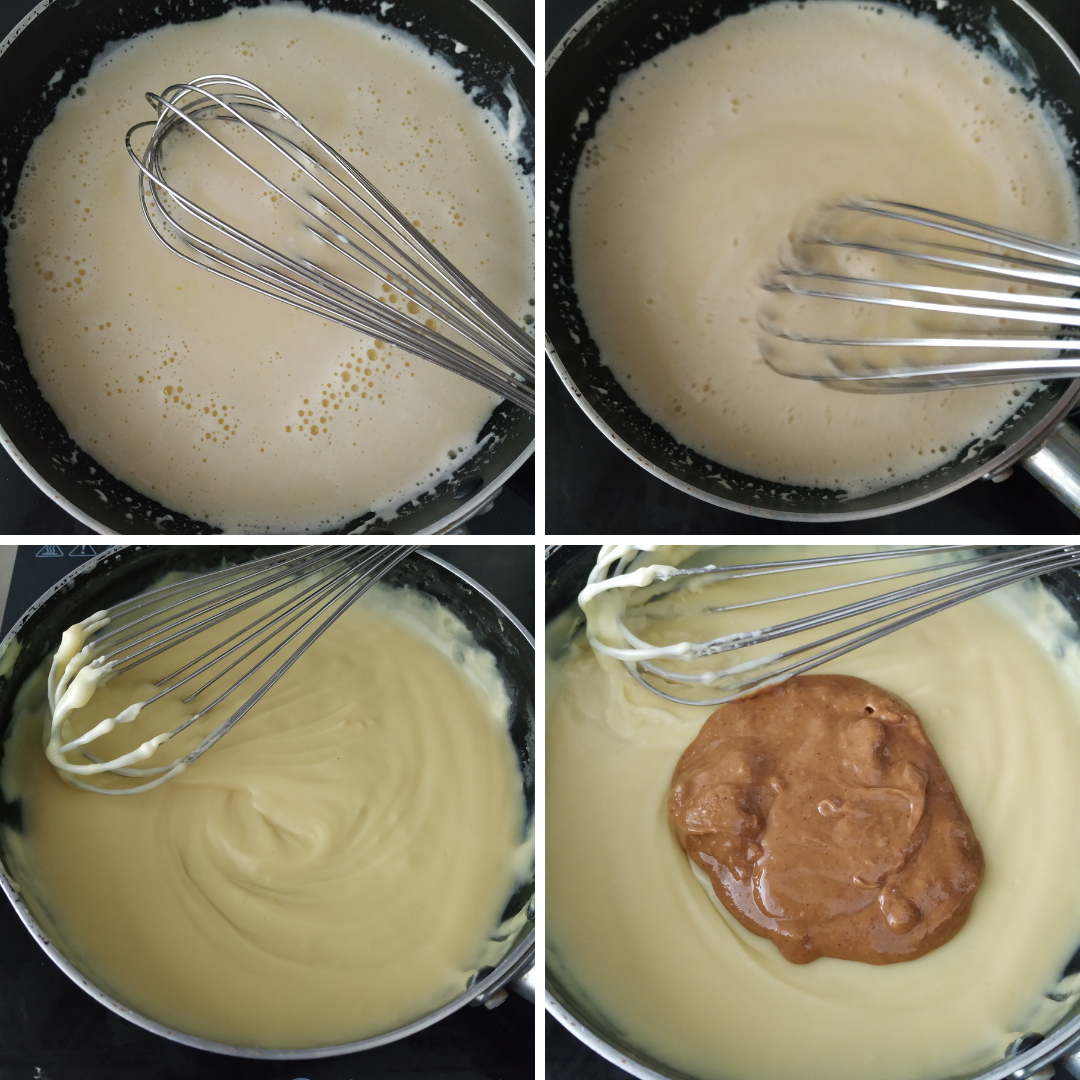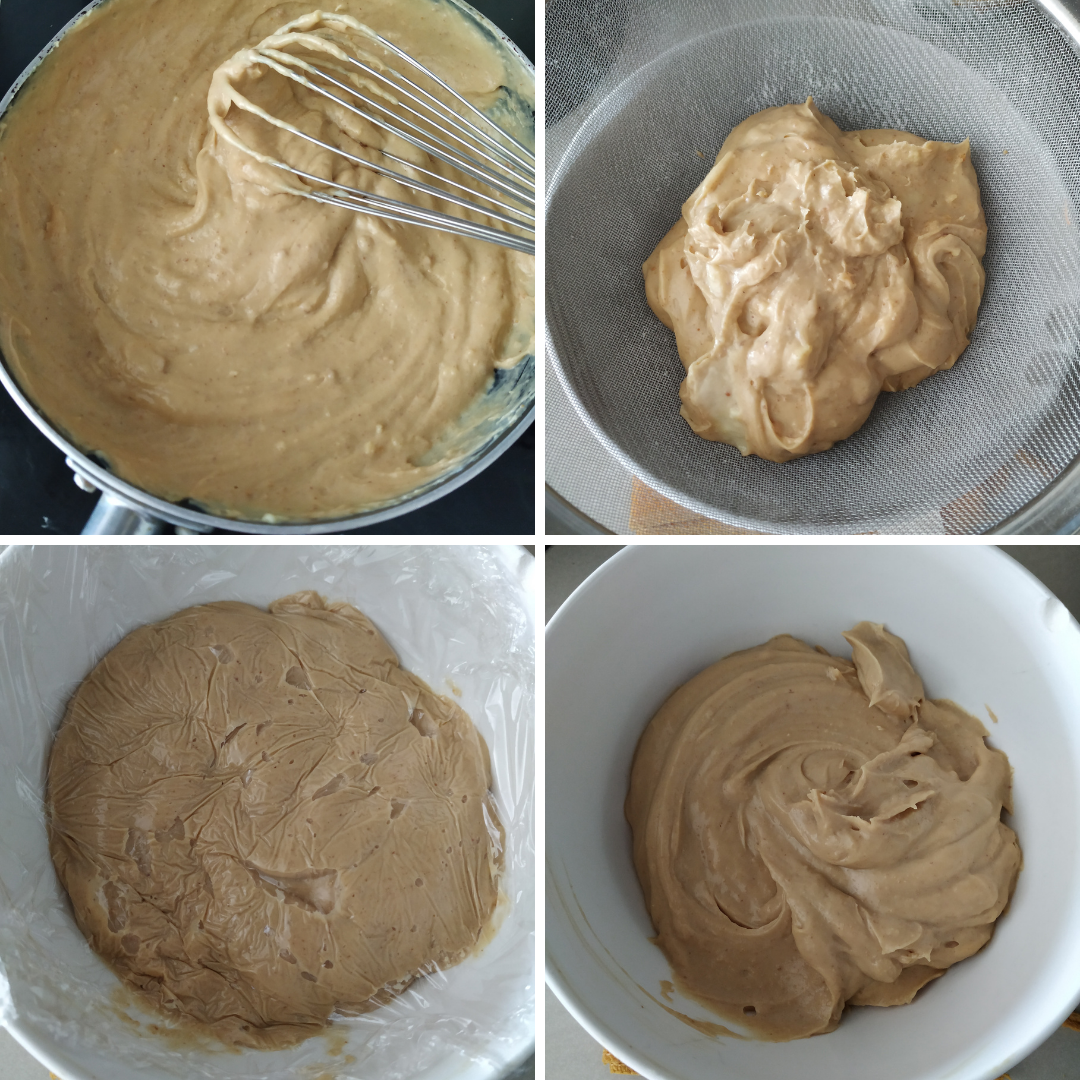 PREPARATION
Bring Milk to a simmer.
Whisk Egg Yolk, Sugar, Corn Starch and Salt in a separate bowl.
When Milk bubbles, drizzle ½ of the Milk slowly into egg yolk mixture, while whisking vigorously.
Add the mixture back to the remaining ½ of the Milk.
Heat over medium heat, whisking vigorously throughout, until mixture starts to bubble (±2 min).
Lower heat, cook for ±2 min more until thickens.
Remove from heat. Add in Peanut Butter.
Sieve pastry cream into a bowl
Cover with wrap on surface. Cool at room temperature for about an hour.
Refrigerate for at least 2 hours and fill into piping bag before using.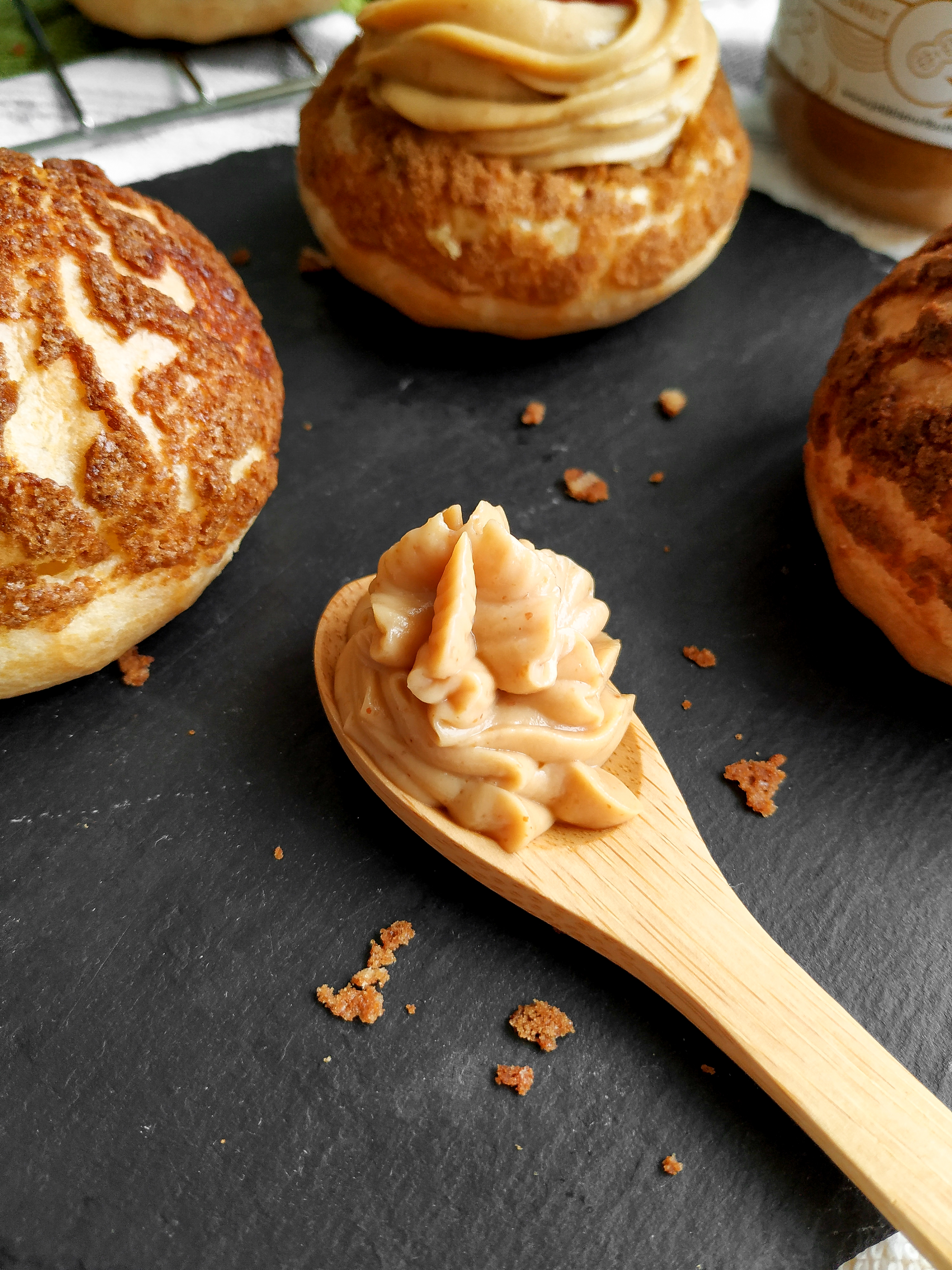 Cream Puff (±12 pcs 2" diameter Puff)
INGREDIENTS
Water, 115g
Sugar, 15g
Butter, 55g
Salt, 2g
Bread Flour, 70g
Egg, 2 - 3 (Varies, see note)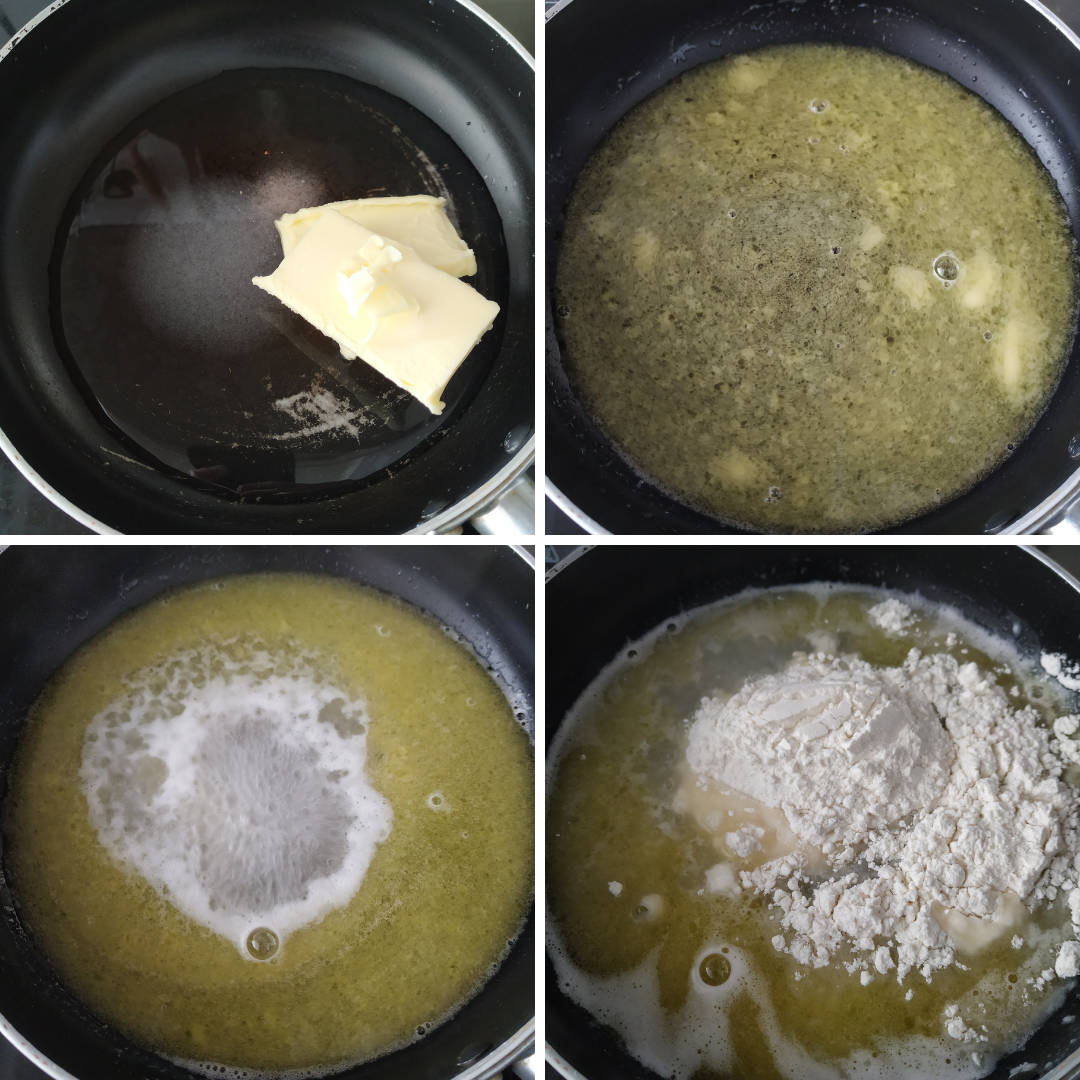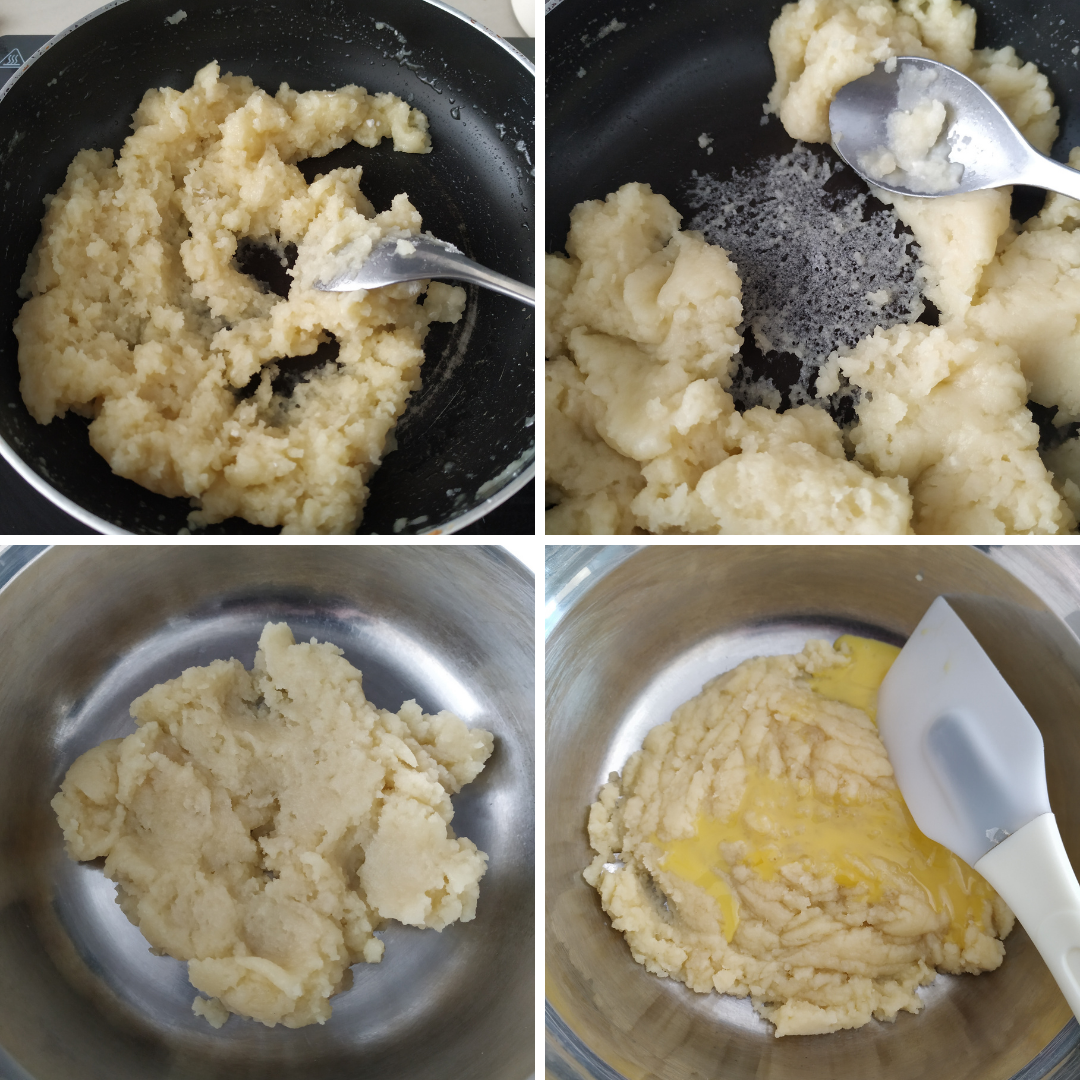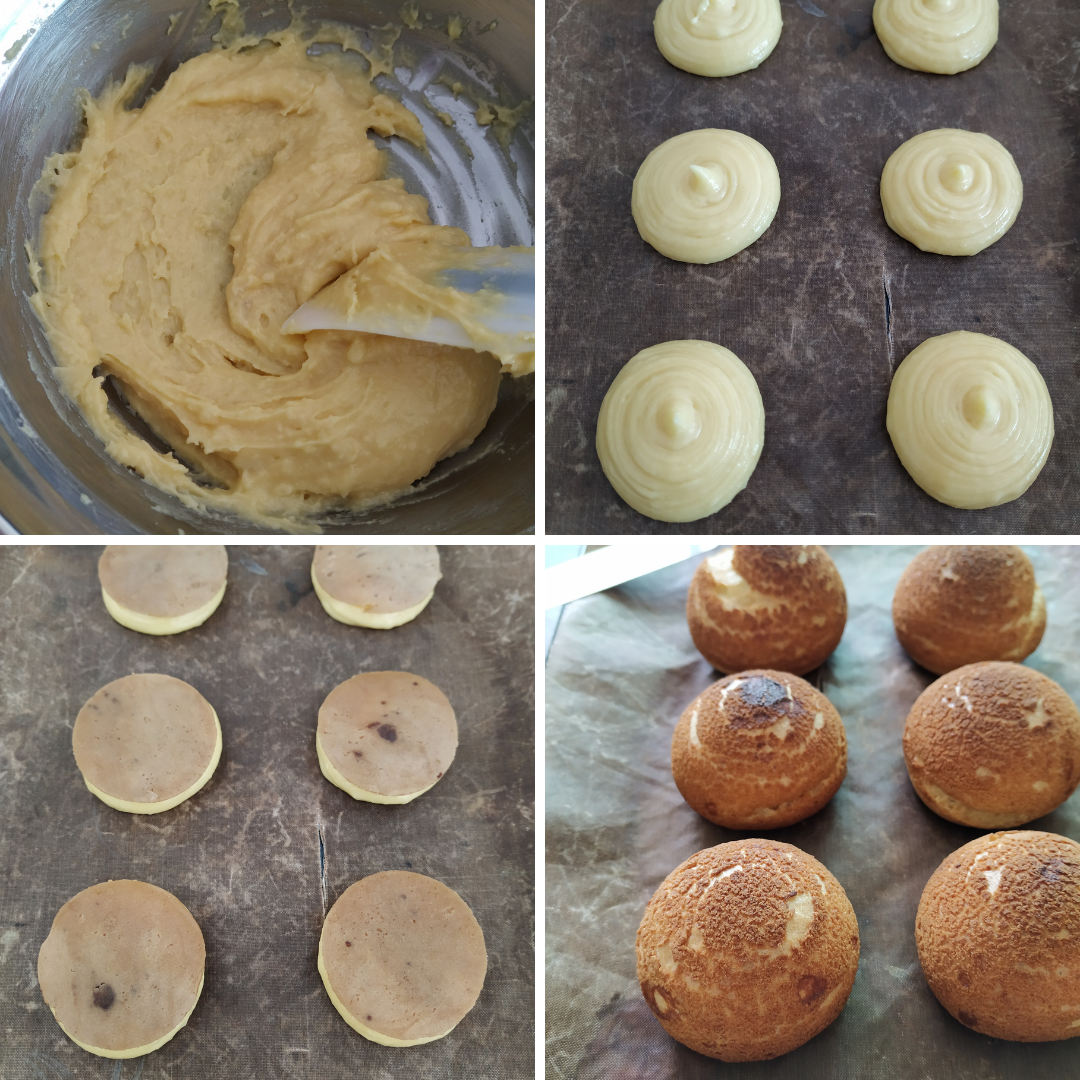 PREPARATION
Melt Butter with Water, Sugar and Salt over low heat.
Once Butter & Sugar dissolves, turn the heat up until mixture boils.
Drop Flour into at once, when mixture boils.
Remove from heat. Stir to get a rough dough.
Return to heat. Cook while stirring continuously for 2 - 3 min until thin skin forms on bottom of pan.
Transfer into another bowl. Cool for 15 min
Add in Eggs slowly.*
Fill batter in piping bag.
Pipe at 90° perpendicularly (±2" circle) while keeping each of them about 1" apart.
Transfer crust prepared earlier onto piped batter by placing on top of them.
Bake at 190°C for 16 min, then lower temperature to 175°C, bake for 14 min, open door of oven (to let steam out), bake for another 10 min (40 min baking time in total) until puffed, golden and dry to touch. **
Transfer over cooling rack. Set aside for 10 min before assembling.
*Eggs required varies, refer to image for consistency required.
**Do not open oven door unless at stated times or puff will deflate.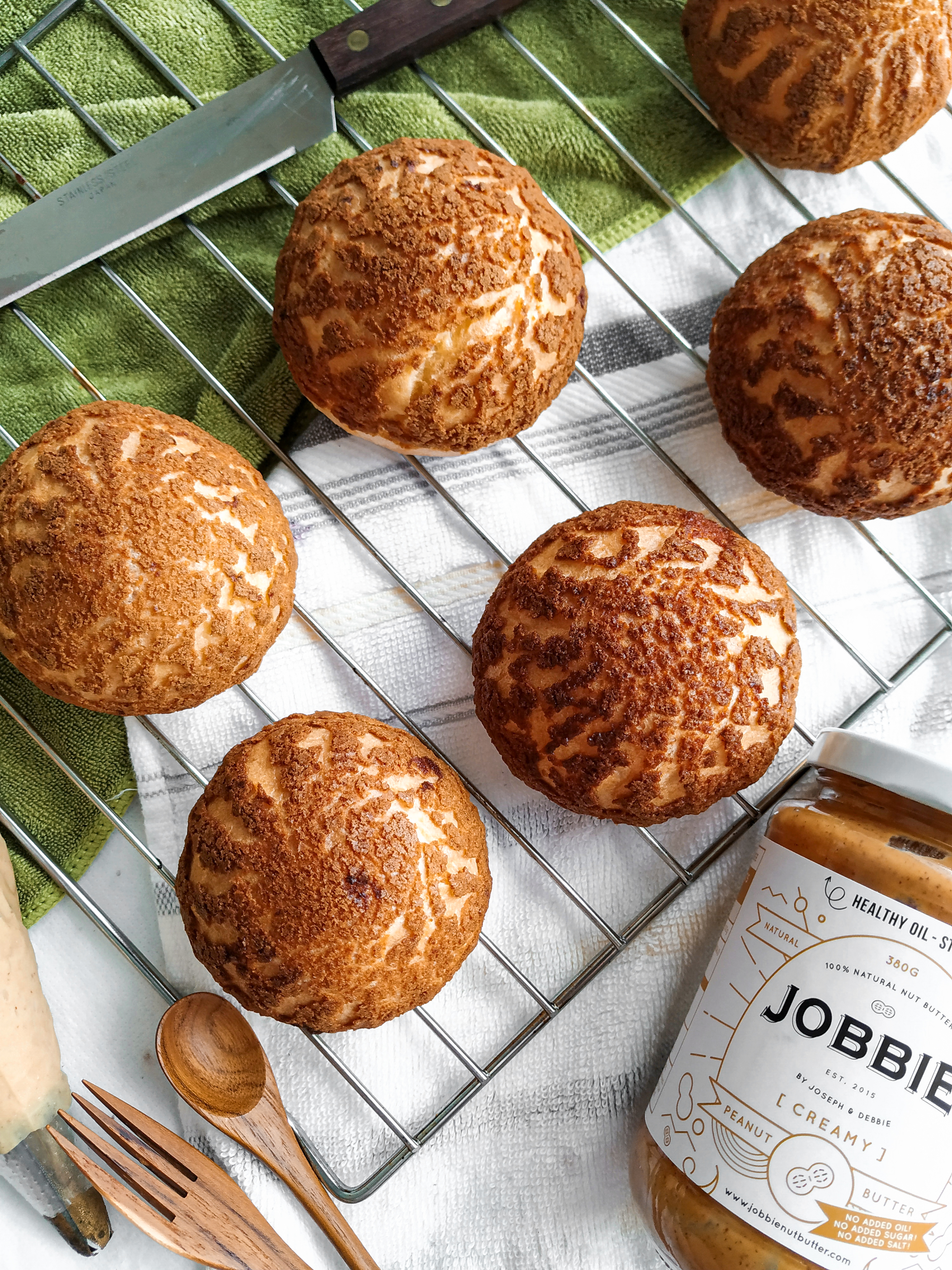 To Assemble
Slice off top of cream puff.
Pipe peanut butter pastry cream into puff in a circular motion, leaving the center empty.
Top with strawberry jam, fresh strawberry (optional).
Best served when pastry cream is cold and puff is still fresh and crispy.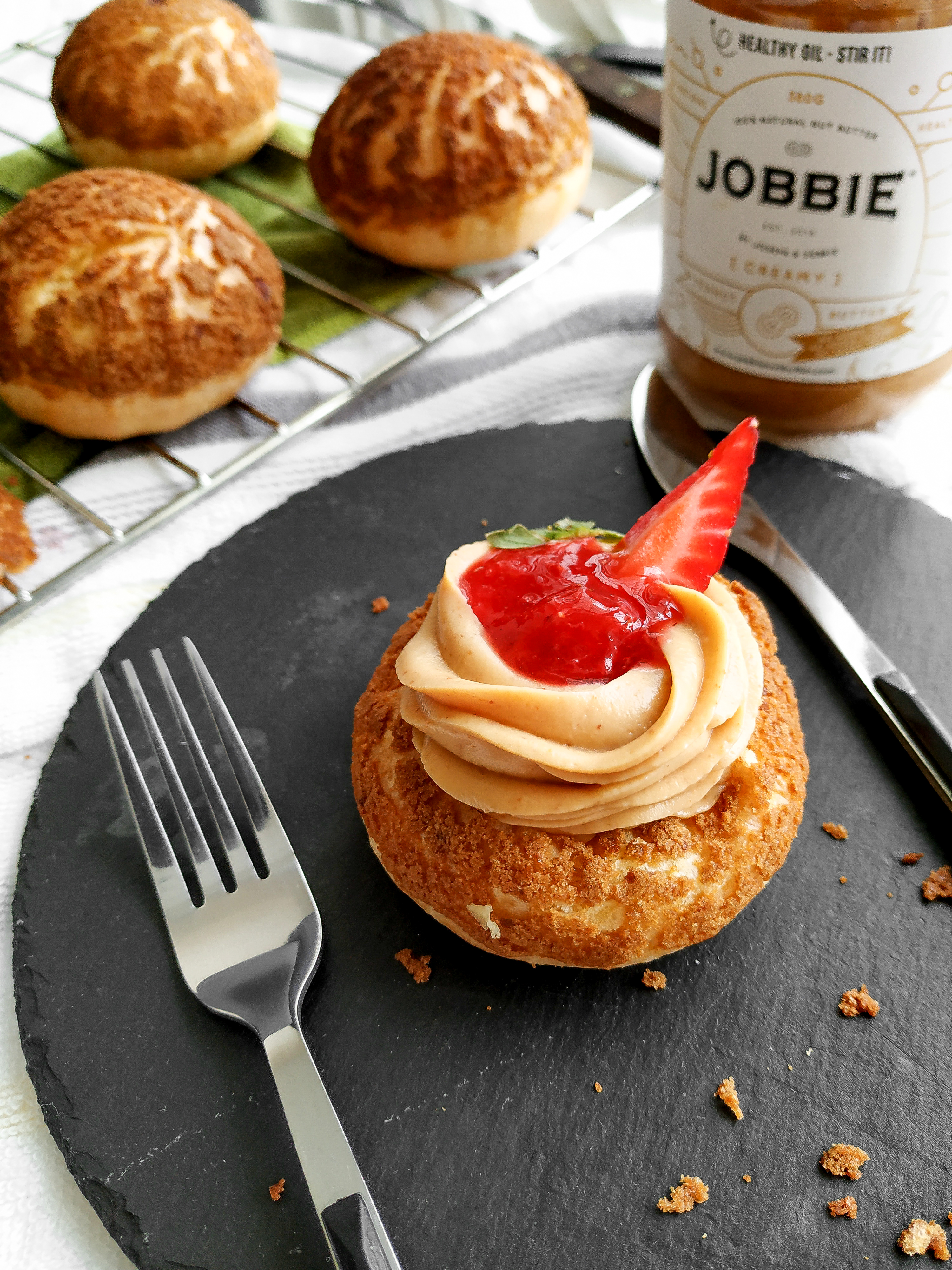 ---
JOBBIE is a Malaysian brand specialised in making 100% natural Halal peanut butter.

Our peanut butter is perfect to enjoy on bread/toast, but there can be many more possibilities! Check out more interesting JOBBIE peanut butter recipes here.

Want to get your recipe featured? Tag #jobbierecipes on Instagram to join us!
---
Get your peanut butter >>> SHOP NOW