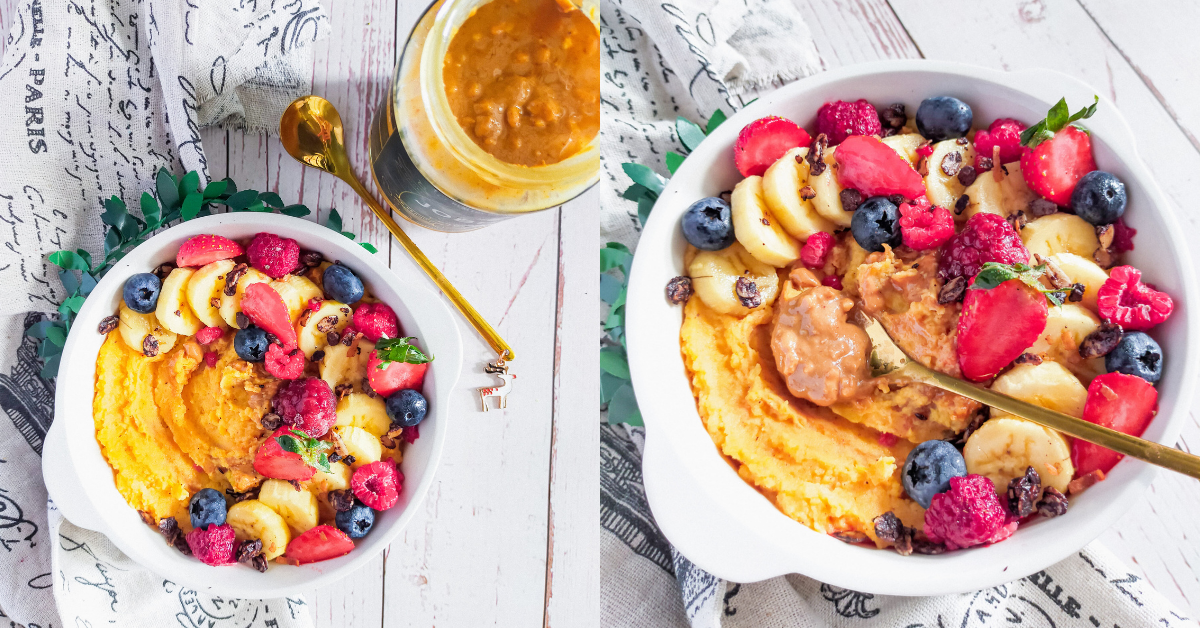 Sweet Potato Yogurt Bowl with JOBBIE Peanut Butter
by Hui Sim (@hui_dairyy IG)
Bored with smoothie bowl? Bored with oatmeal? Bored with cereal and milk? Why not try out this awesome goodness in a bowl - Sweet Potato Yogurt Bowl!
It consists of good carb, healthy fats, protein, fiber, vitamins and minerals as well!💃
INGREDIENTS
2 servings
400g of orange sweet potato (peeled, diced, boiled and mashed)
100g of greek yogurt
80-100 mL of milk
dash of cinnamon
PREPARATION
Mix everything in a blender until a smooth thick consistency batter.
Place the mixture into a bowl, top with your favourite fruits, granola, chia seeds and drizzle with JOBBIE Chunky Classic Peanut Butter and some honey or maple syrup! VIOLA!
TIPS
*If you are using purple sweet potato instead of orange sweet potato, it may require more liquid.
BASE
That's the simple base. You may change the flavor by adding cacao powder instead of cinnamon powder (Choco based), or cacao powder with coffee powder (Mocha based), some vanilla essence if you prefer vanilla taste, or some protein powder while blending to pump up the protein content!
OR
Savoury version! Instead of cinnamon powder, may add in curry powder or the superfood turmeric powder! (curry spiced + PB will taste like satay😆)
TOPPINGS IDEAS
Tropical: bananas, mango, toasted coconut flakes, with JOBBIE Peanut Butter (I think Monkey King Crispy Coconut Peanut Butter will be nice😍)
Classic PB & J: Berries + strawberry jam + peanut butter
Pink lady: Pomegranate, dragon fruit, berries + peanut butter
Savoury toppings: Soft boiled egg/poached egg, crispy beef bacon bits, caramelised onions, sauteed spinach, sauteed mushrooms, black peppercorns, curry/turmeric powder, and peanut butter
Get your peanut butter SHOP NOW