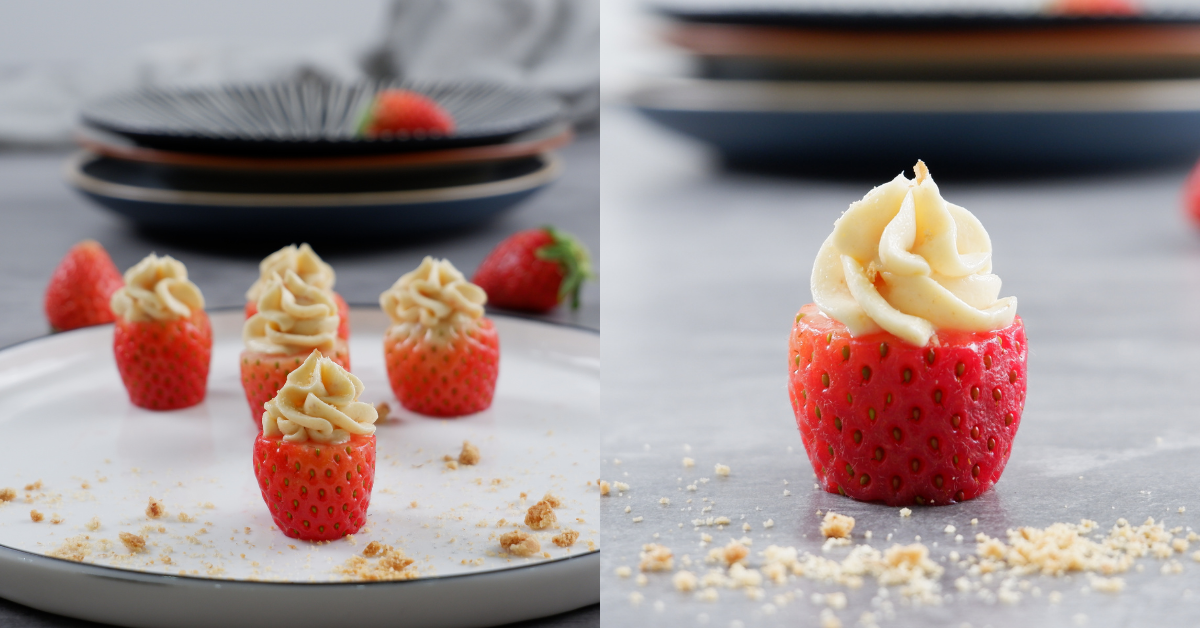 Strawberry Stuffed JOBBIE Peanut Butter Cheesecake
by Fifi Leong (@fifileongmy IG)
INGREDIENTS
15 medium to large fresh strawberries, rinsed and patted dry with kitchen paper towels
120 g cream cheese, softened
1 tbsp caster sugar
1 tbsp condensed milk
¼ tsp vanilla extract
50 g JOBBIE Creamy Pure Peanut Butter
PREPARATION
Cut the top (leaves) off of each strawberry. Use a small sharp knife (or melon baller) to carefully hull the center of the berries.
Slice off a bit of the tip of each strawberry so it can stand up; stand to dry on a paper towel.
Place cream cheese, caster sugar, condensed milk and vanilla extract in a large bowl and beat until smooth, about 2 minutes. Add peanut butter and beat until combined and smooth, adding more icing sugar and/or peanut butter to taste.
Spoon the mixture into a piping bag fitted with a star nozzle (a zipper bag with a corner cut off will work in a pinch). Fill each strawberry with the peanut butter cheesecake mixture. Place finished strawberries on a serving tray and refrigerate until ready to serve.
TIPS
Prepared stuffed berries can be made and refrigerated up to 4 hours in advance.
You can also serve this dessert in a glass, layer strawberry halves with peanut butter cheesecake, top with chopped peanuts and shaved dark chocolate.
---
JOBBIE is a Malaysian brand specialised in making 100% natural Halal peanut butter.

Our peanut butter is perfect to enjoy on bread/toast, but there can be many more possibilities! Check out more interesting JOBBIE peanut butter recipes here.

Want to get your recipe featured? Tag #jobbierecipes on Instagram to join us!
---
Get your peanut butter >>> SHOP NOW