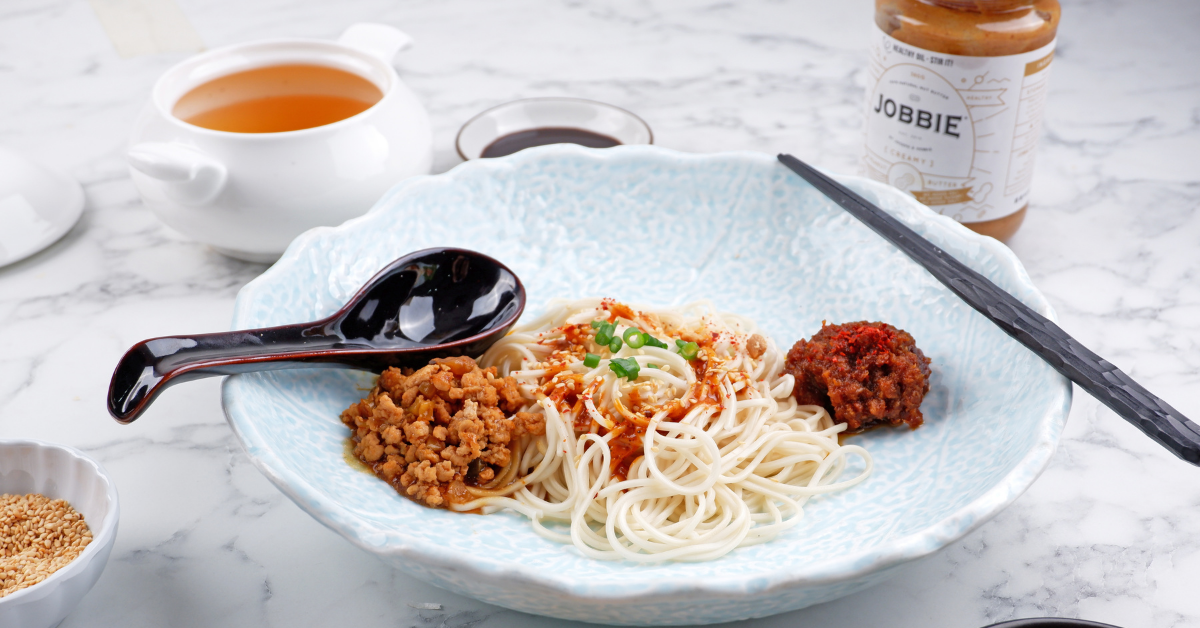 Dan Dan Noodles with JOBBIE Peanut Butter
by Fifi Leong (@fifileongmy IG)
INGREDIENTS
Dandan sauce
70 g garlic cloves
70 g shallots
50 g onions
50 g dried shrimp, soaked to soften, rinsed
150 g cooking oil
1 tbsp chilli powder
2 tbsp fermented soybean paste
Peanut sauce
Minced meat sauce
20 g cooking oil
2 cm fresh ginger, minced
150 g minced chicken
2 tbsp zha cai (hot pickled mustard), chopped
1 tbsp oyster sauce
½ tsp chicken stock powder
½ tsp sugar
1½ tsp dark soy sauce
120 g water
2 tsp cornflour (starch)
Assemble
800 g chicken stock
¼ tsp salt
¼ tsp sugar
1 tsp dark soy sauce
300 g dried ramen
4-5 tbsp white sesame seeds, toasted, to garnish
60 g unsalted roasted peanuts, chopped to garnish
1 sprig spring onion, chopped, to garnish
3 tsp Zhenjiang vinegar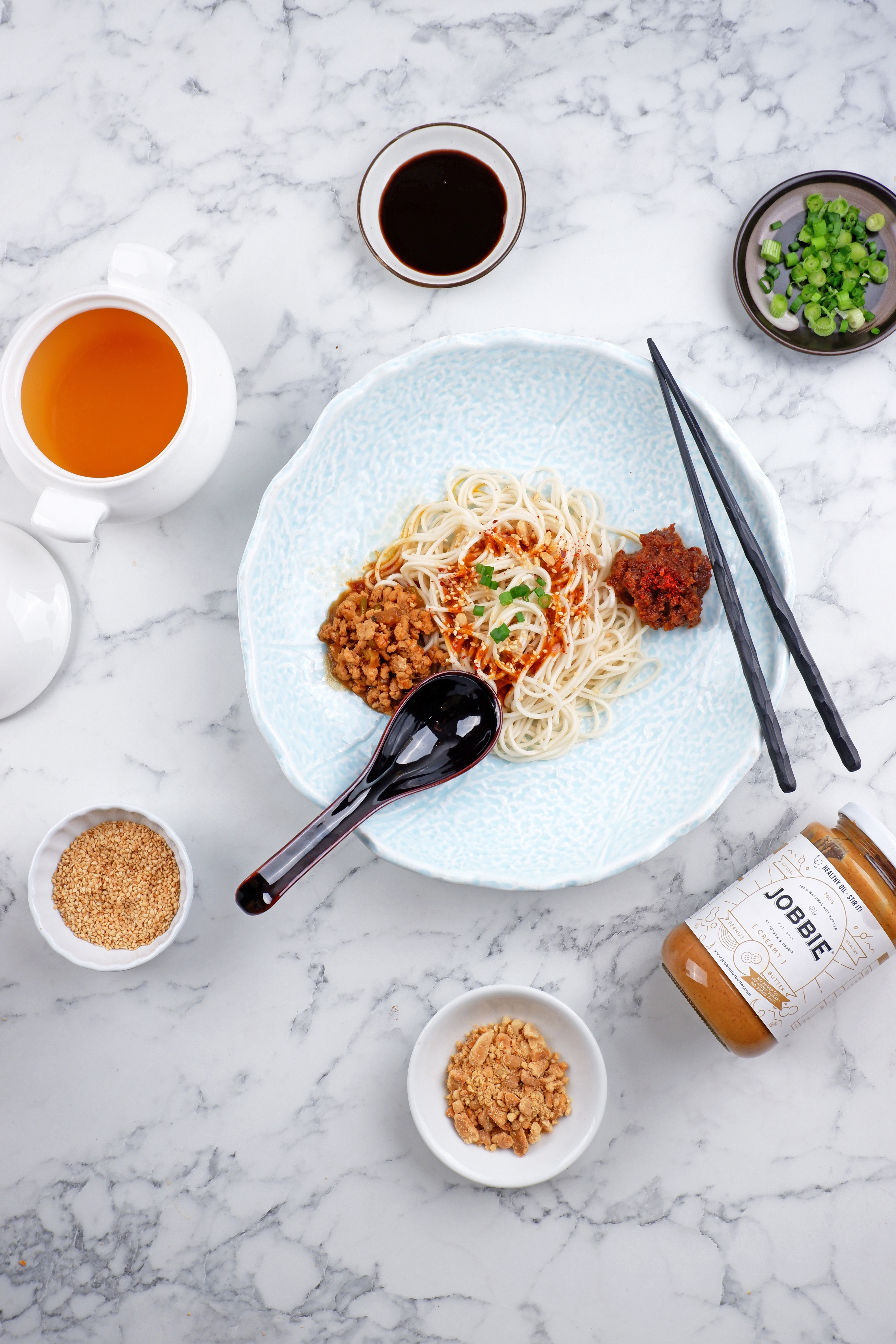 PREPARATION
Dandan sauce
Place garlic cloves, shallots, onions and dried shrimp in a chopper, chop until fine.
Heat up a wok with oil, sauté garlic-dried shrimp mixture, chilli powder and fermented soybean paste over medium heat for 5-6 minutes or until aromatic. Transfer to a bowl and set aside.
Peanut sauce
Mix peanut butter, sesame oil and chilli oil in a bowl, set aside.
Minced meat sauce
Heat up the wok again with oil, sauté minced ginger and minced chicken. Followed by zha cai, oyster sauce, chicken stock powder, sugar and dark soy sauce.
Mix water and cornflour in a small bowl, add to minced meat mixture and stir immediately. Cook until it is thickened. Transfer to a bowl and set aside.
Assemble
In a saucepan, boil chicken stock, salt, sugar and dark soy sauce.
In a big pot of water, add 1 pinch of salt and let it boil. Add noodles and cook until your desired preference. Rinse with cold water. Arrange on serving bowls. Top with 1 spoon of dandan sauce, 1 spoon of peanut sauce and 1 spoon of minced meat sauce.
Using a soup ladle, take 1 scoop of chicken stock and drizzle on noodle. Garnish noodle with toasted sesame seeds, chopped peanuts, chopped spring onion and Zhenjiang vinegar. Serve immediately.
TIPS
You can prepare sauces (dandan sauce, peanut sauce and minced meat sauce) in advanced and store in refrigerator up to 1 week.
If you can't find Zhenjiang vinegar, replace with black vinegar, adjust amount to taste.
Replace 800 g chicken stock with 800 g water + 1 tbsp chicken stock powder/abalone sauce.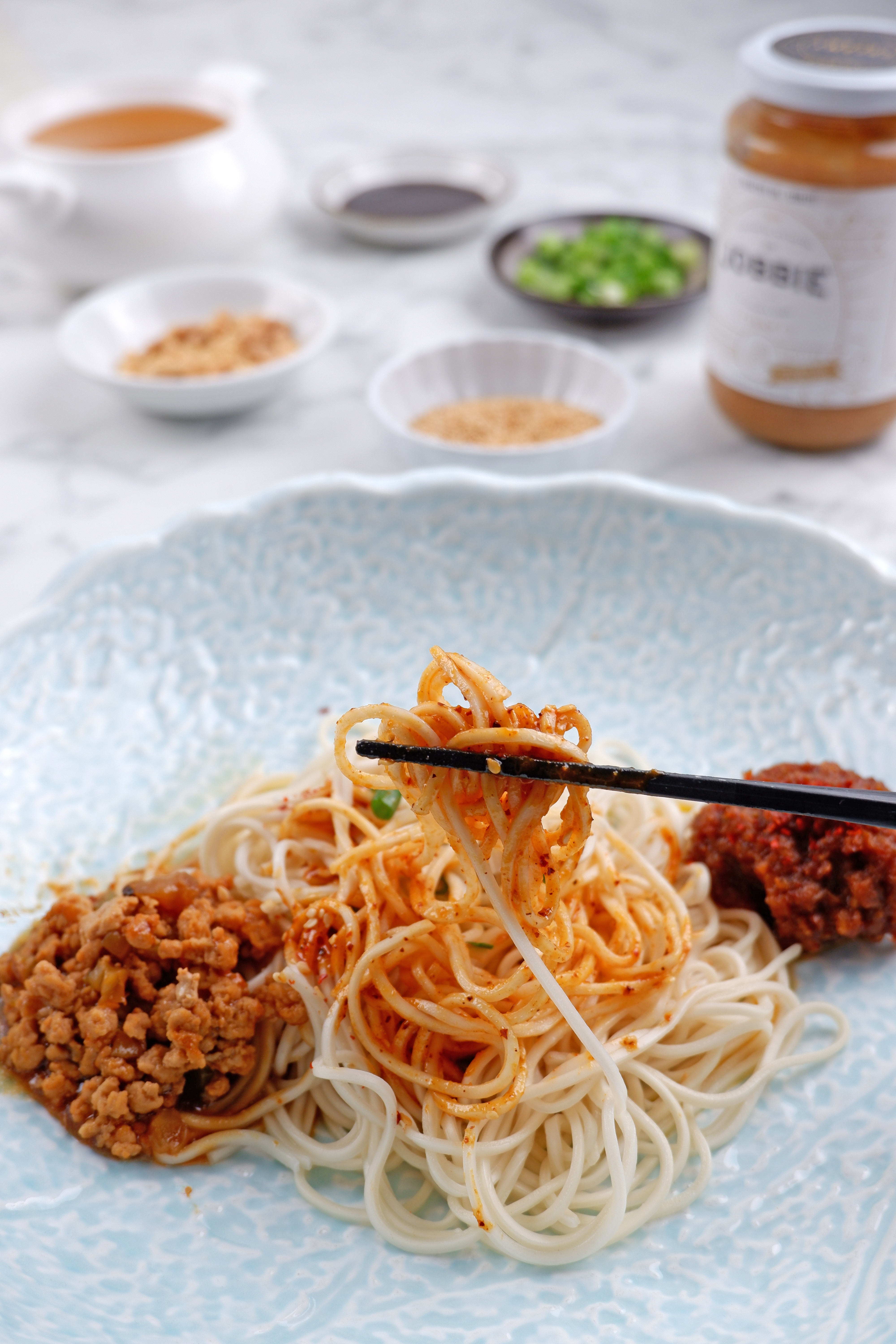 ---
JOBBIE is a Malaysian brand specialised in making 100% natural Halal peanut butter.

Our peanut butter is perfect to enjoy on bread/toast, but there can be many more possibilities! Check out more interesting JOBBIE peanut butter recipes here.

Want to get your recipe featured? Tag #jobbierecipes on Instagram to join us!
---
Get your peanut butter >>> SHOP NOW