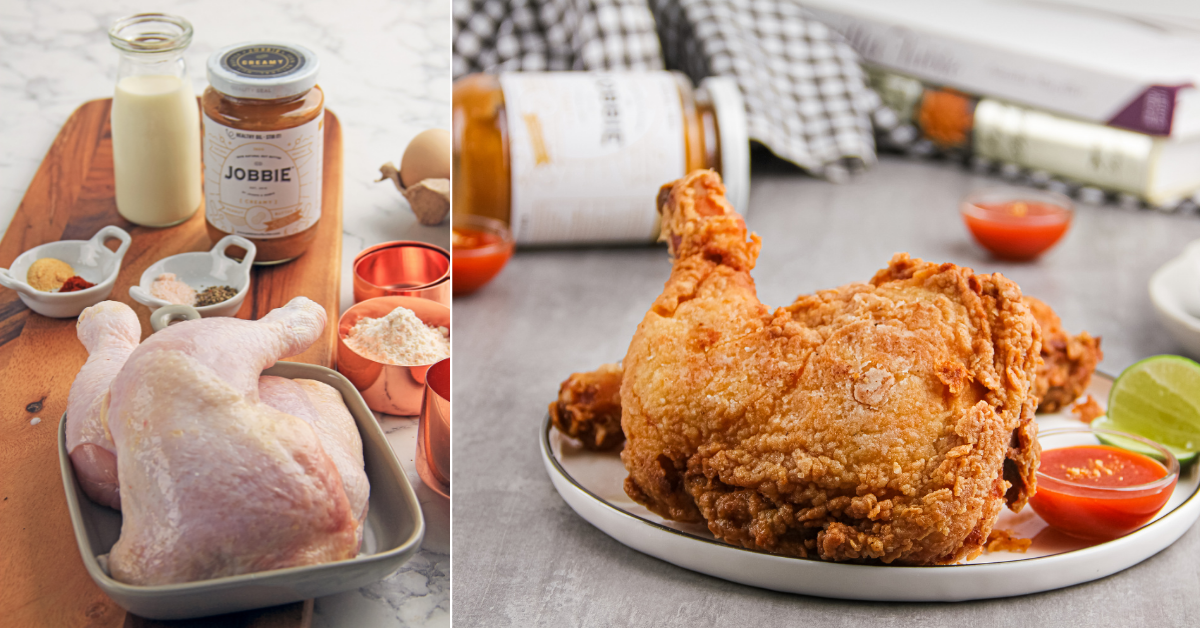 JOBBIE Peanut Butter Fried Chicken
by Fifi Leong (@fifileongmy IG)
Peanut butter is comfort food on its own, so when it's combined with another family favourite, fried chicken. It sounds strange but the scrumptious result is sure to put a smile on anyone's face!
Our sweet and spicy peanutty marinade ensures that each piece of juicy chicken is packed with flavours. The flavourful peanut butter sauce for chicken is rich, creamy, and nutritious. It's an easy to make recipe that uses pantry-staple ingredients that's ideal for a quick, weeknight meal. You'll love it!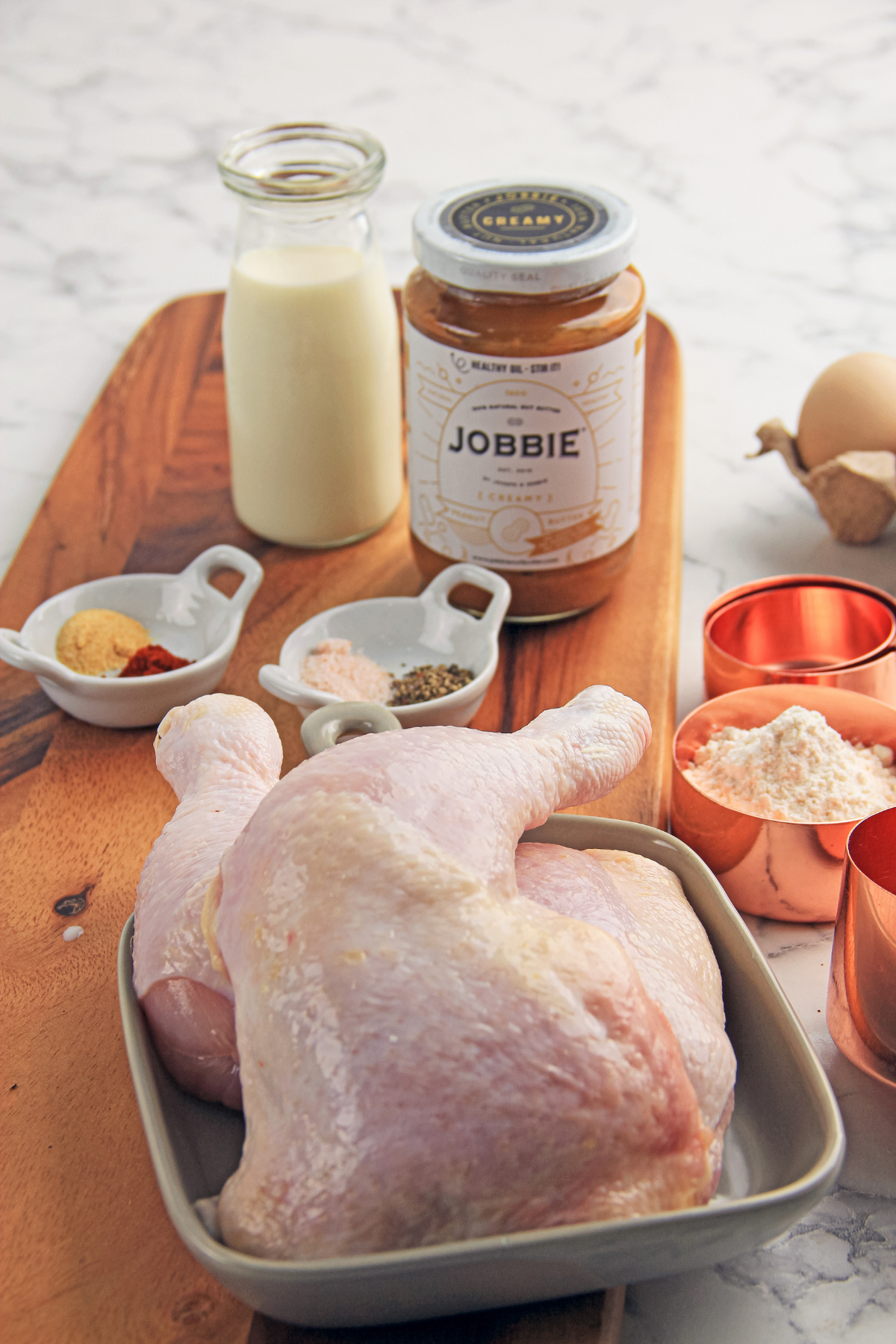 INGREDIENTS
250 g (1 cup) fresh milk
1 tbsp white rice vinegar
4 chicken whole legs (1.2 kg), patted dry with towel
1½-3 tsp salt
1 tsp freshly ground black pepper
½ tsp garlic powder or 1 tsp chopped garlic
¼ tsp ground paprika or 1 tsp chilli flakes
½ cup JOBBIE Creamy Pure Peanut Butter
1 cup plain flour
1 cup potato starch or tapioca starch
vegetable oil, for frying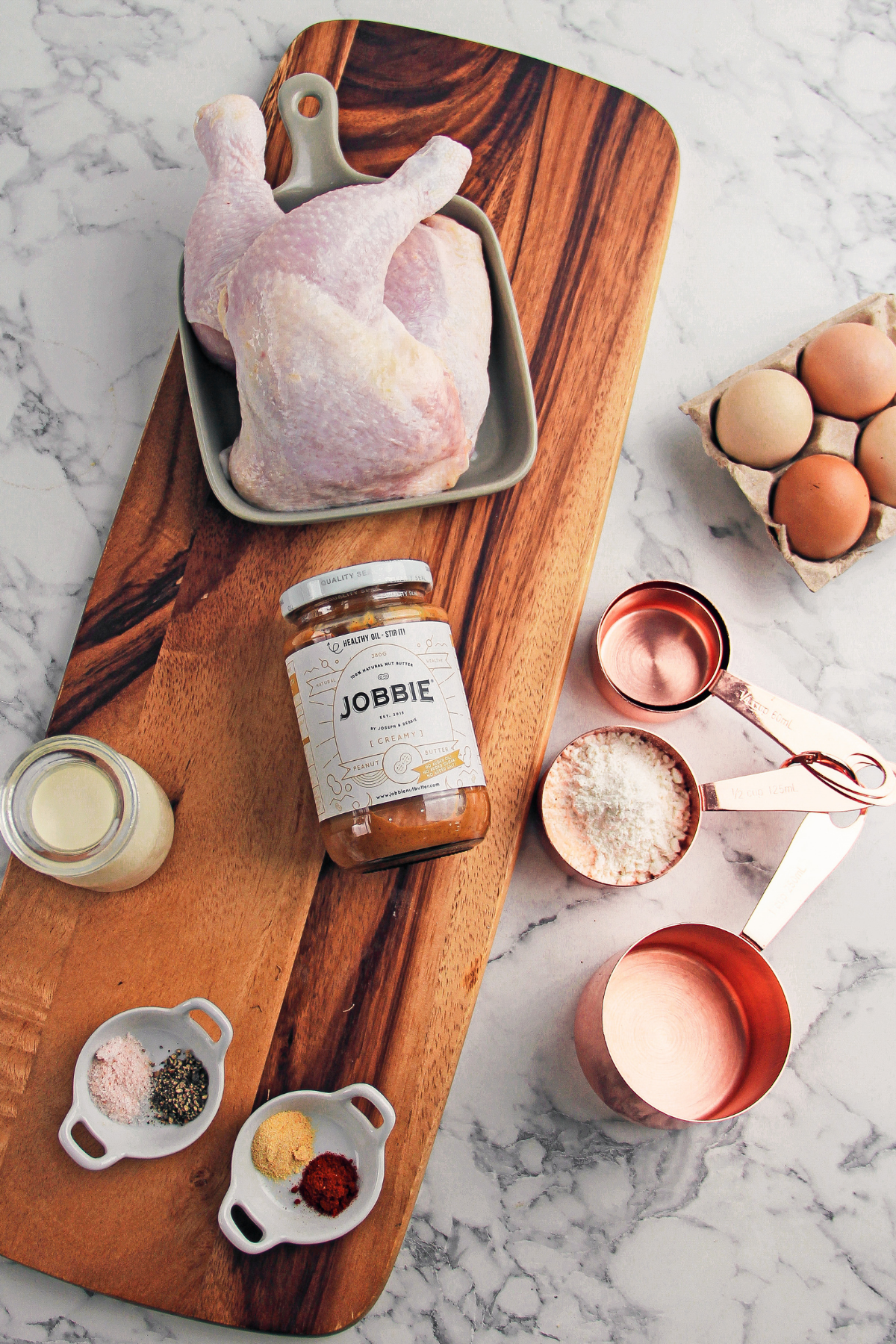 USEFUL ITEMS
frying pan or deep fryer
PREPARATION
Mix fresh milk and white rice vinegar. Set aside for 10 minutes.
Rub chicken whole legs with 1-2 tsp salt.
Mix chicken with reserved milk mixture, ½ tsp ground black pepper, garlic powder, paprika and peanut butter. Set aside in refrigerator for at least 2 hours or overnight.
In a large baking tray, mix flour with ½-1 tsp salt and ½ tsp ground black pepper.
Heat frying pan with vegetable oil (at least 8 cm height).
Remove chicken from marinade, allowing excess to drip off and coat chicken in flour.
Dust off excess flour, dip chicken in a bowl of water for 1 second, take out and coat with flour again.
Drop a piece of wet flour (dough) in hot oil, if float up within 3-5 seconds, the oil is ready.
Carefully add chicken to hot oil; fry until golden brown and chicken is cooked through, 12-15 minutes per batch. Check if the chicken is cooked by piercing chopstick, if it cuts through easily, the meat is ready. Transfer chicken to paper towels to drain for 10 minutes. Meanwhile, heat oil to higher fire for 2-3 minutes.
Carefully add chicken again and fry for another 1-2 minutes. Transfer chicken to new paper towel and drain for 5 minutes. Serve hot.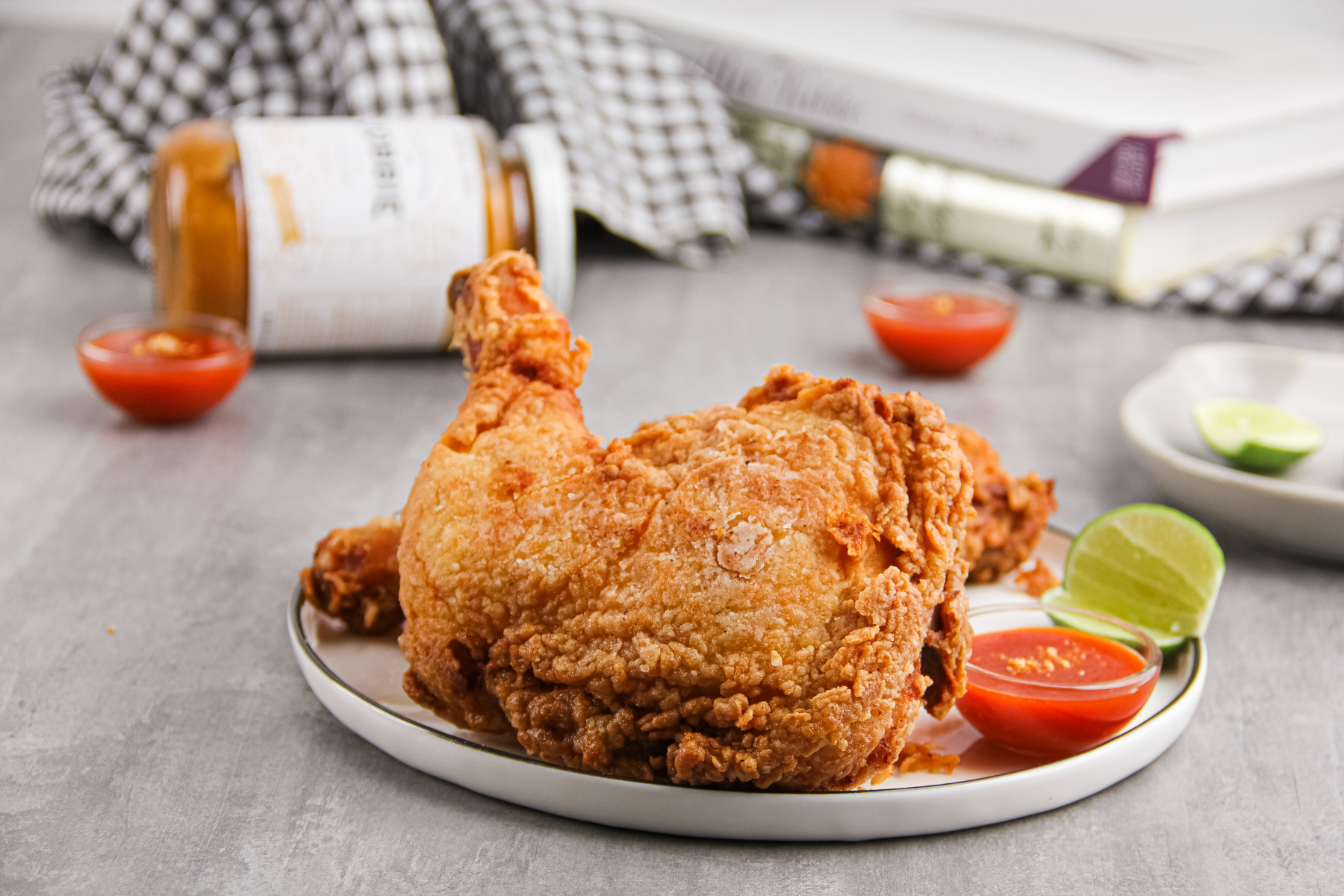 TIPS
Double coat and double fry will ensure crispy fried chicken.
Moisture within chicken meat will soften crispy skin after cooling. Deep fry over low heat until the sizzling sound reduces.
Replace 4 whole legs with 12 chicken wings, adjust frying time to 8-10 minutes.
You can also air-fry the chicken pieces, kindly follow manufacturer's instructions.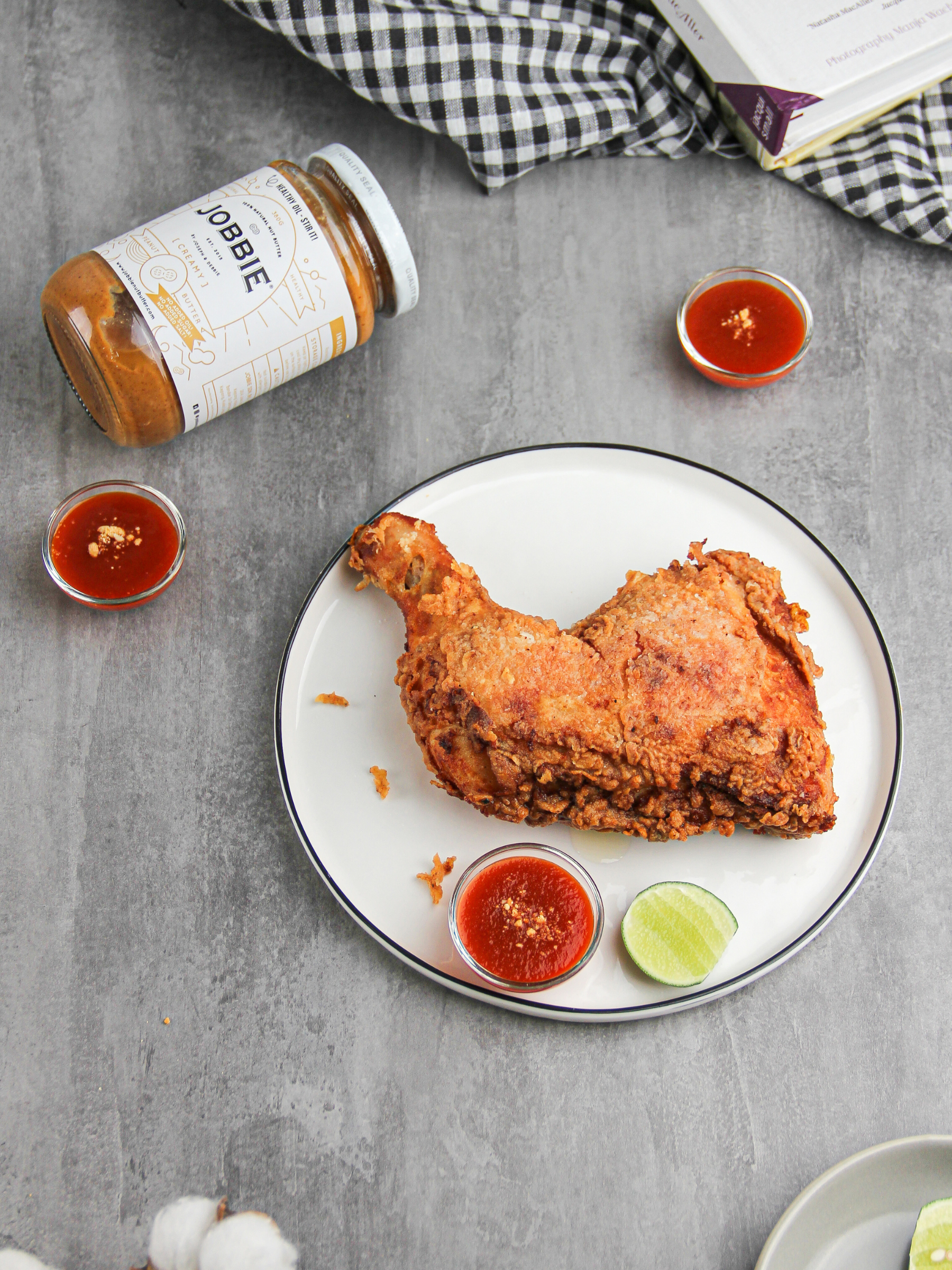 ---
JOBBIE is a Malaysian brand specialised in making 100% natural Halal peanut butter.

Our peanut butter is perfect to enjoy on bread/toast, but there can be many more possibilities! Check out more interesting JOBBIE peanut butter recipes here.

Want to get your recipe featured? Tag #jobbierecipes on Instagram to join us!
---
Get your peanut butter >>> SHOP NOW