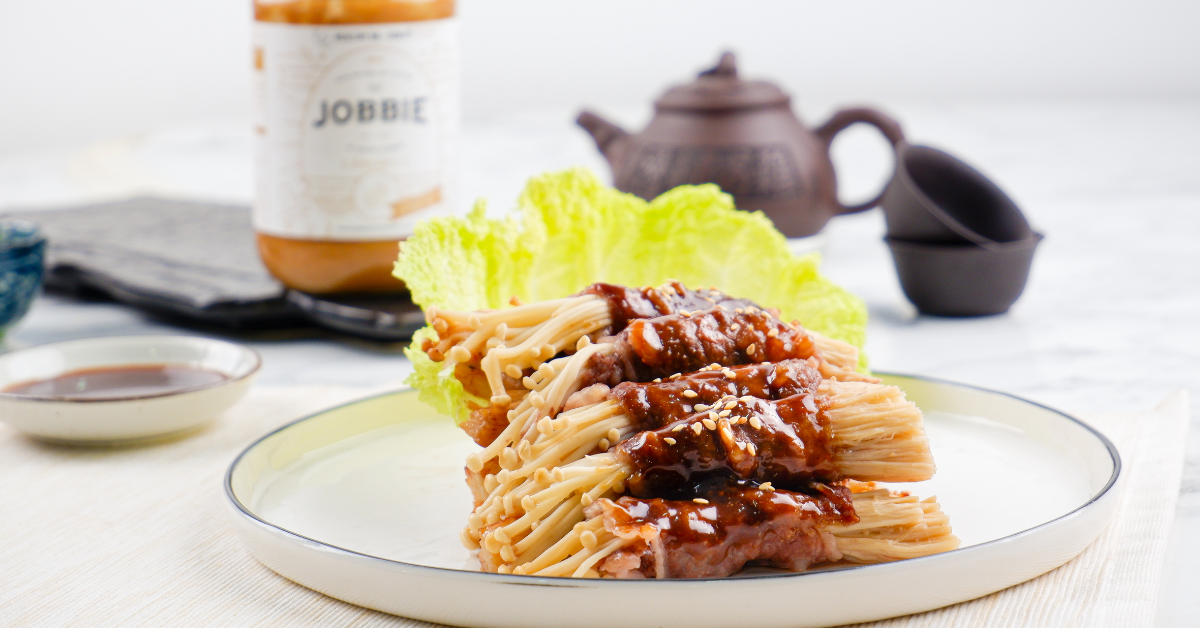 JOBBIE Peanut Butter Enoki Yakiniku Beef Rolls
by Fifi Leong (@fifileongmy IG)
INGREDIENTS
2 packets (100 g each) enoki mushrooms
10 beef slices, shabu-shabu cut (7 cm x 3 cm)
1 tsp cooking oil
2 tbsp teriyaki sauce
1 tbsp water
1 tsp JOBBIE Creamy Pure Peanut Butter
1 pinch white sesame seeds, toasted (optional)
UTENSILS
nonstick pan
kitchen paper towel
PREPARATION
Trim the ends of enoki mushrooms, rinse and drain. Separate to 10 portions.
Place 1 portion of enoki mushrooms on 1 beef slices, roll tightly so that it won't loose during cooking. You can dust with some cornflour to seal the roll easily.
In a nonstick pan, drizzle cooking oil and heat the pan over medium heat. Lay enoki beef rolls (seal side down) on pan and pan fry for 2-3 minutes until meat slices turn brown and enoki mushrooms are soft. Using a ton or chopstick to turn beef rolls every minute.
Transfer to a serving plate. Wipe the nonstick pan with kitchen paper towel to remove excess oil.
Add teriyaki sauce, water and peanut butter, cook over very low heat until the sauce is slightly thickened. Add beef rolls and stir quickly (but gently) to let sauce coat evenly.
Garnish with sesame seeds. Serve hot.
TIPS
You can replace beef slices with other meat, such as chicken slices or mutton shabu-shabu slices, season with 1 pinch of ground black pepper.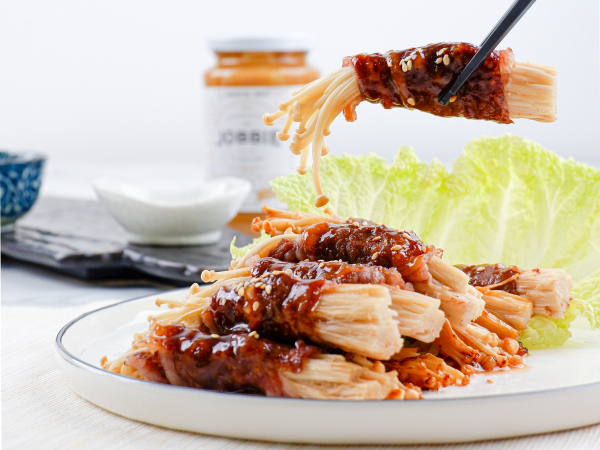 ---
JOBBIE is a Malaysian brand specialised in making 100% natural Halal peanut butter.

Our peanut butter is perfect to enjoy on bread/toast, but there can be many more possibilities! Check out more interesting JOBBIE peanut butter recipes here.

Want to get your recipe featured? Tag #jobbierecipes on Instagram to join us!
---
Get your peanut butter >>> SHOP NOW