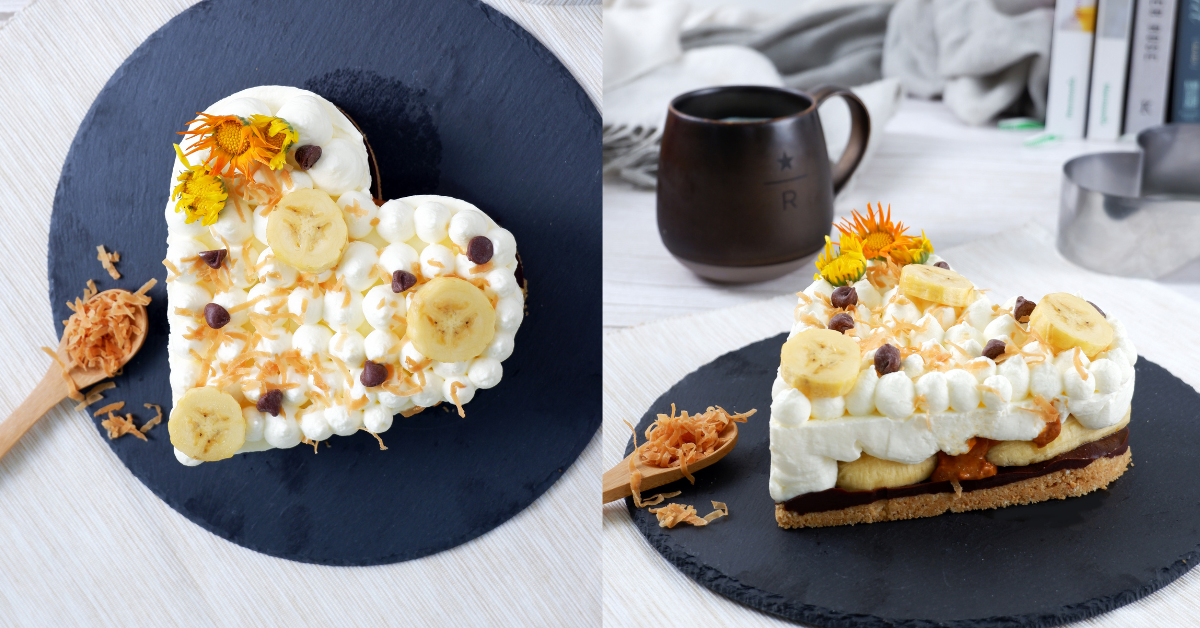 JOBBIE Peanut Butter Banana Cream Pie
by Fifi Leong (@fifileongmy IG)
INGREDIENTS
100 g digestive biscuits
40 g salted butter, melted
60 g JOBBIE Monkey King Crispy Coconut Peanut Butter
1 tsp lemon juice (optional)
2-3 bananas, cut in slices
100 g whipping cream
1 tbsp icing sugar
some chocolate chips or toasted coconut flakes (optional)
USEFUL ITEMS
Heart shaped tart mould (22 cm)
PREPARATION
In a food processor, grind digestive biscuits.
Add melted butter, mix thoroughly. Transfer to a heart shape mould, press biscuit crumbs firmly on the bottom and up side of pan. Freeze 10 minutes.
Stir peanut butter until it is creamy. Spread on frozen biscuit crust.
Drizzle lemon juice on banana slices and mix gently. Arrange banana slices on peanut butter.
In a mixer, whisk whipping cream and icing sugar until it forms a soft peak. Transfer to a piping bag with nozzle.
Cover banana slices with whipped cream. Refrigerate for 1 hour. Drizzle with chocolate sauce. Serve chilled.
TIPS
Cover biscuit base with a layer of melted chocolate not only prevent biscuit layer turns soggy but also gives depth flavour to the pie.
Get your peanut butter SHOP NOW