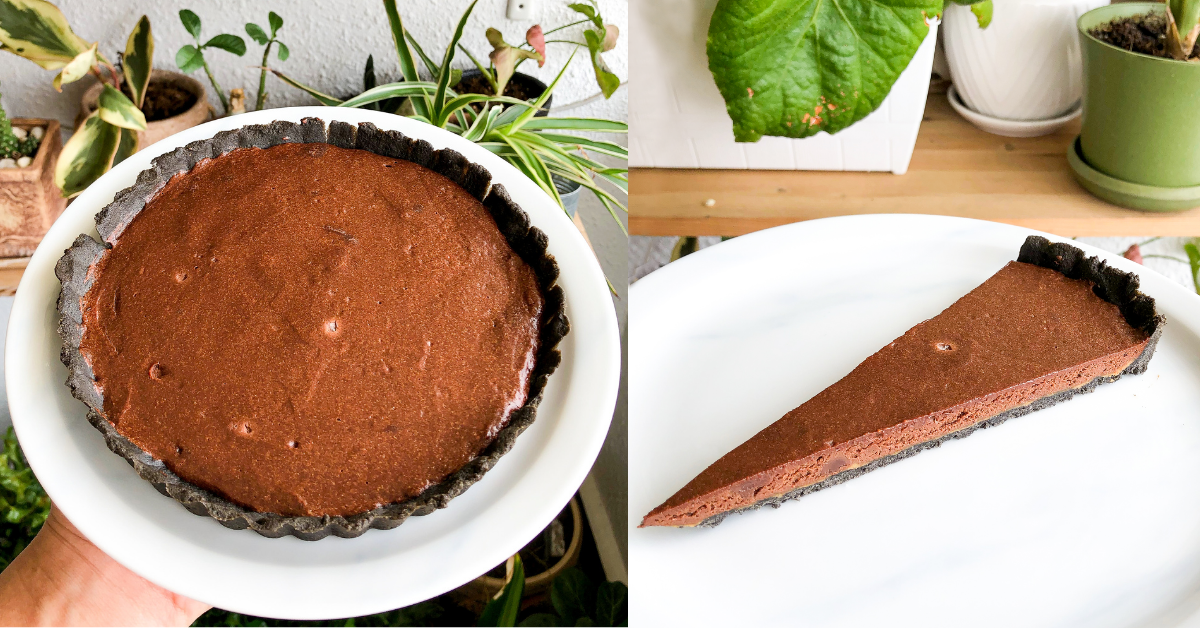 Dark Chocolate JOBBIE Peanut Butter Tart
by Dean (@addinomarkamil IG)
INGREDIENTS
Recipe makes about 2 tarts.
Tart shell / Pâte sucrée
80 g butter at room temperature
50g icing / confectioner sugar
1/2 egg (whisked)
15g almond flour
125g all purpose flour
3g of salt
2g of charcoal powder
6g of cocoa powder
Filling
75g of Benn's Ethicoa Sungai Ruan 72% dark chocolate buttons (Or your preferred brand of dark chocolate)
2g of salt (a good pinch will do)
15g of unsalted butter
Egg white from 1 egg
15g of icing / confectioner sugar
50g of whipping cream
46g of JOBBIE Creamy Classic Peanut Butter
A handful of chopped roasted peanuts (optional)
Flakey salt for topping
Equipment / Accessories
A 7.5 x 7.5 inch tart pan with removable bottom
Measuring scale
Stand mixer
Metal bowls
A small pot with water
Silicone spatula
Parchment paper
Fork
PREPARATION
Tart shell
In a stand mixer using the paddle attachment, whisk the room temperature butter and icing sugar until it's emulsified into a buttercream.
Add in half of your whisked egg and dry ingredients and gently incorporate it in by starting and stopping the mixer on low until the dry mix looks hydrated then finish incorporating by folding it a few times, it's crucial not to over-mix.
Chill the dough with plastic wrap to chill in the fridge for 20 minutes along with the tart pan. After that press the dough into the tart pan evenly, pushing the dough close to the edges then trimming the excess. Poke holes into the bottom of the dough with a fork then rest in the fridge for 15 minutes.
Preheat the oven to 200°C with fan on. When ready to blind bake, line the tart with parchment and I used the whole peanuts as weight for blind baking. Bake for 15 minutes then let it rest for 1 minute to set up, remove the parchment with peanuts and chill the tart in the fridge for 20 minutes. In the meantime lower the heat to 140°C with no fan.
Filling
Chop a handful of the peanuts used as weight and set aside. Start heating a small pot of shallow water to a light simmer and place a metal bowl with the chocolate and butter over it and stir it around to melt, once melted turn the heat off but keep it on top of the pot so it stays fluid.
Whisk cream into stiff peaks and set aside in the fridge until ready then whip the egg whites also into stiff peaks by whisking it on medium speed and adding little spoons of icing sugar at a time.
Now add the choped peanuts and a tablespoon of the whipped cream into a bowl with JOBBIE Creamy Classic Peanut Butter and fold until it's slightly loose and spreadable.
Add rest of the whipped cream into the melted chocolate mix (off the heat) and fold gently until incorprated then lastly add the egg whites and again fold until fully incorprated.
Assembly
Take the tart shell out of the fridge and spread the peanut butter cream on the bottom of the tart.
Pour and spread chocolate filling on top, smoothen it out and sprinkle a lil flakey salt all around. Bake at 140°C for 15-20 minutes. After baking let it cool and then set in the fridge for 45 minutes to an hour.
Remove the tart from the tart pan with the bottom still attached and slice a good portion for your loved ones or have the whole thing to yourself and enjoy!
---
JOBBIE is a Malaysian brand specialised in making 100% natural Halal peanut butter.

Our peanut butter is perfect to enjoy on bread/toast, but there can be many more possibilities! Check out more interesting JOBBIE peanut butter recipes here.

Want to get your recipe featured? Tag #jobbierecipes on Instagram to join us!
---
Get your peanut butter >>> SHOP NOW