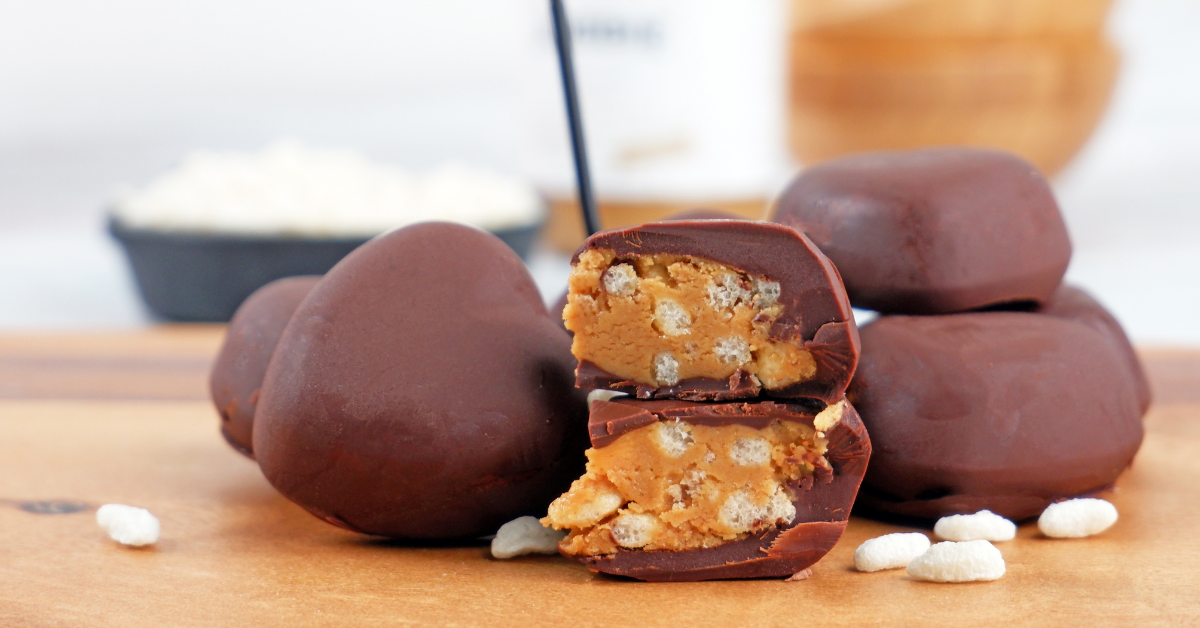 Crispy Rice JOBBIE Peanut Butter Chocolate Hearts
by Fifi Leong (@fifileongmy IG)
INGREDIENTS
120 g JOBBIE Creamy Pure Peanut Butter
1 tbsp melted butter
20 g icing sugar (optional)
15 g crispy rice, crushed (1 cup)
120 g chocolate coins, Callebaut
USEFUL ITEMS
15-hole heart shaped silicon mould
PREPARATION
In a large bowl, mix peanut butter, butter and icing sugar.
Add crispy rice and mix well. Refrigerate for 15 minutes until firm.
Use a spoon to scoop peanut rice mixture and shape into balls (around 15 pieces). Lightly flatten into round discs.
In a double boiler, heat couverture chocolate on low heat for 15 minutes. Be sure to stir the chocolate every 1 to 2 minutes once you notice it start to melt.
While the melted chocolate is still warm, fill in heart shaped silicon mould until ⅓ full. Immediately place peanut balls and lightly push to allow melted chocolate cover peanut discs.
Freeze for 5-10 minutes. Check if the chocolate has set, prolong freezing time if necessary.
Remove chocolate hearts from the tray. Serve chilled.
TIPS
Replace crispy rice with cornflakes or chopped almond.
Get your peanut butter SHOP NOW