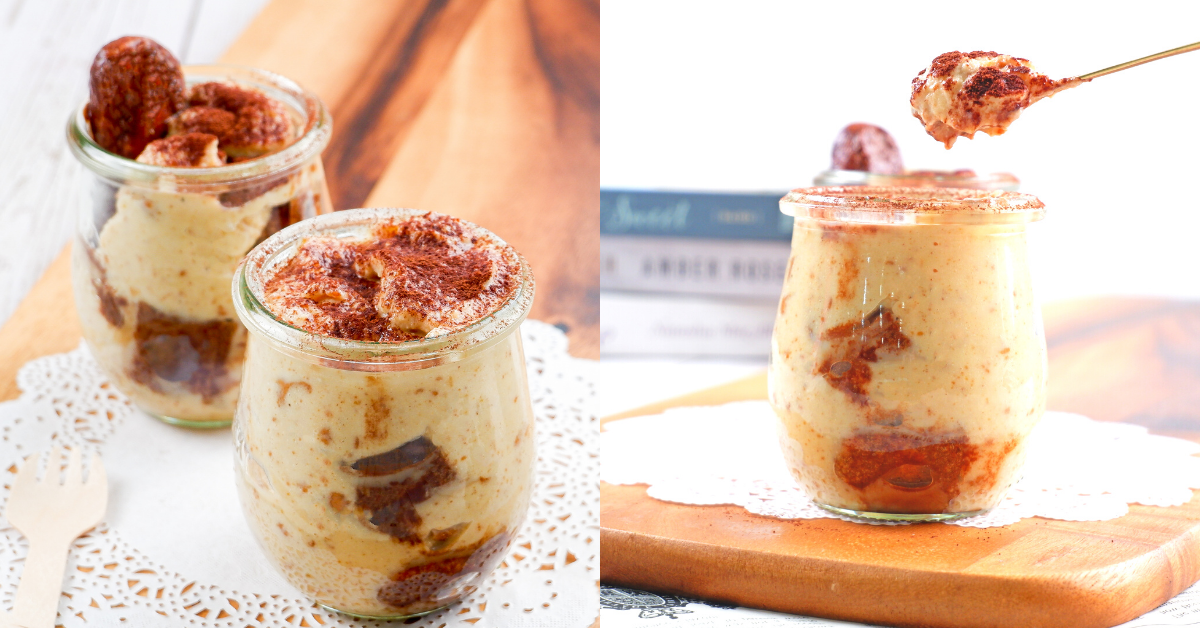 Chocolate JOBBIE Peanut Butter Tiramisu
by Fifi Leong (@fifileongmy IG)
INGREDIENTS
30 g dark chocolate coins, Callebaut
45 g hot dark coffee, espresso
2½ tbsp rum or brandy (optional)
250 g mascarpone cheese
60 g icing sugar
100 g whipping cream
1 tsp vanilla extract
100 g JOBBIE Creamy Pure Peanut Butter
60 g Italian ladyfingers (about 6-8 fingers)
1-2 tsp cocoa powder, for topping
USEFUL ITEMS
3-4 ramekins
PREPARATION
Place chocolate chips to a large bowl. Pour hot coffee over chocolate and whisk until chocolate melts. Whisk in ½ tbsp rum (optional).
In the bowl of an electric mixer, add mascarpone cheese, icing sugar, whipping cream, vanilla extract and 2 tbsp rum (optional). Beat on medium-high speed until blended and creamy, and the cream is thickened. Add the peanut butter and beat until just combined.
Dip each of the ladyfingers into the chocolate mixture until soaked but not soggy, about 3-4 seconds. Arrange in a single layer on the bottom of 4-5 ramekins (about 3 - 4 cookies per layer). Top with a large dollop of the peanut butter cream and spread evenly. Top with another layer of cookies and another layer of cream. Refrigerate until ready to serve, at least 4 hours.
Upon serving, dust the top with cocoa powder.
---
JOBBIE is a Malaysian brand specialised in making 100% natural Halal peanut butter.

Our peanut butter is perfect to enjoy on bread/toast, but there can be many more possibilities! Check out more interesting JOBBIE peanut butter recipes here.

Want to get your recipe featured? Tag #jobbierecipes on Instagram to join us!
---
Get your peanut butter >>> SHOP NOW