Vegan Mini JOBBIE Peanut Butter Banana Custard Tart
by Iman (@holyshitaeke IG)
Another take on a delicious peanut butter and banana recipe, it's these mini peanut butter banana custard tarts!
Tarts are so good and if done right, they're the perfect dessert. This recipe combines arguably the best food combo, peanut butter and banana. It's salty and sweet and sooo yummy!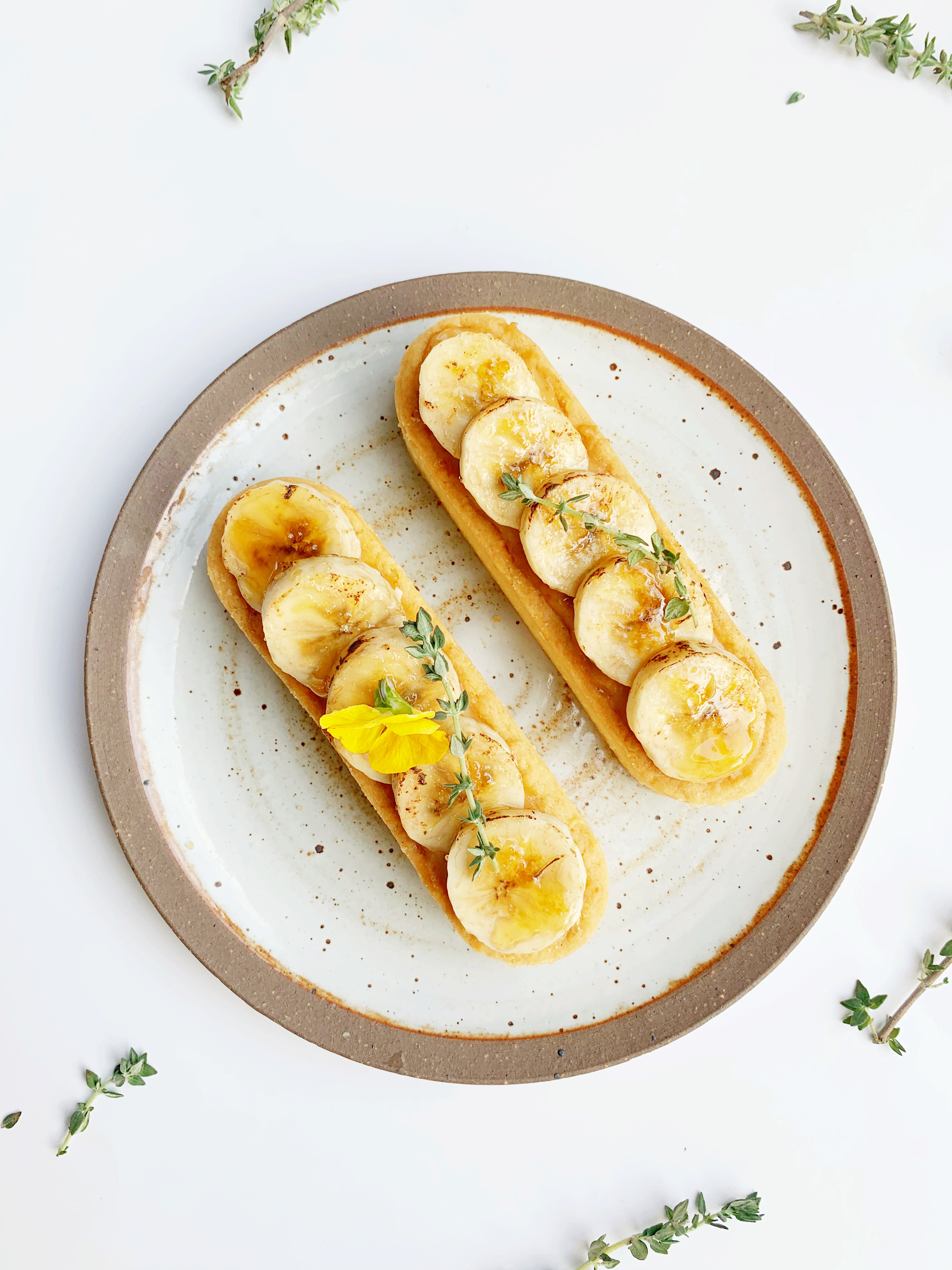 The tart crust is super crispy and buttery, then we have this melt in your mouth, peanut butter custard made with JOBBIE Chunky Pure Peanut Butter to give it some texture and caramelised bananas on top.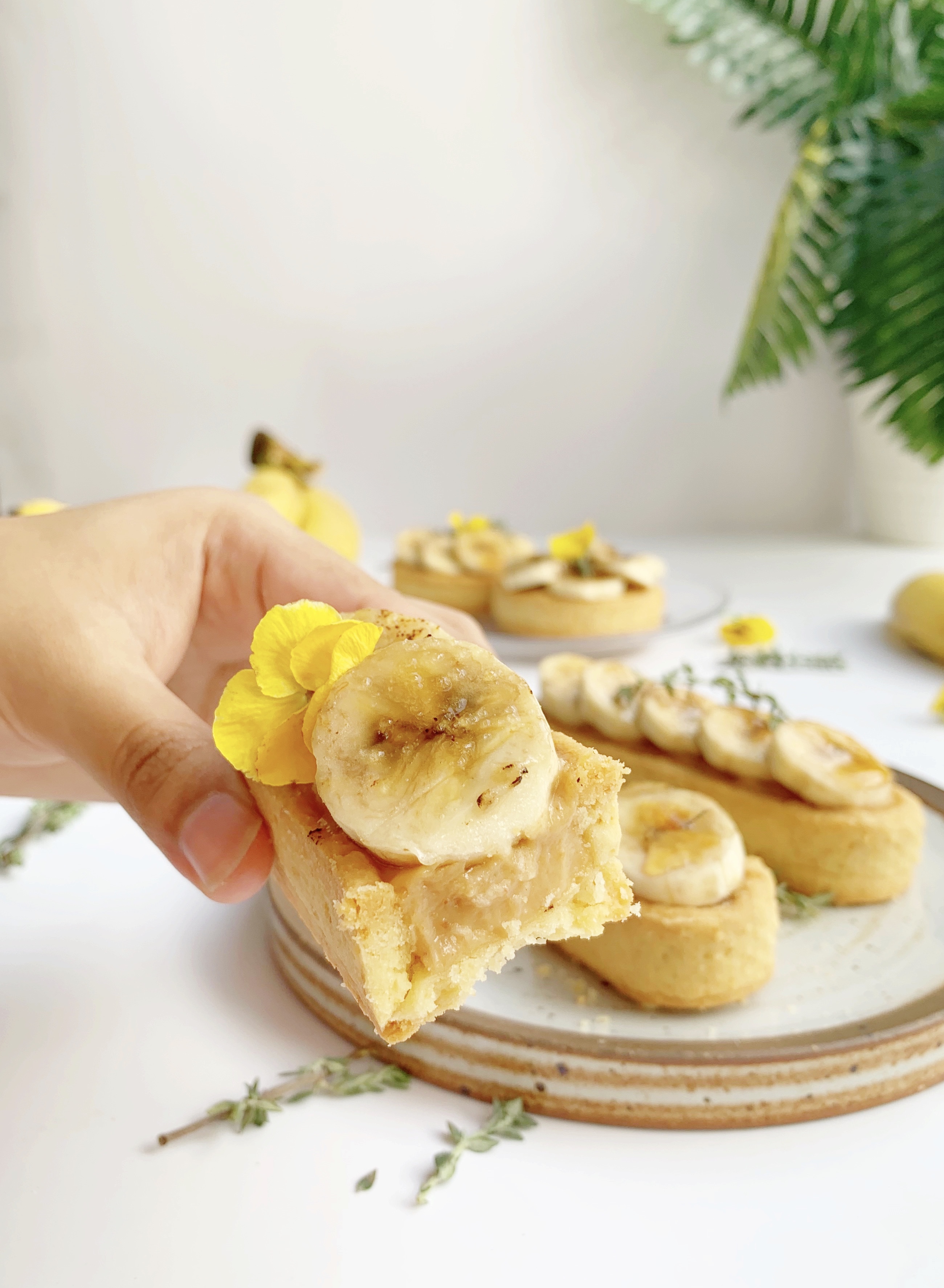 INGREDIENTS
Recipe makes 8 mini tarts (2 inches each)
Tart crust
½ cup soy milk
½ tbsp vinegar
½ cup vegetabe oil
¼ cup shortening
¼ cup vegan butter
2 ½ cup all purpose flour
½ tsp baking powder
½ tsp salt
Peanut butter custard
Assembling
2 medium bananas (sliced thinly)
2 tbsp brown sugar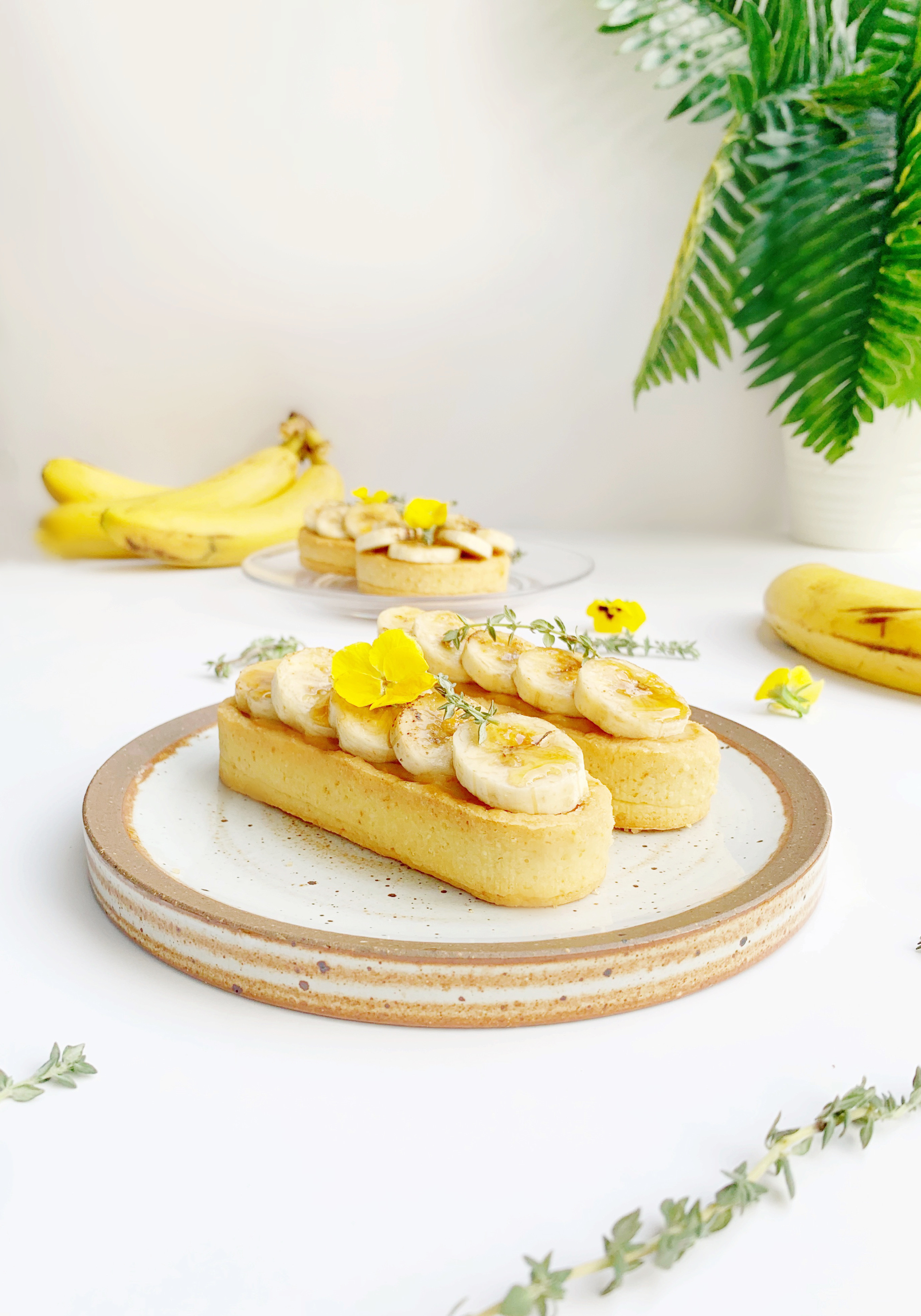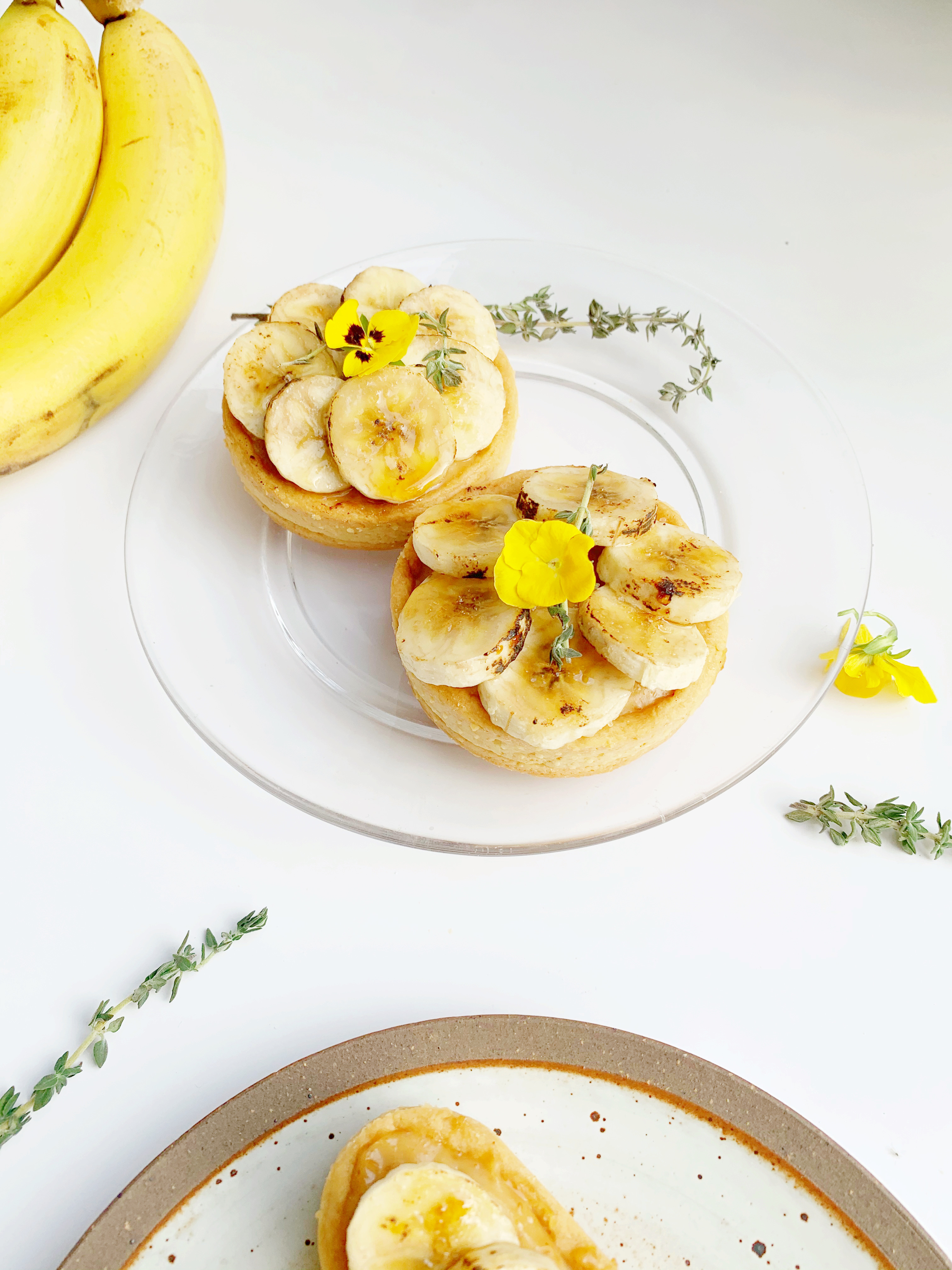 PREPARATION
Tart crust
Preheat oven to 180°C.
In a large bowl combine soy milk and vinegar, set aside for a few minutes.
Whisk in oil, vegan butter and shortening.
Fold in flour, baking powder and salt until it becomes a soft dough or just until you're able to roll it out on a parchment paper.
*you might only need two cups of flour depending on the brand of flour you use so reserve the half cup of flour first.
Press into each tart tin and poke a few holes at the bottom of each tin. bake for 28-30 mins or until the edges and bottom are golden brown.
Peanut butter custard
In a pot whisk together oat milk, sugar, salt, custard powder and the peanut butter.
On medium heat, continuously whisk it until it becomes a thick mixture and starts to boil.
Take it off the heat and cool it down for 10 mins before scooping the filling into each baked tart tin until filled to the top. place in the fridge for about an hour until it sets completely.
To assemble
Place each banana slice on top of the custard then sprinkle a little brown sugar on the surface of each banana.
Use a blow torch to caramelise the sugar.
Watch recipe video here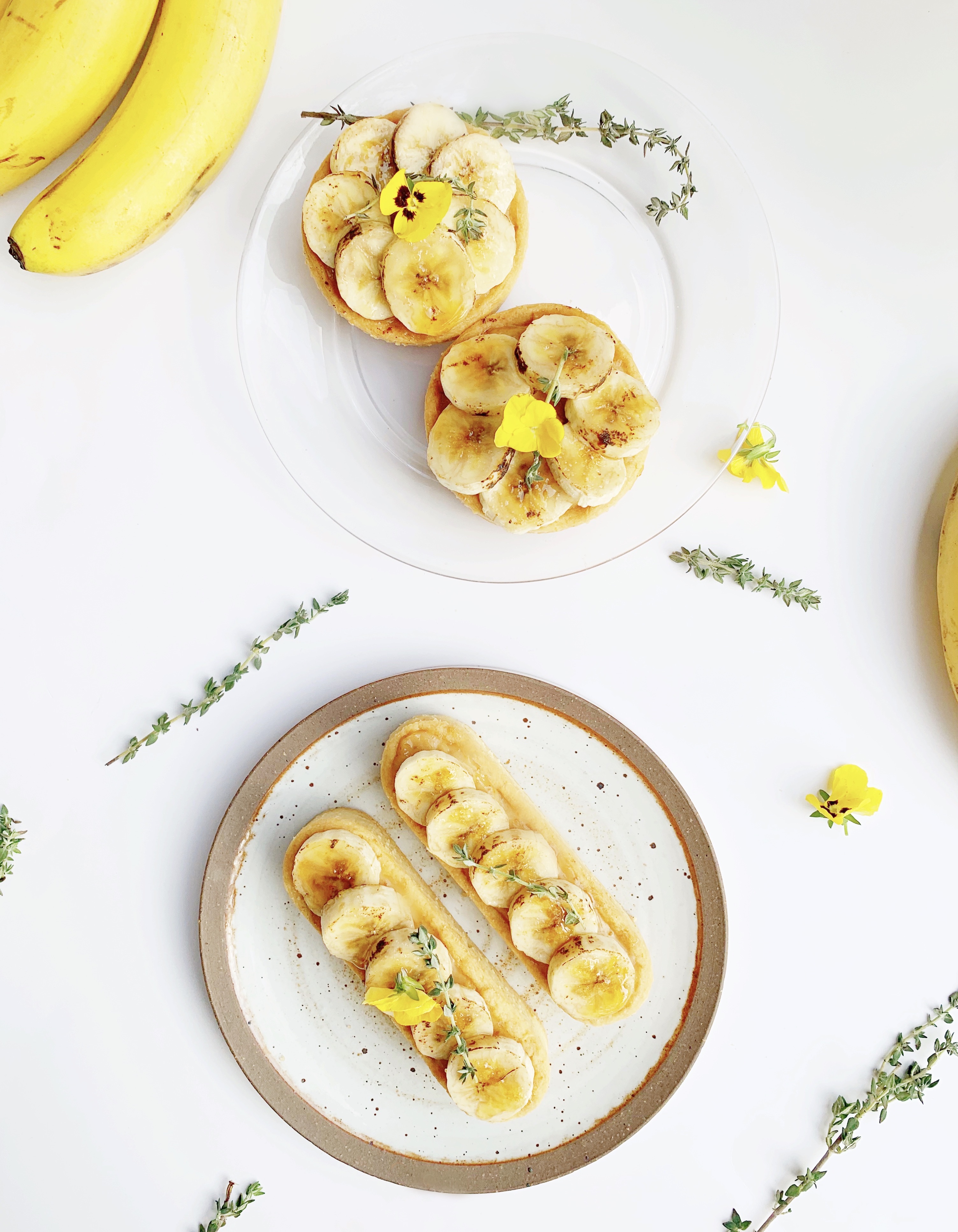 ---
JOBBIE is a Malaysian brand specialised in making 100% natural Halal peanut butter.

Our peanut butter is perfect to enjoy on bread/toast, but there can be many more possibilities! Check out more interesting JOBBIE peanut butter recipes here.

Want to get your recipe featured? Tag #jobbierecipes on Instagram to join us!
---
Get your peanut butter >>> SHOP NOW