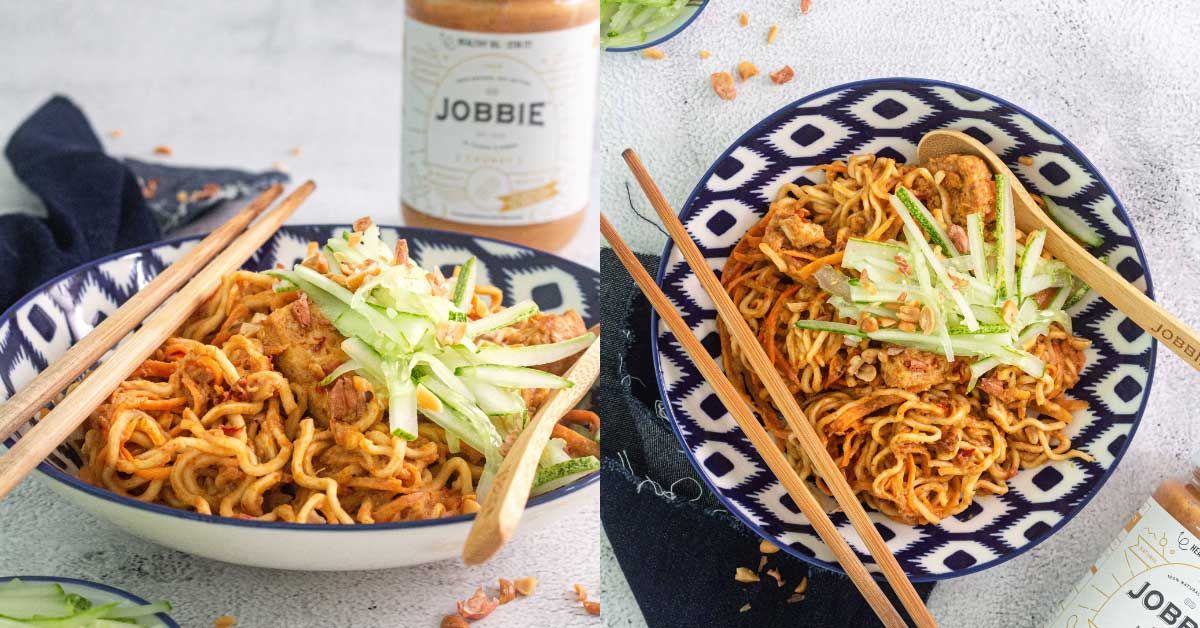 Spicy Peanut Satay Noodles with JOBBIE Peanut Butter
by Kristin @eatwkriss
This peanut satay noodle recipe is special and flavourful because the base of the sauce is made from a blend of dried chilies, lemongrass, galangal, ginger (all the good stuff) and good quality peanut butter.
INGREDIENTS
RECIPE for 2-3 servings
Chili paste
5 dried chili
2 garlic cloves
1/4 red onion, chopped roughly
1 stalk lemongrass, cut
1/2 knob galangal, chopped roughly
1/2 knob ginger, chopped roughly
1/4 cup water
210 g (3 squares) traditional/firm tofu, frozen and defrosted
1 tbsp soy sauce
Peanut sauce
1 tbsp oil
1/2 cup water
1 tbsp asam jawa liquid, more to taste
1 tsp kecap manis
1 tbsp sugar
1/3 cup JOBBIE Chunky Pure Peanut Butter
1/2 carrot, julienne
salt to taste
To serve
2 servings noodles of your choice
cucumber
roasted peanuts, crushed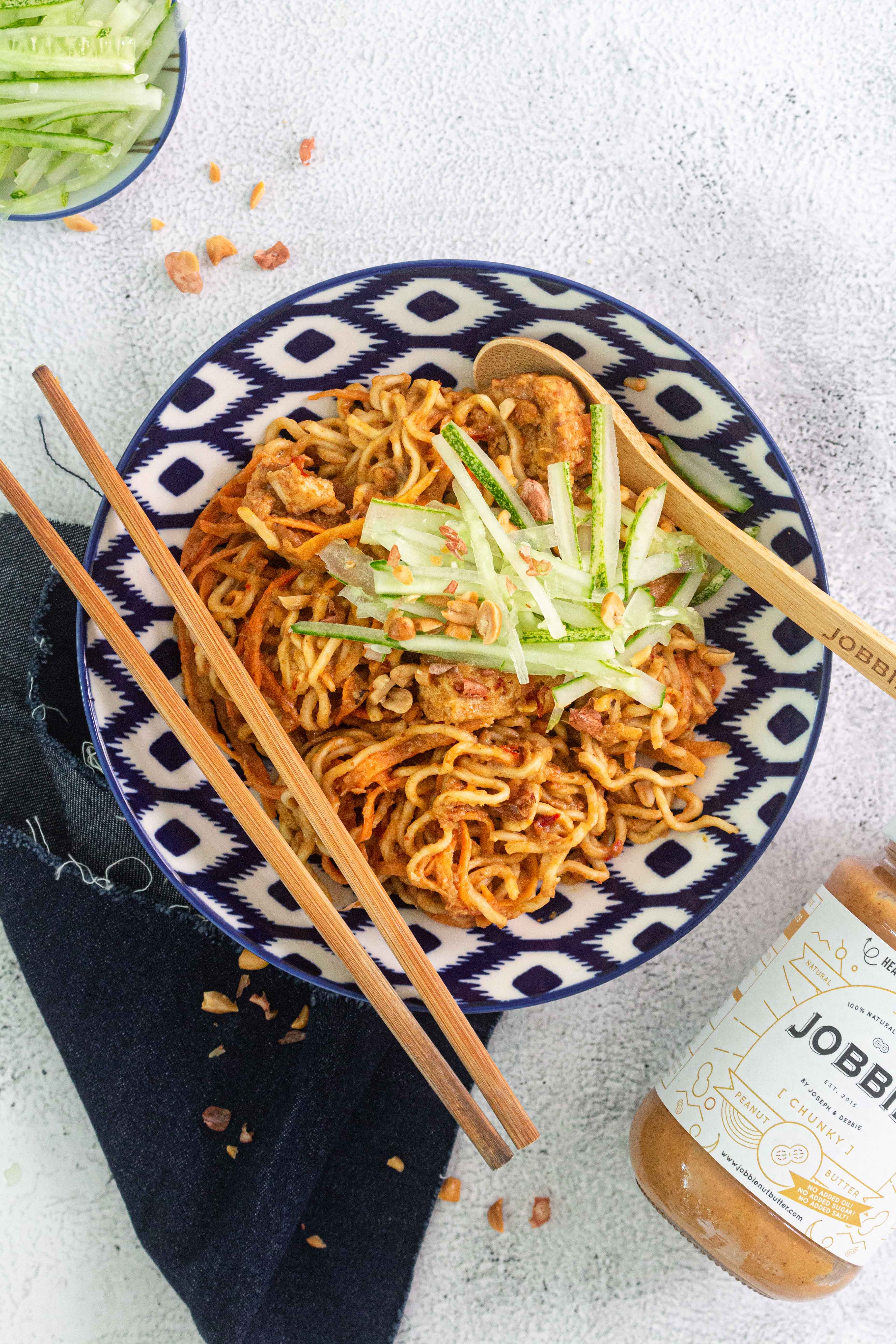 INSTRUCTIONS
Chop the dried chili and soak in hot water for 10 minutes. Remove the seeds and drain the water.
Blend all the chili paste ingredients together until everything is well combined.
Squeeze all the water out of the defrosted tofu, and break into bite-sized chunks.
In a large pan over medium heat, pan-fry tofu with some oil until golden brown, 3-4 minutes then pour in the soy sauce. Once everything is well coated, remove from the pan and set aside.
In the same pan with oil, pour in the chili paste, water, asam jawa liquid, kecap manis and sugar. Mix well then stir in JOBBIE Chunky Pure Peanut Butter. Lower the heat and let the liquid reduce to a paste. Meanwhile, cook your noodles according to package instructions.
Once the paste reaches your desired consistency, toss in your cooked noodles, fried tofu and carrots until everything is well coated with the peanut sauce.
Serve immediately with fresh cucumber and crushed roasted peanuts.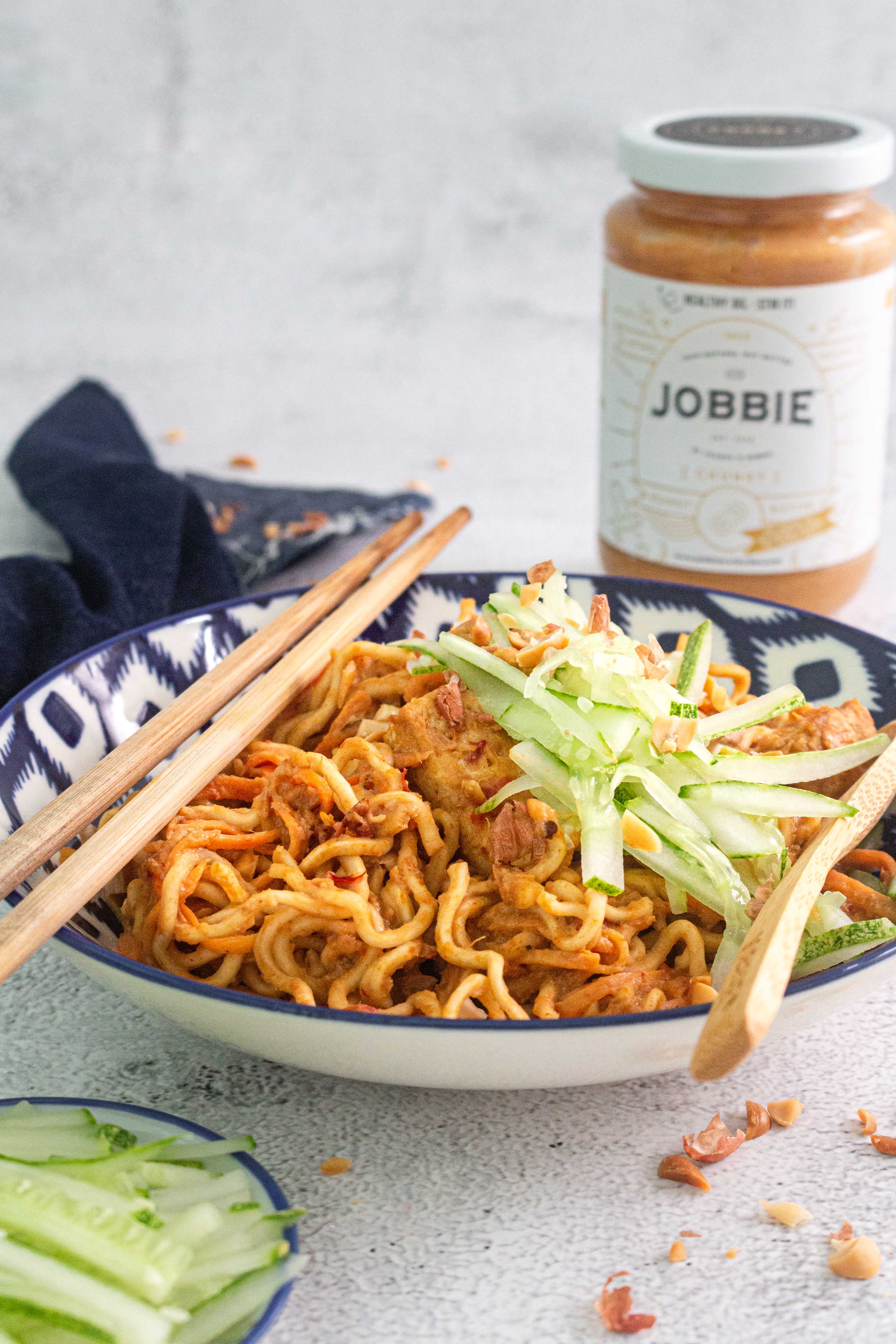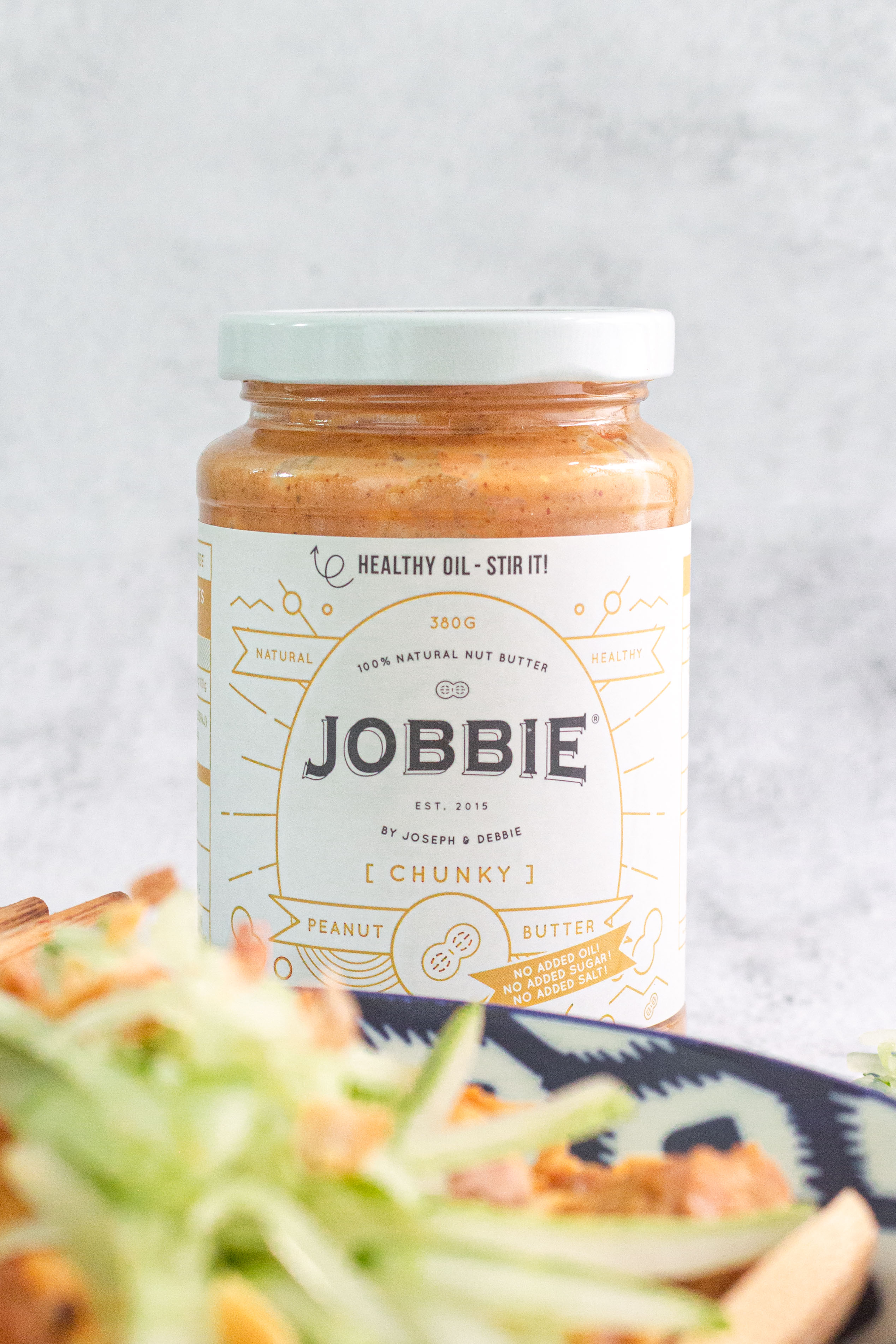 Watch recipe video here
---
JOBBIE is a Malaysian brand specialised in making 100% natural Halal peanut butter.

Our peanut butter is perfect to enjoy on bread/toast, but there can be many more possibilities! Check out more interesting JOBBIE peanut butter recipes here.

Want to get your recipe featured? Tag #jobbierecipes on Instagram to join us!
---
Get your peanut butter >>> SHOP NOW