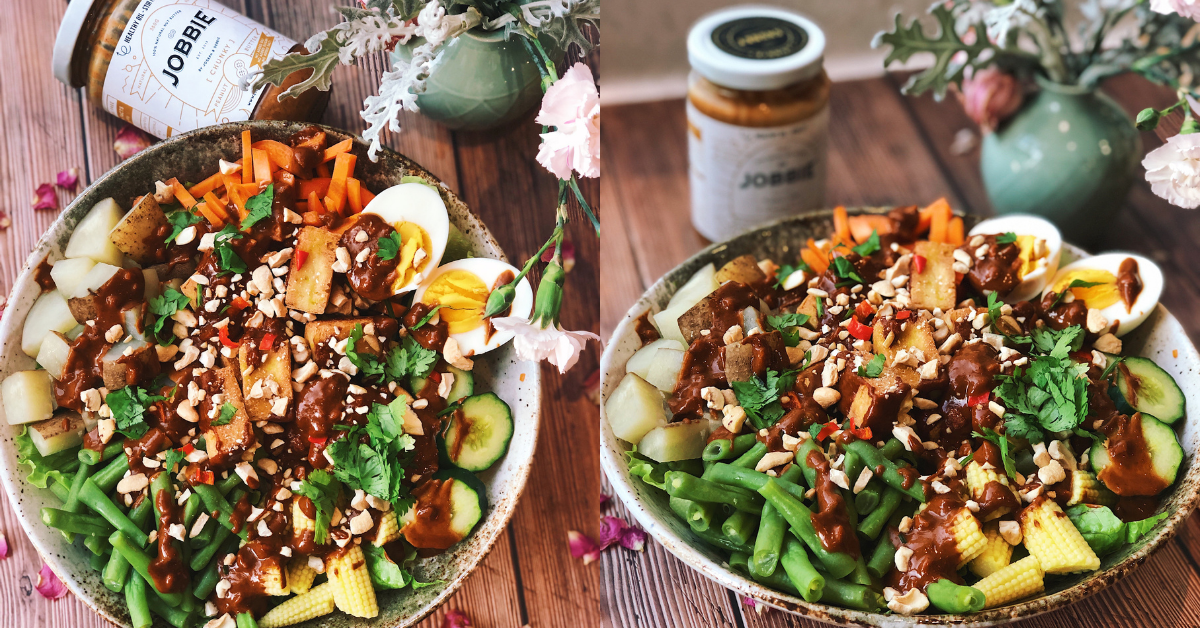 Gado Gado Salad with JOBBIE Peanut Butter
by katfewd
Use whatever vegetables you have in your fridge for this recipe, the possibilities are endless and everything tastes amazing with this creamy peanut butter dressing! If you're missing some veggies on this list, other components that would taste amazing are bean sprouts and pan fried tempeh.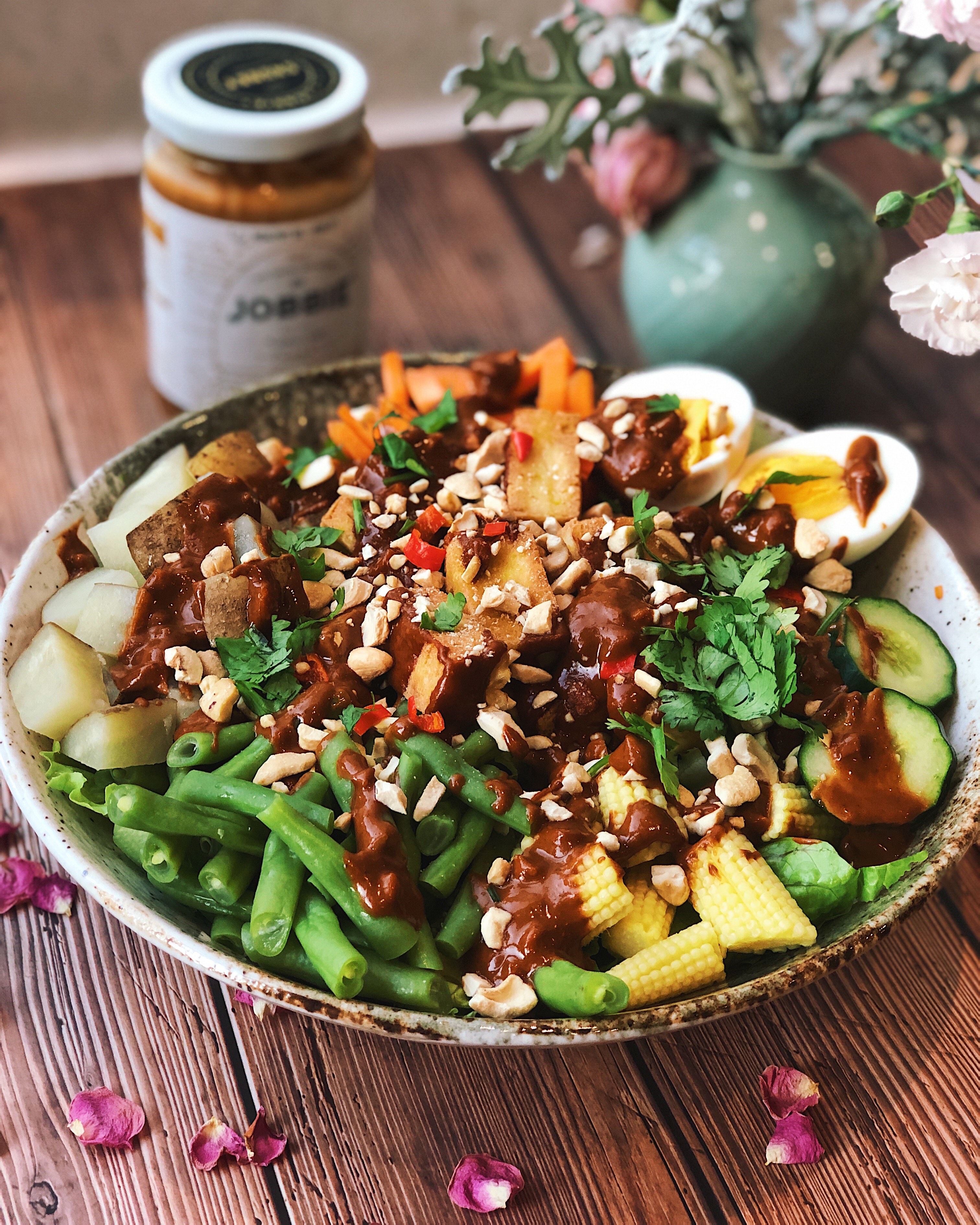 INGREDIENTS
Recipe serves 3-4
1 carrot, julienned
1 cucumber, sliced
Handful of baby corn, sliced
2 cups lettuce, roughly chopped
Handful of green beans
1 pack firm tofu
2 eggs, boiled
1 large potato, cubed
For the dressing:
100g JOBBIE peanut butter (I used Chunky Pure Peanut Butter)
1 tbsp coconut sugar
3 tsp kicap manis/dark soy sauce (If using soy sauce, add more coconut sugar or honey!)
Juice of 2 limes
1 tsp tamarind paste
2 tsp sambal/red curry paste/mixture of both
To serve:
Cilantro, roughly chopped
Cashews/peanuts, roughly chopped
1 red chilli, seeds removed and sliced thinly
PREPARATION
Mix all the dressing ingredients together. Add cold water gradually, mixing in between, until the dressing is able to be spooned.
Fry the tofu and set aside.
Steam the green beans, potatoes and baby corn and set aside. Let cool.
Arrange the lettuce at the bottom of a salad bowl. Top with the rest of the vegetables and ingredients. Spoon the dressing over and finish with cilantro, nuts and red chilli.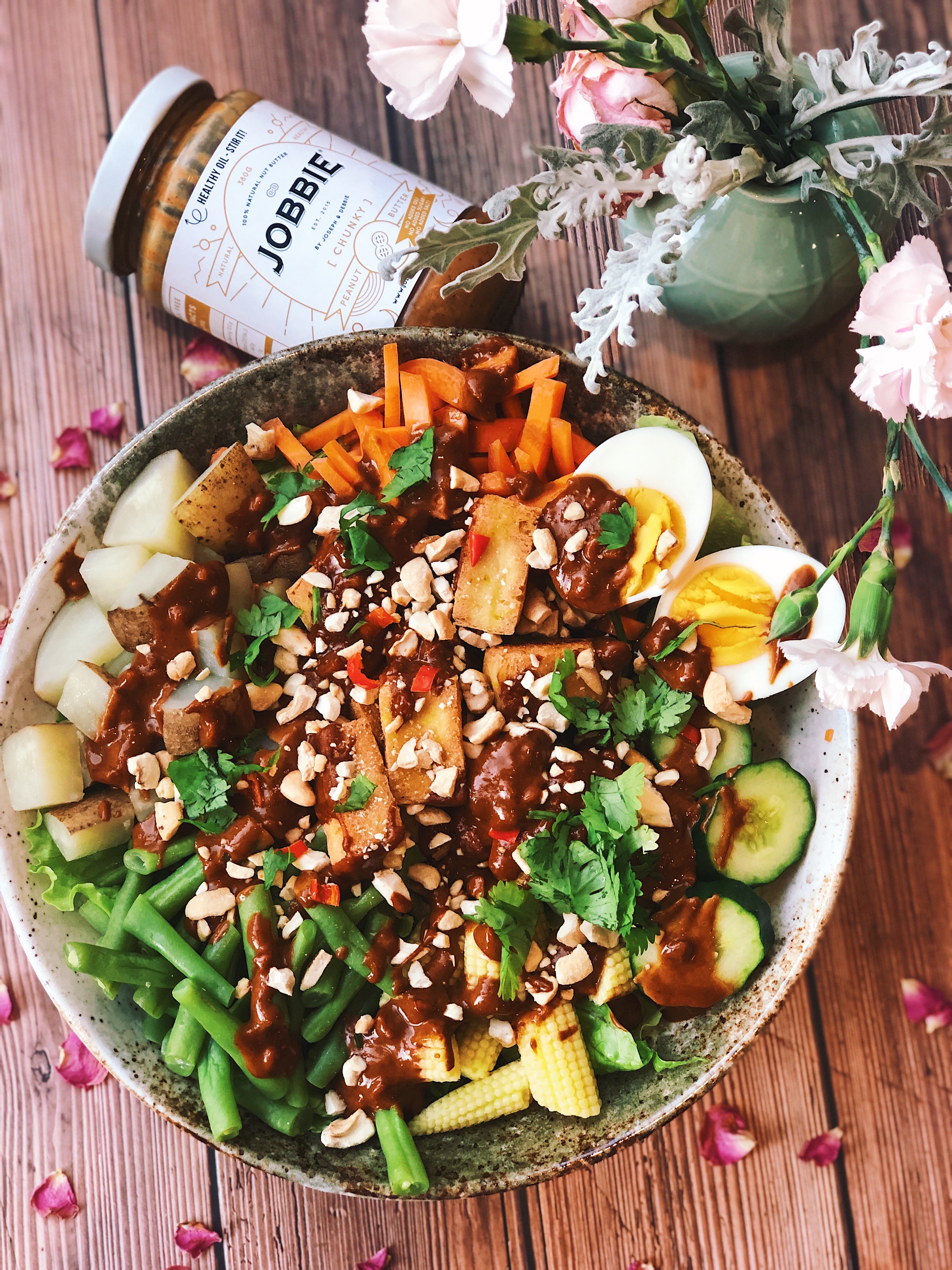 ---
JOBBIE is a Malaysian brand specialised in making 100% natural Halal peanut butter.

Our peanut butter is perfect to enjoy on bread/toast, but there can be many more possibilities! Check out more interesting JOBBIE peanut butter recipes here.

Want to get your recipe featured? Tag #jobbierecipes on Instagram to join us!
---
Get your peanut butter >>> SHOP NOW