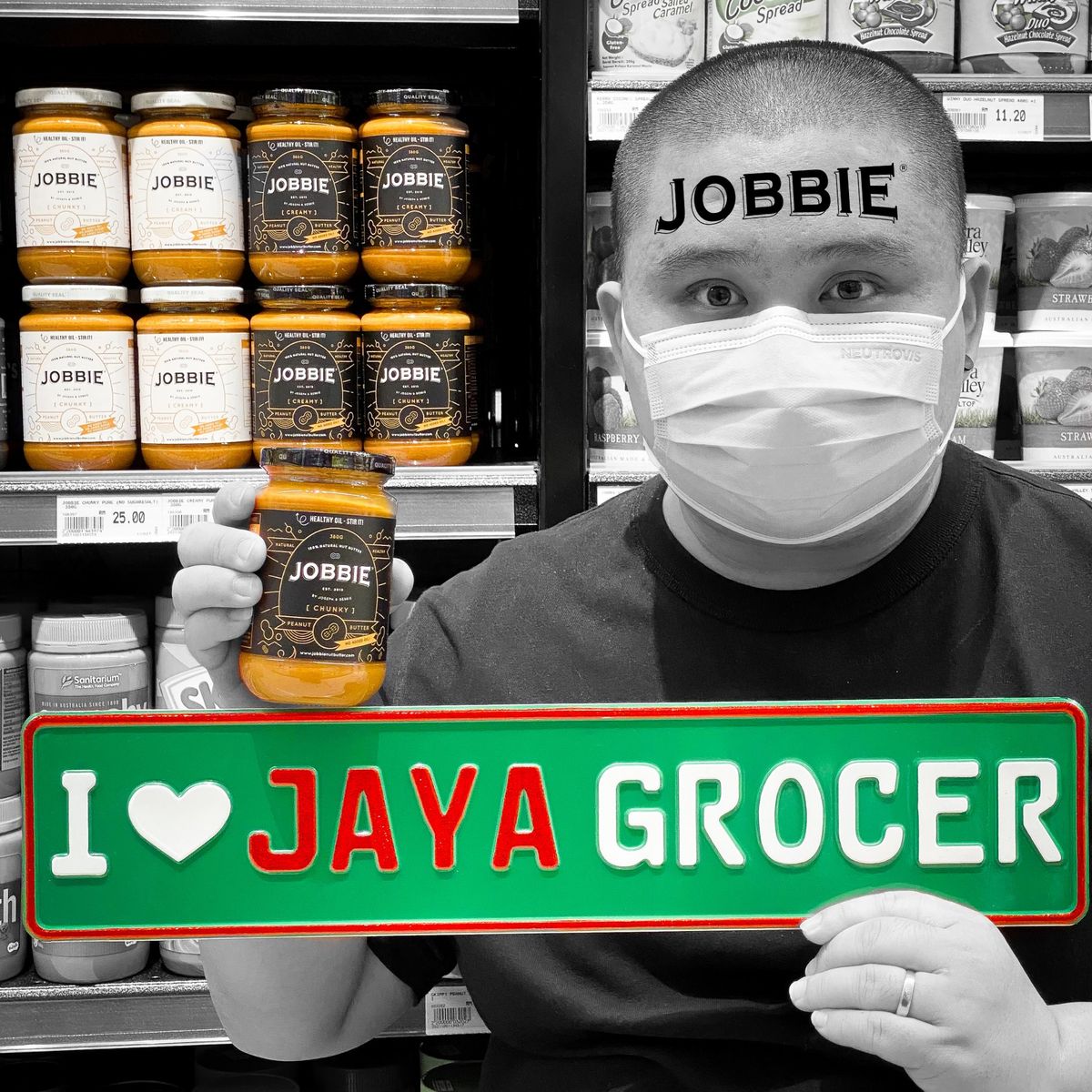 WHAT JAYA GROCER DID TO US IN 2020!🤔
For those who regularly buy our 100% all natural peanut butters🥜, you'd know we're stocking our products in supermarkets🛒 such as Aeon, Village Grocer, Jaya Grocer etc…
As a small peanut butter brand back then in 2015, all we could do was sell our peanut butter at local bazaars or aunties and uncles around the neighbourhood🏘.
It was also a common knowledge as a F&B packaged food brand that the only "way out" to make your brand succeed💰, was to supply to other big businesses to expand your reach to the public.
"Hi we are JOBBIE, a Malaysian Peanut Butter brand🙋‍♀️"!
Every morning we would smiled in front of the mirror before leaving the house to get our product on the shelves of those mainstream retail giants. As they said "smile and the whole world will smile with you👩‍❤️‍👨".
Cold calling, emails, walk-in, referral☎…you name it, we tried it to get into those malls for as long as we can remember. We kept telling ourselves, "we'll be like in those movie, you know, those underdogs that no one looks at and finally BAAAM🔥! They'll succeed, and we'll be like them"!
"I will pass your contact to our person in charge🥱".
We would smile and believe they'll pass our number to the right person. Eventually…days…weeks…months…years⏰… later, no one would called back and we would expect the same response from any receptionist/email's replies. THE WORLD DIDN'T SMILE BACK AT US💔…
There was a point it was scary to even approach anyone anymore…our hands would tremble👋 ever so slightly before writing an email or going into an office or meetings…
It was perfectly understandable for any big business to not risk their reputation to take on a new, untested and possibly bad product that the public would reject🙅‍♂️. We didn't blame any of them, we blamed OURSELVES for not being good enough to be accepted by the market.
"Peanut Butter? Hahaha, sure let's meet up".👌
"Really? Did the GM of Jaya Grocer ask for a meet-up over the phone call"!?🤯
"Must be a dream, quick, slap me as hard as you can"!✋
We met-up with Mr. Kanthan (Head of Merchandising), Mr. Low (Category Manager), Ricky (Assistant Buyer) and their team who heads up the purchasing department of Jaya Grocer. They even gave us an hour of their precious time🕒 to present our products as they were SUPER I mean really SUPER BUSY preparing the new year's campaign🎉!
17th Feb 2020 was the day that felt like Christmas🎅 because WE RECEIVE OUR FIRST PURCHASE ORDER🔥! It was not long after our meeting that we got an email notification popping up, to our surprise it was the first official purchase order to JOBBIE Peanut Butter from Jaya Grocer.
From then, after seeing success from Jaya Grocer we were then approached by other supermarket and that's how many of you were able to get our products in many other different places👪.
"1 MESSAGE TO END THIS☝️".
Dear Jaya Grocer,
You believed in us when no one believes in us. We were a small peanut but we had big dreams to become the Asia #1 peanut butter. As for you who are actively helped us on our dream we hope karma really gets you, we hope it blast your grocer with x1,000,000 times of blessing you never expected. Thank you for uplifting a local Malaysian🇲🇾 small business like us ❤️
Stay Nutty,
JOBBIE Team