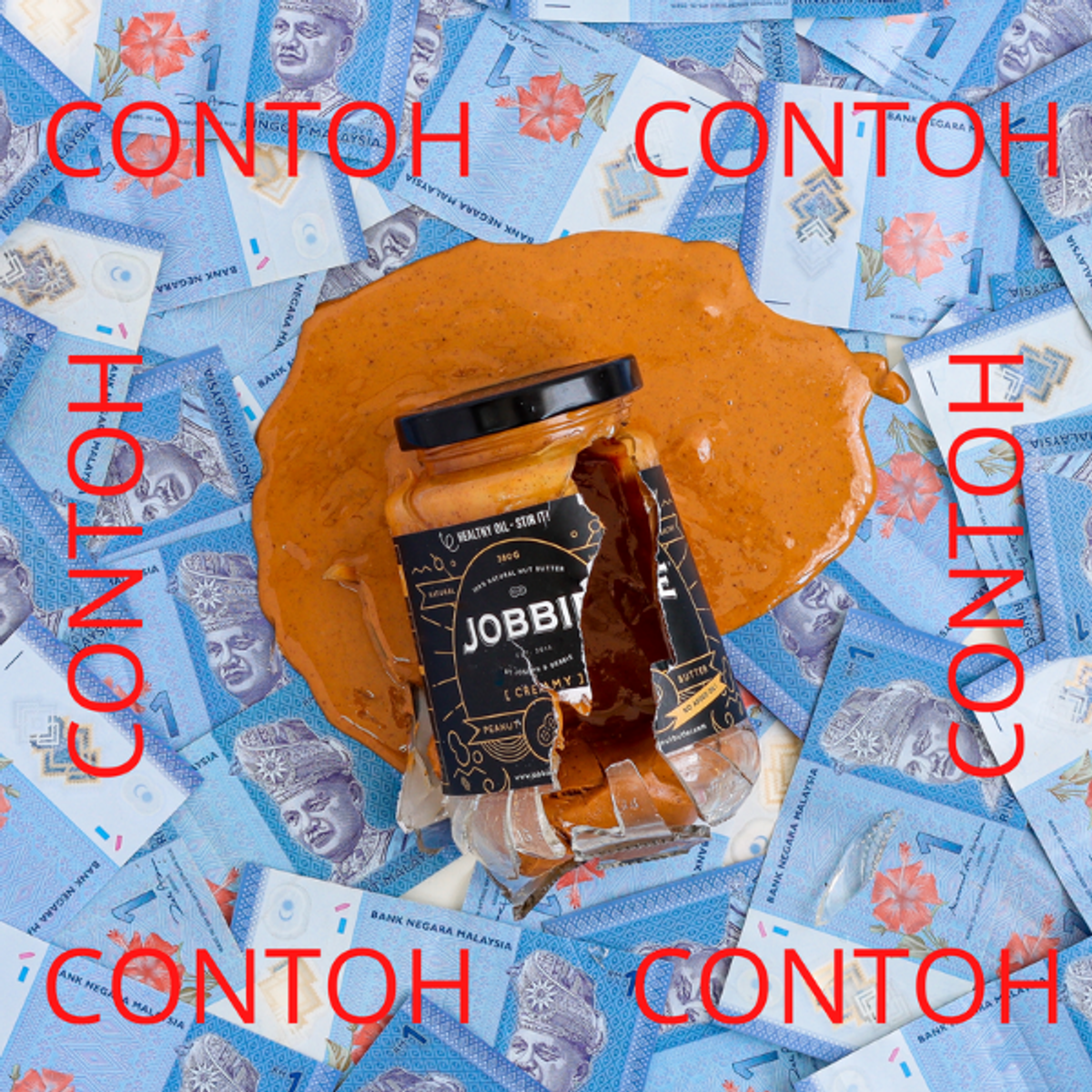 "JOBBIE FINED RM7,000 BY KKM/MOH"??? 😱💸
(Read more to know how to avoid it if you're a SME, download link below!)
One day, out of the blue, few officers claiming to be health inspectors👮 showed up at our JOBBIE HQ without any prior appointment. They claimed that a "customer" had lodged a complaint on our Peanut Butter, citing that it was rancid (went bad🥶).
"Please provide some of your peanut butter product samples and few supporting documents📂 so we can commence our investigation🔎". We abided by their instruction, and soon, found out of warehouse and customers (grocer/supermarket that carry our products) were RAIDED and interrogated✋.
"What should we do guys, did any of our customer get sick from our products recently😭, should we call📞 some of our recent customer to check if they're ok"? We scrambled🏃‍♂ around internally and panicked, since, this was the first time we faced this kind of problem throughout our 7 years of operation.
Our thoughts🧠 became muddled as it was filled with irrational FEAR!
Couple of days later the health inspector shown up again, unannounced, at our doorstep🚪. We sat in a meeting room together…Anxiety and awkwardness made the air so hard to breath as if we were in a sauna room🔥, full steam blasting towards our faces🌬.
"Your products were tested and there were no rancid issue and everything is in accordance with regulations✅," said the officer. Before we could even breathe a sigh of relief a curve ball⚾ was thrown straight up our faces!
"But we're going to give you 2✌️ "samans". ONE, because your label packaging is in English and have no Malay language in it. TWO, because you labeled the words "NATURAL" in your product. Total amount will be RM7,000💰," In a serious tone by the inspectors.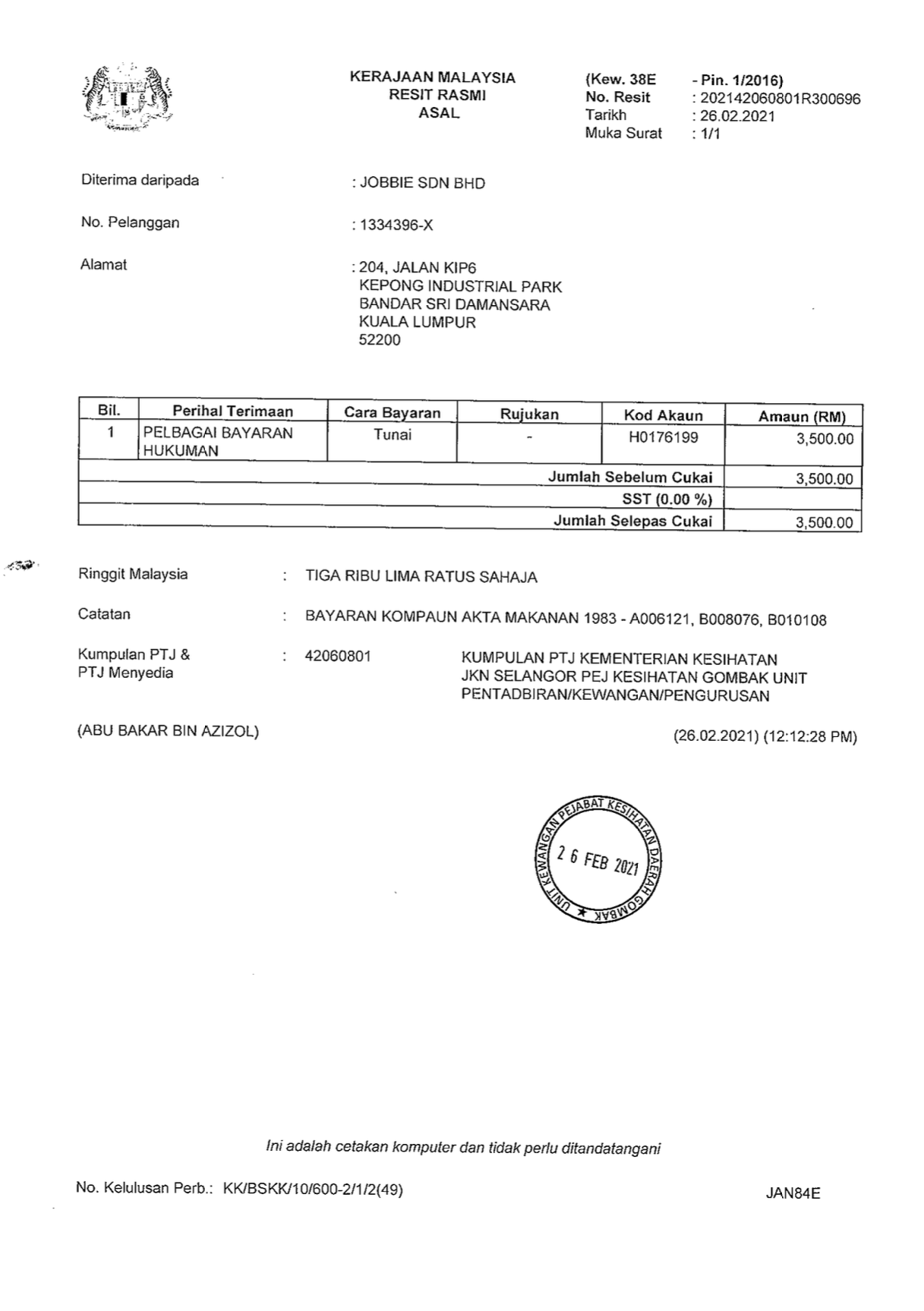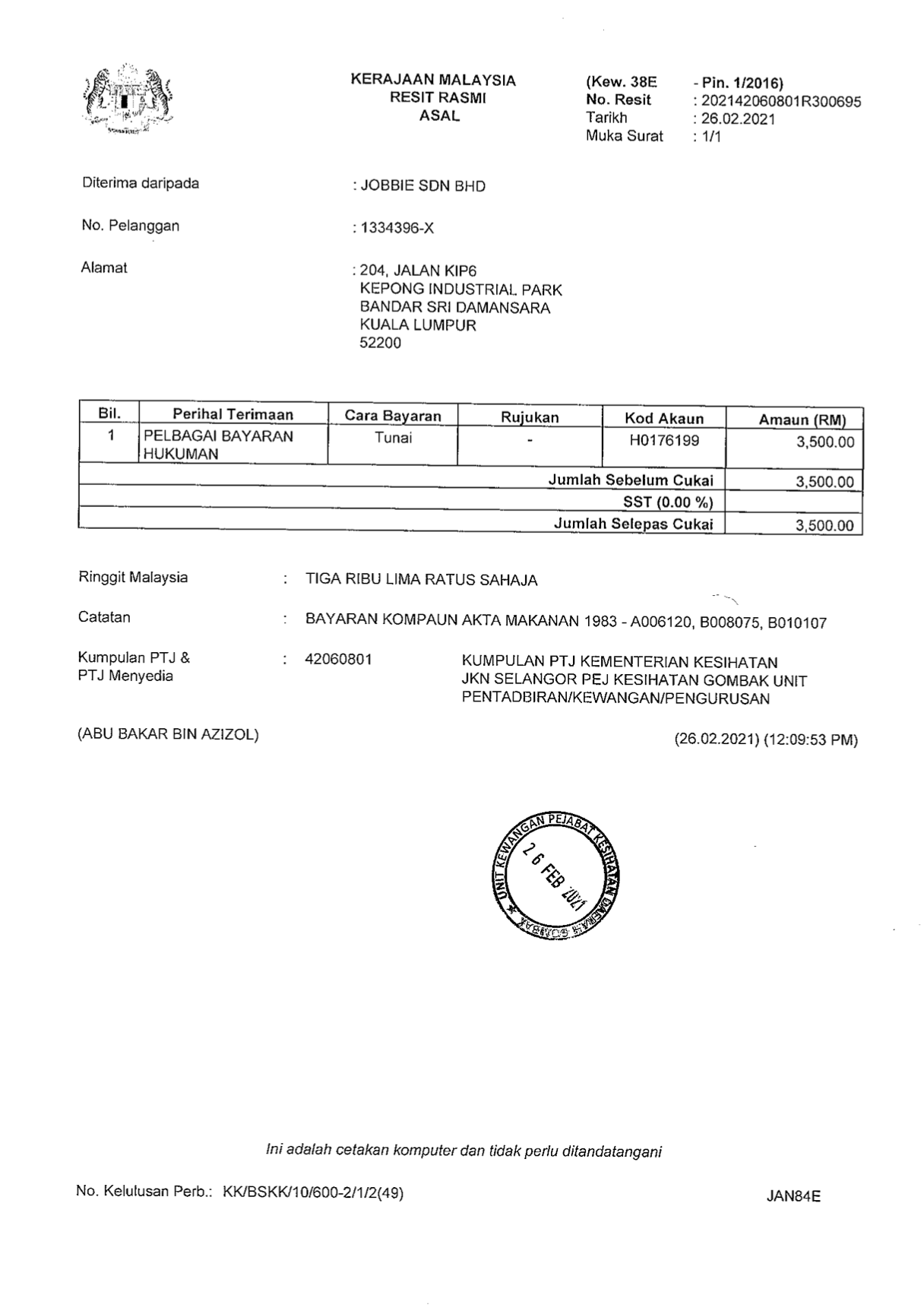 **Evidence that the saman is real 🙁**
Dumbfounded😳 as they opened the food law/regulation book📖 in front of us to prove everything they said were true. The first one although ridiculous but, was valid since we're in Malaysia we should have our national language - Malay, inside it.
But, the second one was really weird about the restriction of the word "natural" in a label packaging, I mean why can't we list the unique selling point (USP✨) of our product as our product contains 0% artificial stuff🤦‍♂️!?
We argued our products are only made of pure roasted peanuts🥜 and a little sugar/salt, THAT'S ALL💁‍♂️! We had proof and documents there were no artificial additives added in it. In the end, our explanation was ignored and we paid the full fine of RM7,000…
To make things worse, through our own investigation🔬 (which happened unintentionally) we found out the original "complaint" was lodged by a COMPETITOR😈 (which we shall not name as we won't give them any more air time than we already have).
POINT IS…
Payment has already been made and since we have already paid it😤, why not use this opportunity to help out many SMEs like us in hopes they would not spend money that could be well spent in better places. To some RM7k is nothing, to some it's the LAST sum of money to help them strive through the end of the month before finally...giving everything up💔!
☝️ONE LAST THING
Dear competitor, if you're reading this, I hope you know we won't be silenced, we won't be discouraged, we will stand stronger than ever🙋‍♂️! We will make sure you won't be able to pester anyone else like you have pester us!
Hopefully🤞, through this small act of disclosing our misfortune, we'll change the Malaysian business scene into a much healthier competing field in the future and not resorting to such petty move👎!
Let's make Malaysia a better place TOGETHER❤️, it starts from us🤝!