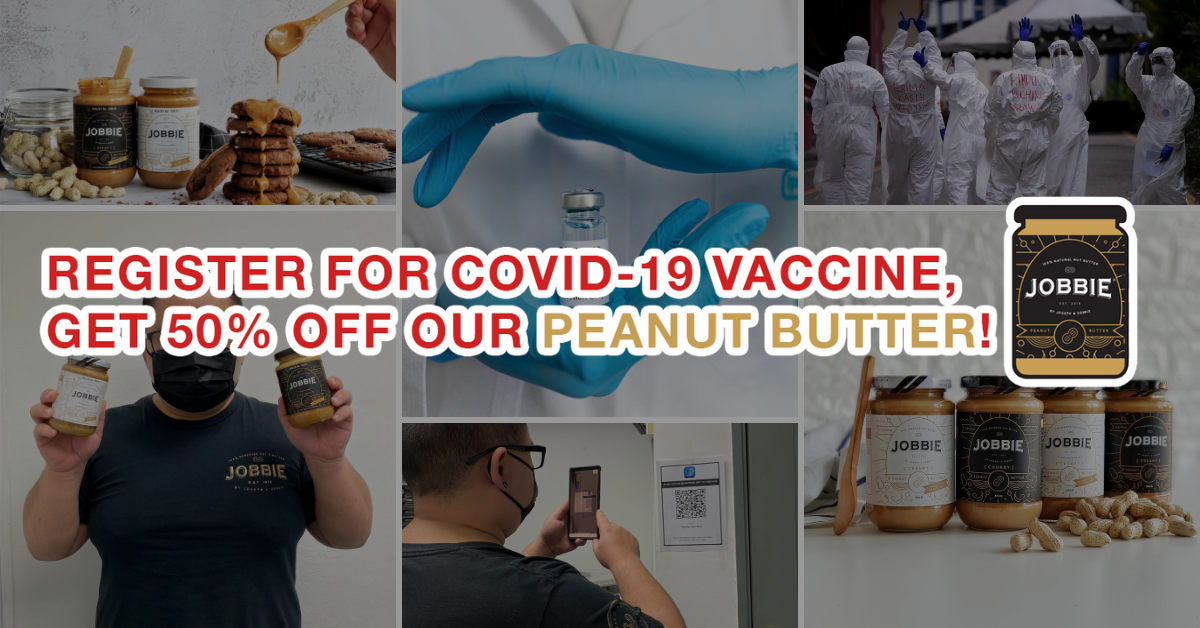 Register For COVID-19 VACCINE, GET 50% Off JOBBIE Peanut Butter
Register for a COVID-19 vaccination💉, we'll give you a 50% discount on our peanut butter🥜! (Discount instruction below!)
As of writing✍️ this post(20 MAY 2021), we are constantly bombarded💥 with ever new rising COVID cases in Malaysia DAILY in news and all sorts of medias, our social media news feed are filled with small to big businesses that are CLOSING down🙅‍♂️, our group chats are notified with friends and relative that have DIED due to this virus…💔
🤔"WHEN DOES IT END"?…
Short answer : Once we achieve "herd immunity"👨‍👩‍👧‍👦.
Long answer : United as 1 regardless of age, sex or skin colour to TAKE THE VACCINE! Ignore the conspiracy theories👽, seek guidance from true professionals🧐. Once we achieved 70%-85% of vaccination done in the public, it'll make it hard for the virus to spread, followed by being able to finally go outside to live to the fullest of our lives so that we carry the will of those who passed away.
That's why we at JOBBIE nut butter are investing close to all of our profits💸 to hopefully help make a better Malaysia🇲🇾. Though we understand our limitation as a small business operating in Malaysia but, little help is BETTER THAN NO HELP!
😏"WHAT DOES IT GOTTA DO WITH ME"?
Today, you might not have experienced going to your workplace to only be called to the "boss room" to be informed you have been fired🔥 as the business is either closing down or entering in a cash crunch.
Today, you might not have experienced having your love ones passed away and not even able to go to their funeral⚰ to say your last good byes due to MCO.
Today, you might not have experienced the pain of being in the ICU in the later stage of COVID, having pipes shove down all over your body, breathing through a ventilator, probably experiencing the last moment of your life☠️…ALONE!
Tomorrow…all of the above…MIGHT be you or someone you hold dear…👩‍🦳👨👳‍♀️🧕🧒🙋‍♂
👩‍❤️‍💋‍👨"WE BELIEVE IN YOU".
If you have already registered or even took the vaccine, THANK YOU🙇 for doing this country a great service as you might not know the catastrophic events that might've unfold that YOU HAVE PREVENTED! Give yourself 32,776,194 pat to your back! 👏👏👏
To those who have not registered or have doubts about the vaccine, we want to extend our virtual hands🖐 to say…"WE UNDERSTAND". You have worried about your or your love one's wellbeing in your own way and that's OKAY🙆‍♀️. Do your ample research🔬, but just speed it up, read up reliable sources or seek professional help on your doubts. We believe that you'll make the best choice in the end!💪
"As promised"
For anyone who registered for the vaccine starting from today, we'll give you a 50% discount🎁 on our of our products! Read the bottom instructions to redeem your 100% all natural peanut butter🥜 at our close to cost price!
Also, to be 100% upfront we will need to cap the maximum deals given out at 6,806. Meaning only 6,806 people would be able to enjoy this deal. We're doing this so we make sure we don't go bust💣.
❓WHY SUCH A WEIRD NUMBER AT 6,806❓
We chose this number at 6,806 as a cap because that is the highest number of covid cases in a SINGLE DAY since 2020😱. We want to raise awareness of this high number of infected case to let everyone know we could very well increase in number if we do not take this pandemic seriously!
"WHAT ABOUT ME, I HAVE REGISTERED OR TOOK THE VACCINE?"🙋‍♂️
How can we forget about your great contribution , you deserve a reward too and thus, deserve the 50%! 💖
"WHAT IF I HATE YOUR PRODUCTS?"🙅‍♀️🙅🙅‍♂️
Well…you can choose not to purchase any of our products but we humbly request that either you send this post out to raise awareness👍 to inspire more people to take the vaccine💉, or if you don't want to give us any brand awareness just copy paragraph 2-14 (take out paragraph 6 that mentions our brand name) and forward it to all the people you know.
The main point of us doing what we do is just to help make Malaysia wonderful again, profit💰 wasn't really what we're trying to obtain (if it does it's an added bonus we never foresaw). End of the day after all the discounts made, rising raw material cost (due to covid), marketing expenditure to raise awareness for this cause, shipping fees, labour packing fees etc etc we might actually be running a nett loss business transaction here💔.
But, it's fine we're investing into the future of Malaysia. Nothing is more important than as Malaysians…WE SURVIVE THIS AS ONE!☝️
🗣(MUSIC) IT'S THE FINAL COUNTDOWNNNNN 🎶🎶🎶
Looking at Malaysia now. Some have given up, some blamed the government with #KerajaanGagal🤬, some well…have no idea what's going on. Moments like these break ones spirit, the moment you try to stand, metaphorical typhoons🌪will try to blow you sideways and mountain 🏔crushes you downwards. Grasping for air and surviving seems like the only thing you can do at this point of time…
But remember this as long as we're still alive we can change the bleak future. Our forefathers fought wars🔫, gain independence through sheer will🕊, build great monuments🗼 BECAUSE THEY DIDN'T GAVE UP! If we gave up they'll only shake their heads in heaven saying "haiyaaa so weak…soooo weak these youngsters" whilst putting their spiritual leg down from their asian chair like uncle Roger.
We as Malaysians🇲🇾 will come out Victorious from this🏆, we will come out stronger from this! We will carry the hopes of the fallen, live to the best of our abilities like there's no tomorrow, love with an ever burning🔥 passionate heart so hot it'll burn down any obstacle around us…because…MALAYSIA BOLEH! If you agree type "MALAYSIA BOLEH" down below👇👇👇!
🎁Follow the steps to redeem your 50% gift voucher today🎁 :
https://get.jobbienutbutter.com/covid-19-vaccine
P.S. For all applications submitted, promo codes will be sent out within 1 working day.
=======================================================
Terms and condition :
This campaign period is from 21 May 2021 till 20 June 2021.
The offer is limited to a total of 6806 redemptions over the campaign period on a first-come, first-served basis.
This voucher is only applicable for purchase on www.jobbienutbutter.com for a maximum discount of RM50 per order. Applicable for peanut butter and gift sets purchases ONLY.
Purchases with discount value above rm50 (order above RM100 original retail price) will be CANCELLED AND REFUNDED within 14 working days from the date of cancellation.
Each voucher is only valid for one time use per customer. Log in/create store account at www.jobbienutbutter.com is required to redeem this voucher.
This voucher does not cover shipping fees (if applicable).
This voucher is non-refundable and cannot be exchanged for cash in part or full.
This voucher is not valid with any other on going promotions, offers and/or discounts.
Jobbie Sdn Bhd reserves the right to change the terms and conditions at its sole discretion at anytime.