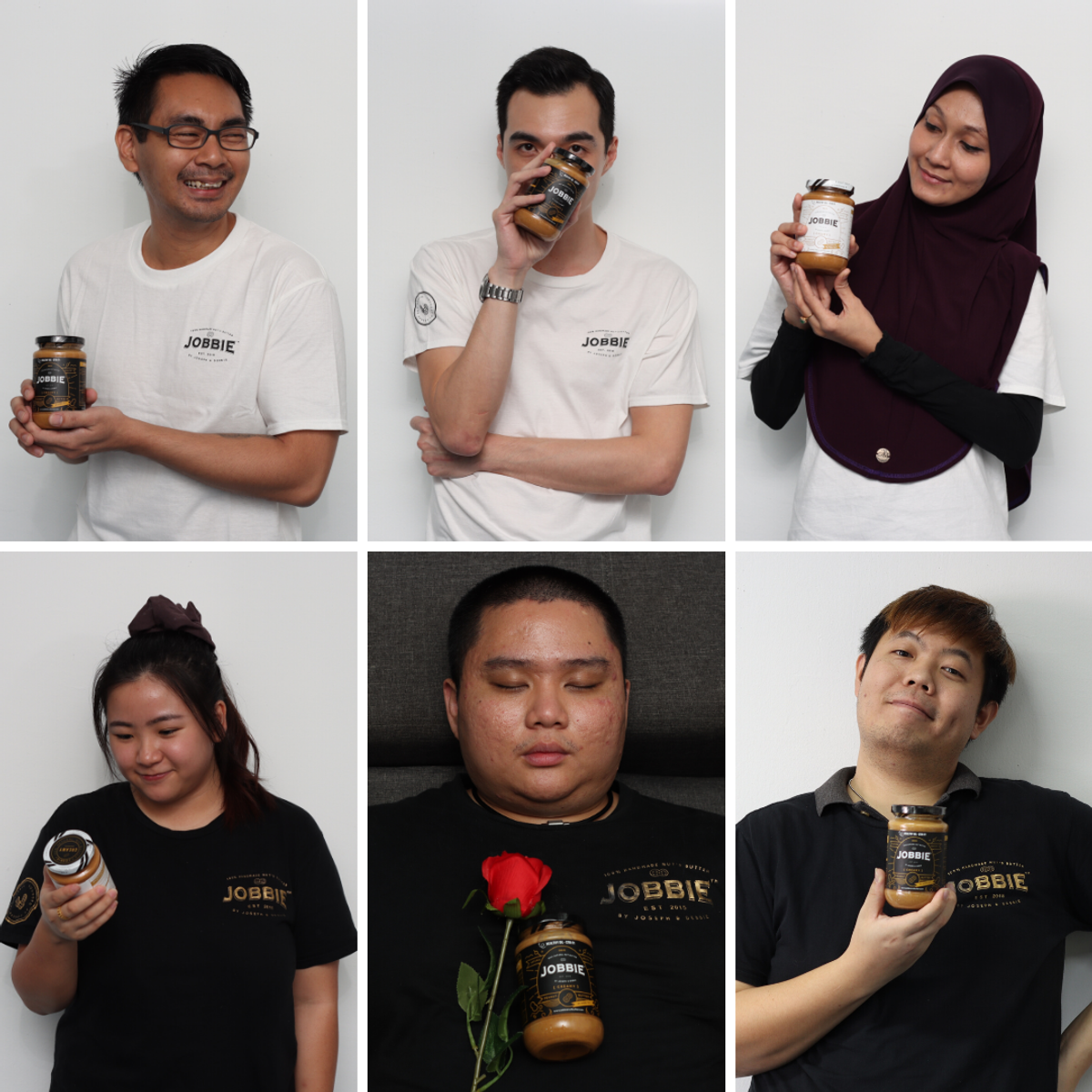 JOBBIE GOING BANKRUPT VERY SOON💸💸💸…(A gift at the end for you)

In the midst of all the incoming covid-19☢ chaos, many of you would be wondering how is a small Malaysian peanut butter🥜 brand like us doing. Frankly and thankfully we're doing much better than a lot of other businesses. We have support from many many many kind Malaysians capable of loving like mother Theresa.👩‍❤‍👨🙏😇

⛈SAD NEWS : WE'RE RUNNING OUT OF STOCK, OPTIONS & RESOURCES…

Due to the lockdown, all of our suppliers have closed down. Suppliers for the raw peanuts, glass bottles, label stickers, boxes, you named it they closed it. We tried many options and wanted to collaborate and help out all the other desperate SME's like us. Unfortunately, despair was the only thing we saw in their eyes 👀as some silently count the days to their demise…It made us think, ARE WE NEXT? 💔☠🙈

🗣(MUSIC) IT'S THE FINAL COUNTDOWNNNNN 🎶🎶🎶

In all desperation we have come up with a solution, a last resort, the season finale. We will be running a pre-order only for all our peanut butter for the next 45 days 📆

CRAZY, YOU'RE SELLING SOMETHING YOU DON'T HAVE RIGHT NOW AND I HAVE TO PREORDER IT FOR 45DAYS!?!"😡

That's true and we perfectly understand by now if you wish to stop reading and leave, but if you have not…the reason is very simple. As greedy as a fat-well-suited-capitalistic-businessman🐖, we need sales aka money💰 more than ever before. Every dollar and every cent we will have to find a way to get it from anyone we can find. By doing a 45 days preorder it'll help us keep afloat and negotiate better ways to deliver and fulfilling orders faster before we "meet our maker"!

Madihah, Lucas, Hanz, Victor, Debbie, Joseph🧕🧔👱‍♂🤵🙋‍♀🙋‍♂

These 6 people are as human as you are. They…like you go to work every day, punch their cards, finish their jobs, go back home 🏠 to their families 👪, sleep 😴and repeat. You guessed it right, these are the people working in a small company called Jobbie. They; like you, have dreams and fears of their own, they pay their taxes and bills, like you they need money to survive (sorry for being so realistic and materialistic but that's the brutal truth 😢).

WE GENUINELY NEED ALL OF YOUR SUPPORT! 😭❤️

We do not want to 🔥 any of our employees, we do not want to leave this beautiful home of ours called Jobbie. As selfish as it sounds we really need all the help YOU can provide… 🙏

"WELL WHAT'S IN IT FOR ME"? You might ask…💁‍♀

Sadly speaking were not a big corporation🏢 yet, we can't give big promos, or raise funds like a IPO company and give you our company shares because it might not be worth anything much at the moment (we don't even know if we'll survive the next few weeks). What we can do is provide our most sincerest gratitude and make sure we produce the best high quality peanut butter to you once all these lockdown is over! (Also a small gift from us right at the end of this post) So if you're up for it, read on!

"WHAT IF YOU CAN'T DELIVER WITHIN 45 DAYS"?🙅‍♂

No matter how many loansharks🦈 the founders have to seek, we'll definitely return and refund your payment in cash 🤑(online bank transfer) if we can't fulfill your orders within a maximum wait time of 45days from the time you placed your orders, we'll refund everything. Your trust and satisfaction is our top priority🙇‍♂🙇‍♀, even if we have to lose everything we'll never betray your faith and compassion for us! In 45 days time.

If you're not wearing your sarong, eating your freshly ground 100% all-natural peanut butter and watching Netflix in a maximum of 45days, your money will be transferred back to your bank account safely!

"WHAT IF IT ALL WENT SOUTH???"💩💩💩

If everything ends differently from what we have planned so far and we could not rise from this battle…🔫⚔💪

This year 2020 marks the 6th year since Jobbie was born, we started from 0 selling in a mall that organised weekly small bazaars, stationed in a small booth right in-front of a public toilet🚽 (because the rental for that location was the cheapest). With a humble beginning starting from a 600sf flat, to a 900sf condo, to a 2000sf shop lot.🍻🎉🎊

The point is we do not blame any MakCik Kiah, Doraemon or government bodies. We started this with eyes wide open🤓, understanding its great potential to serve all Malaysian 🇲🇾with the most healthy and delicious peanut butter, together with all the risk and danger that came along with it! If this beautiful dream ends in the next few weeks, the only thing we want to tell you is…

"It has been an amazing ride serving many wonderful people like you (That's if you're still listening to our grandpa story up till now) for the past 6 years, we are immensely thankful for each and every one of our customers whom had been with us, allowing us to grow and learn while we improve by making many many mistakes 😄." Even if you have bought a single bottle from us, we want to say "THANK YOU"! 💞💓

"LAST BUT NOT LEAST, A BRIGHT FUTURE AHEAD!"🌞🌈🌟

After the MCO, if we survive this you'll definitely see us using the money you supported us with and putting it back in the product to provide you with the best quality while keeping it as affordable as we can. It will be the best peanut butter ever! #MakePeanutButterGreatAgain

You won't see any of us driving a big BMW 🚘or wearing a expensive AF Rolex ⌚watches anytime soon. Heck even now the 3 founders are driving a 20 year old proudly made in Malaysia Proton Waja 🐅and a car that makes all dream possible-Myvi ✈️🚀🚢!

Many of you have told us you noticed our peanut butter tastes more potent/rich, our glass jars are getting thicker/heavier, our packaging looks more cantik as the years passed by. It's all only possible because we reinvested every dime 💰back to thinking ways to make your lives better.

5 years from now we'll definitely redefine natural 🍃peanut butter together and make our healthy PB that you chose the preferred choice. And commercial peanut butter that are injected💉 full with artificial BS that are harmful will be something everyone should avoid. All these would be possible with the warm hands you have so kindly reached out to us during these cold and unforgiving times! It's us versus the world and all its cruel odds now! 🇲🇾⚔️🌎

As promise here is the gift 🎁
Promo code : THANKIU
Discount : RM10 off store-wide (no minimum order)
Period : 7/4/2020- 30/6/2020
Website : www.jobbienutbutter.com