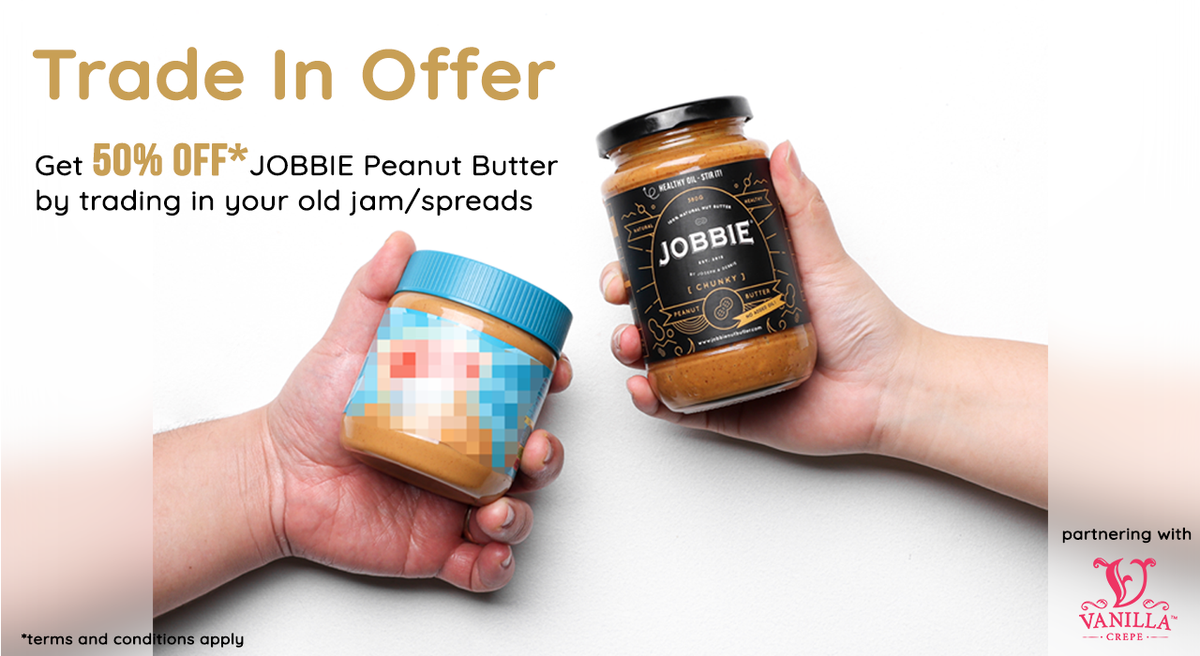 🎉50% off JOBBIE Peanut Butter when you trade in your old spread. (Biggest sales in 2022🔥)

Bring in any (1) of your old nut butter🥜/fruit jam🍓/vegetable spread🥦 jarsss (any brand other than JOBBIE) to our event locations, and a 50% off (1) jar of JOBBIE Peanut Butter will be yours. A max of 4 bottles redemption per customer is allowed. Promo starts from 4/4/2022 - 5/6/2022, or till stock lasts.

【Summary:】

🥜 1 old jar trade in = 1 bottle 50% off JOBBIE

🥜 2 old jar trade in = 2 bottle 50% off JOBBIE

🥜 3 old jar trade in = 3 bottle 50% off JOBBIE

🥜 4 old jar trade in (maximum trade in) = 4 bottle 50% off JOBBIE


【Redemption Instruction】:

Step 1: Bring any old jar of (non JOBBIE brand) nut butter/fruit jam/vegetable spread jars.

Step 2: Visit any 7 of the listed Vanilla Mille Crepe participating outlet stated below.

Step 3: Fill in a quick 5 question survey, links below the post. QR code will also be provided at outlets. Screenshot the successful survey confirmation page via email once you are done and present to the staffs.

Step 4: Give the old jar to the employees and get your 50% discount JOBBIE.


【4 of our best selling available peanut butter flavours to choose during the promo】:

🥜 Chunky Classic Peanut Butter 380g (expiry 2024) - RM11.50 (NP RM23)

🥜 Creamy Classic Peanut Butter 380g (expiry 2024) - RM11.50 (NP RM23)

🥜 Chunky Pure Peanut Butter 380g (expiry 2024) - RM12.50 (NP RM25)

🥜 Creamy Pure Peanut Butter 380g (expiry 2024) - RM12.50 (NP RM25)


【Participating Event Locations】 - In collaboration with Vanilla Mille Crepe (Malaysia Book of Records for the largest Mille Crepe chain):

1) 【Paradigm Mall】 Vanilla Mille Crepe Outlet - LG-42, Paradigm Mall, 47301 Petaling Jaya, Selangor.

2) 【SS15 Subang】 Vanilla Mille Crepe Outlet - 42, Jalan SS 15/4, Ss 15, 47500 Subang Jaya, Selangor.

3) 【Empire Shopping gallery】 Vanilla Mille Crepe outlet - LK09, Empire Shopping Gallery, Ss 16, 47500 Subang Jaya, Selangor.

4) 【Sunway Pyramid Vanilla Mille Crepe outlet】 - LG2-K10A, Sunway Pyramid Shopping Mall, Bandar Sunway, 47500 Petaling Jaya, Selangor.

5) 【Sunway Velocity】 Vanilla Mille Crepe outlet - G-54, Ground Floor, Sunway Velocity Mall 55100 Kuala Lumpur.

6) 【MidValley】 Vanilla Mille Crepe Outlet - LG-089A, Lower Ground, Mid Valley City, 58000 Kuala Lumpur, Federal Territory of Kuala Lumpur.

7) 【IOI city mall】 Vanilla Mille Crepe outlet - LG-K9B, IOI City Mall, 62502, Wilayah Persekutuan Putrajaya.


🔥Register your survey!🔥
https://pages.services/get.jobbienutbutter.com/trade-in-2022-campaign/
.
.
.
=================================================
Terms & Condition
1. This promotion is only available from 4/4/2022 ~ 5/6/2022 while stock last.
2. Customer must complete the survey and present the successful confirmation page via email to the staff.
3. Customer must bring along old spread jars (other than JOBBIE brand) that is limited within Fruit, Vegetable and Nut based spread.
4. A maximum of 4 unit can be redeem per person.
5. (1) unit of old spread jar can only redeem (1) unit of 50% of JOBBIE products.
6. The available JOBBIE products eligible for the 50% discount trade in will be :- Chunky Classic Peanut Butter 380g, Creamy Classic Peanut Butter 380g, Chunky Pure Peanut Butter 380g, Creamy Pure Peanut Butter 380g.
7. This promotion is only available at the 7 listed participating Vanilla Mille Crepe outlet .
8. This promotion is not exchangeable for any cash or voucher.
9. This promotion is not applicable with any other ongoing promotions.
10. Jobbie Sdn Bhd reserve the rights to amend the terms and condition without any prior notice.
=================================================